Updated on July 25, 2019
If you use or administer a Salesforce.com implementation, chances are you have either thought of or heard of one of the statements below:
"Why can't I export my list views to Excel?"
"How can I create simple reports without my CRM Admin?"
"I need the ability to create list views (not reports) that combine data and criteria across objects."
"While I appreciate the simplicity and availability of the global search facility, I find it limiting when I want to mine for data that goes beyond a single criterion search?"
"Sometimes I want to create a list of records that don't conform to any search criteria but the rather random selection, like for instance a "friends list."
"Is there a way to put data on a map or search by the map in Salesforce?"
We have worked with leading CRM platforms for 20+ years and learned that no matter the platform or industry, the ability to Search or Report on the data within the system isn't user-friendly.
Often, users are required to use complicated, advanced tools that don't make sense to a typical user.
Ascendix developed a solution years ago to support users in their quest to search within CRM, but it was embedded as a feature within our commercial real estate solution. Previously known as "Quick Search", "Ascendix Search" is now available as a CRM add-on for all Salesforce users and will solve for the gap in search and reporting in Salesforce.
Salesforce Admins and Commercial real estate brokers rejoice! Searching and Reporting in Salesforce just got easier!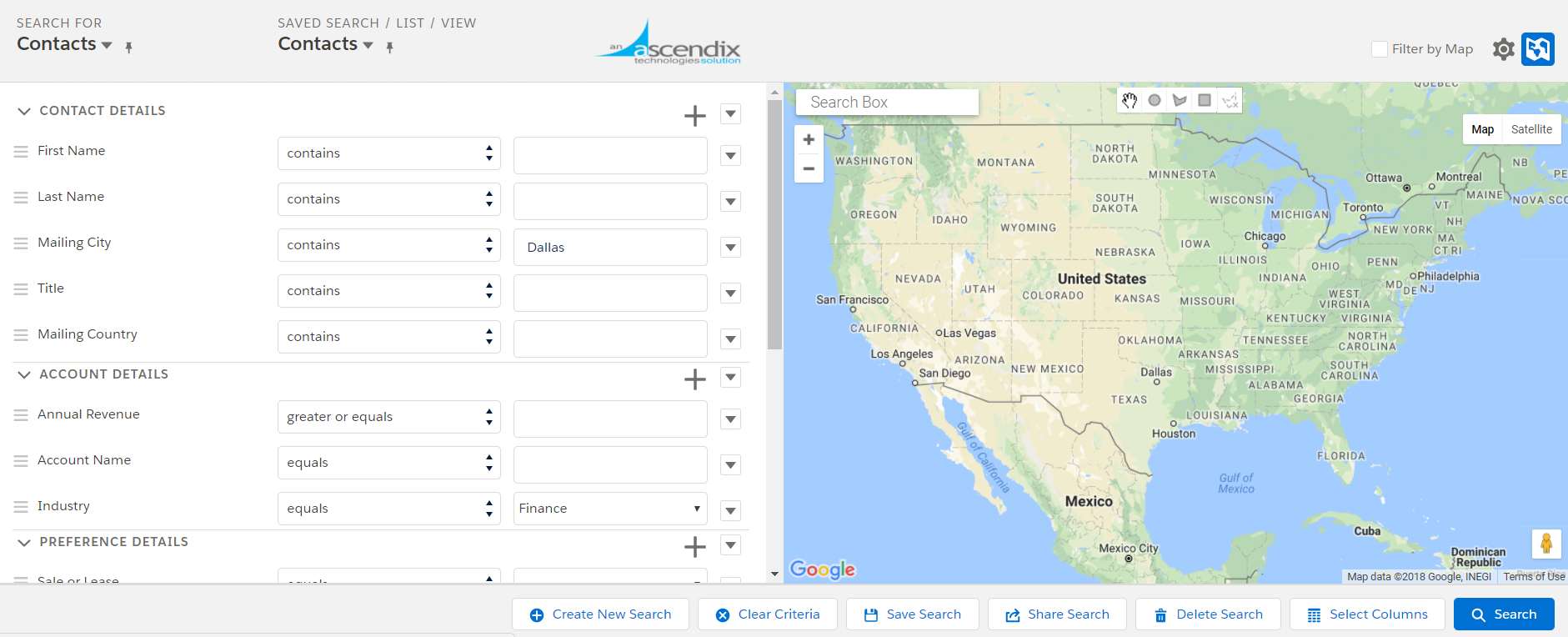 You've seen the current advanced searching options or lack thereof. Without training and practice, it's difficult, if not impossible, to create a search across multiple objects in Salesforce. Ascendix Search flattens out the database making a complex search easy.
Guided by common use cases within the commercial real estate industry, we created ready to go templates based on core objects, like Accounts and Contacts, but also accommodate custom objects such Properties, Leases and Availabilities. Users then select the values within each object. This turns any broker into a searching pro!
This is especially important for brokers who want to run a lease search within their database. However, this same concept carries across all Salesforce users in any industry.
Here is a video that shows how easy it is for a broker to search for office leases within a particular date range.
So much easier!
Want to see more? Request more Ascendix Search videos be sent to your inbox or follow our blog as we highlight more Ascendix Search features like: