Are you a sales manager looking for insights into your team's performance and future revenue projections?
While simply inputting data into your CRM is a step in the right direction, sales reports in Salesforce offer way more. They allow you to analyze your pipeline, track team productivity, and pinpoint growth opportunities.
This post delves into the capabilities of the Sales Cloud, a Salesforce product with pre-built reports and tools for fine-tuning these reports to best fit your needs. Let's dive into what a Salesforce report really is and what are the best Salesforce sales reports and sales operations dashboards.
Salesforce Reports vs. Traditional Spreadsheets: Advantages of Using Salesforce
Salesforce reports offer a more dynamic, secure, and customizable data management solution compared to traditional Excel / Google spreadsheets.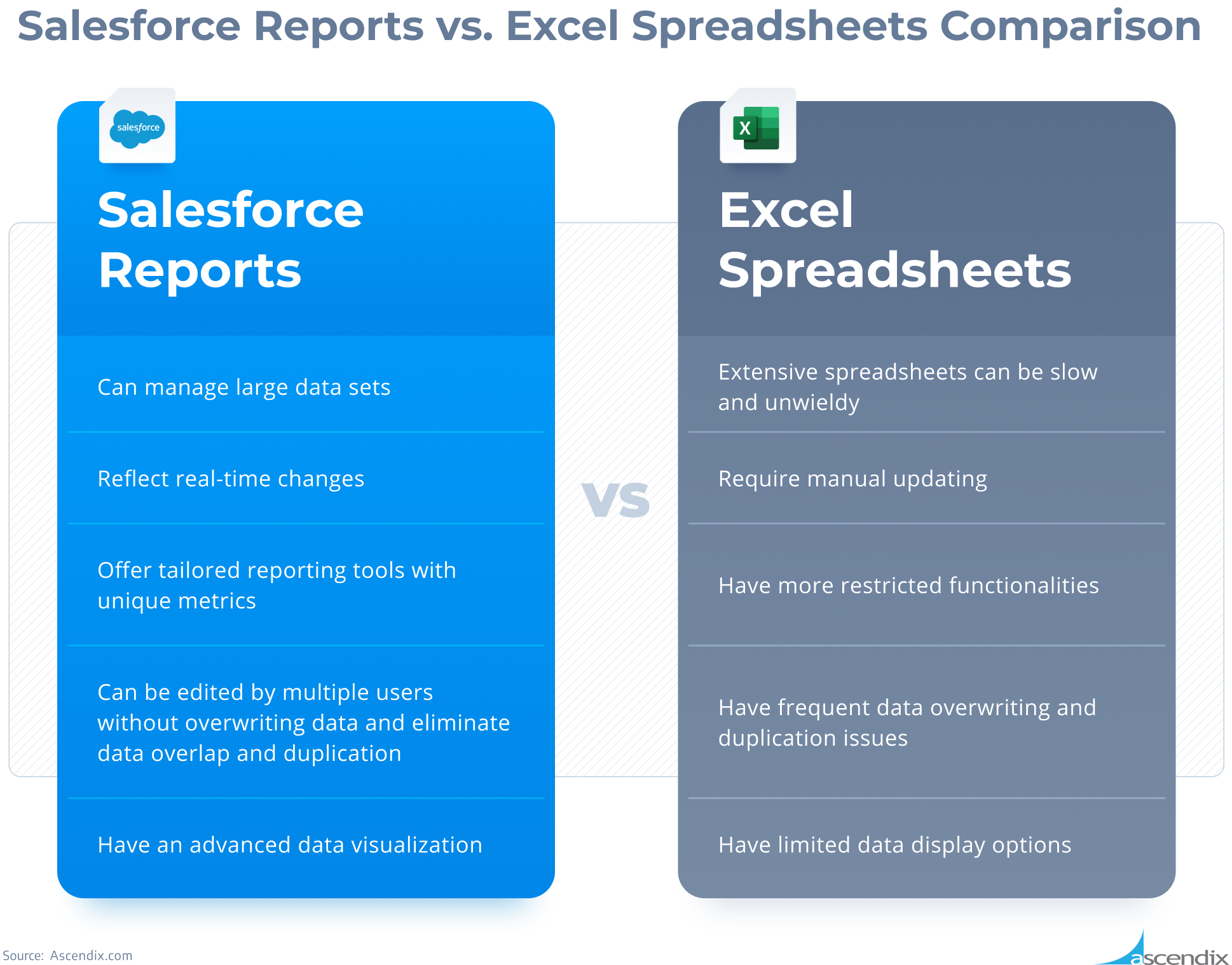 Moreover, Salesforce reporting tools have other advantages for sales leaders over spreadsheets:
Salesforce's customer relationship management system efficiently manages large data sets, whereas extensive spreadsheets can be slow and unwieldy.
Salesforce reports reflect immediate changes, while spreadsheets necessitate manual updating.
Salesforce for sales managers offers tailored reporting with unique metrics. Conversely, spreadsheets have more restricted functionalities.
Salesforce allows multiple users to edit simultaneously without overwriting data, a challenge with shared spreadsheets.
Salesforce eliminates data overlap and duplication, a common problem with spreadsheets. Plus, Salesforce's integrated data validation prevents errors, ensuring data accuracy.
Salesforce's interactive dashboards present data visually, surpassing the basic charting options of spreadsheets.
Want to Adapt Salesforce to the Growing Needs of your Business?
We have 20+ years of experience in Salesforce customization, configuration, and best custom development practices.
How to Build the Best Salesforce Reports for Sales Managers
The sales department is a cornerstone of any organization, necessitating timely and well-organized data for impactful decision-making.
Concise sales reports guide pivotal company choices, from product strategy to employee bonuses. Effective use of CRM systems, like Salesforce, empowers sales teams.
If you're new to Salesforce, consider the "Reports & Dashboards for Lightning Experience" on Trailhead, Salesforce's free education platform. It helps understand the basics of how to create reports and dashboards for sales and marketing managers using Report Builder's features.
Before discussing the creation of optimal Salesforce Sales Cloud reports and dashboards, it's essential to gather relevant data, choose the right metrics, and understand your buyer persona.
The main purpose of all sales operations reports is to answer the following questions:
Are you reaching your sales goals?
What is your revenue compared to expenses over a certain period of time?
How did your sales team perform on a month-to-month, quarter-to-quarter, or year-to-year basis?
How many sales is your organization going to make by the end of the month/quarter/ year? What is your projected revenue for the upcoming period?
Which services and products are not fulfilling expectations?
What are the best-selling products and services?
What are the primary areas of opportunity?
What are the main challenges of the whole sales process?
How much time does each sales rep spend on every sales process phase?
How many sales efforts turn into actual sales?
What actions can you take to address missed sales activities?
Which Data to Collect for Salesforce Sales Reports?
With organized data, you can better identify your clients' pain points and tailor your communication.
To have a comprehensive view, you need to have both the business and personal information of your customer.
Here is, the data, that you should always collect:
Company data
Company website
Company location
Industry
Company LinkedIn URL
Personal data
First name
Last name
Job title
Number of LinkedIn connections
LinkedIn URL or social networking URL (Facebook, Twitter, Instagram)
Business email
Personal email
Phone number
You can further enrich and segment this data with more related facts:
Social media group membership
Account subscriptions
Person's background: working experience
Products/services used
Technologies/tools used
Events visited
Contact's date of creation
First/Last date of a LinkedIn message sent
First/Last date of the email sent
Campaign name
Next follow-up date
Current outreach status
Of course, the data you collect for detailed sales reports can go beyond the mentioned ideas, depending on your business specifics.
Generally, you can segment all the client information by the following criteria:
ICP (Ideal Customer Profile) and buyer personas
Industries
Company size
Lead sources
Behavioral factors and interaction history
You can also categorize leads, such as identifying lost leads by their reasons, to develop strategies to win them back.
After choosing your data and grouping criteria, score the leads based on activities most likely to lead to a purchase, such as:
Emails open rate
Link open rate
Reply rate
Number of replies by category
Bounce rate
Landing pages visits
Site traffic
Forms completion
Lead magnets download
Number of chat interactions
Pop-up clicks
Number of video watches
After classifying the data, prioritize leads by sales stage, opportunity, industry, or product. This aids in identifying less effective sales activities, such as engaging with non-promising leads or investing too much time in non-sales-related tasks.
How to Prepare Data for Tracking and Analysis in Salesforce Reports
Choose a Reporting Timeframe
For a precise report, decide on a timeframe: weekly, monthly, quarterly, or yearly. This choice will reveal trends in sales cycles, customer behaviors, and marketing outcomes, highlighting sales patterns or product launch successes.
Select Effective Visuals for Reporting
The best sales reports should present data clearly and actionably. Consider how to display results, whether through bar graphs for product performance or pie charts to show individual product contributions.
The visual representation of your report isn't just about making them beautiful but also about making them cohesive and comprehensive.
Search for the best Salesforce dashboard examples on the Internet or ask a Salesforce consultant for advice.
Want to Improve the Performance of Sales and Marketing Teams Using Salesforce?
We've helped multiple small businesses and large companies optimize Salesforce and adapt it to their teams' needs.
Maintain Data Integrity in CRM
For accurate reports, you need clean, accurate data. CRM tools, like Salesforce, ensure client information is consistent and up-to-date.
By routinely cleansing your data ,you can analyze pertinent details effectively. For example, Salesforce's data quality dashboards can spotlight gaps in contact or industry data.
Must-to-Track Metrics in the Best Salesforce Dashboards for Sales Managers
Generally, all businesses need to keep a hand on the pulse of the following numbers, measurements, and activities:
Number of Marketing Qualified Leads (MQL) and Sales Qualified Leads (SQL)
The number of calls, emails, appointments, and meetings
Leads by Stats, Type, Stage, Source, Period
The top sales rep by revenue/ The top-performing agents
Activities by sales rep
% of closed businesses
Closed business by Type
Month-over-month growth/ Year-over-year growth
Lead response type
Number of Active & Close Leads, Opportunities, and Deals
Top deals/ number of deals lost
Lead conversion rate
Leads by industry
The number of demos scheduled
Weekly pipe gen/weekly pipe gen by source
Lead status by owner
Stale opportunities/ Opportunities stuck in stage for 60 days
Top campaigns/campaigns by ROI
Revenue goal progress for the period
Reasons for unqualified leads
Deals Won vs. Deals Lost by Owner
Deals Closed by Quarter/Month for This Year Against Quota
Deals Closed by Quarter/Month for Last Year Against Quota
Deals Closed by Region/Department/Territory for This Year Against Quota
Deals Closed by Region/Department/Territory for Last Year Against Quota
MQL to SQL (Sales Qualified Lead) Conversion
SQL to Proposal Conversion
Proposal to Close Conversion
Time per each pipeline stage
Salesforce allows for diverse report analysis, with data grouped and displayed on dashboards. You can monitor:
The primary sources of Opportunities: from converted Leads or direct Accounts
The ratio of Converted to Unconverted Leads
Opportunities stagnant at specific stages
Comparison of Expected and Actual Campaign Revenue.
Pushed and Stale Opportunities for a 7/60/90 days
Most frequent reasons for Closed/Lost Opportunities
Open Opportunities without key fields populated
Age of Leads
Best-performing sales executives by Closed Won Opportunities
Number of newly created Opportunities
Open opportunities without key facts populated
The number of opportunities by priority
Average period to close Opportunities
Average sales activities per day
Average time spent on the phone
Deal size vs. discount
Hot Leads for 24/48/96 hrs
The mentioned metrics are just a starting point. You can customize them based on your specific needs. For instance, a commercial real estate broker might track 'Deals by Property'.
Or Availabilities by Property
Unfortunately, most of such custom fields and objects like Properties, Availabilities, etc. are not available out-of-the-box in Salesforce.
To tailor these features, you can either buy industry-specific Salesforce add-ons, like AscendixRE CRM for commercial real estate , or seek professional Salesforce customization services.
Looking for the Best Practices of Using Default Salesforce Functionality?
Get the tried and tested tips on setting up standard system functionality and optimization of your Salesforce solution from our professionals!
3 Best Salesforce Reports for Sales Managers
Now, we'll show the three most used reports for sales managers and how they help to get the instant answers to the most burning sales-related questions and adjust the decisions accordingly.
1. The Productivity Report
The required data to build this report is the number of:
Outbound calls
Conversations
Voice mails
Emails
Customer meetings
Product demonstrations
Generated proposals in a given day, week, or month.
The productivity report compares actual results to set benchmarks, addressing crucial questions for sales teams and the entire business:
At which phase of the sales cycle is the sales rep above/below the productivity quota?
In which areas is the sales rep constantly ahead/behind and how it affects the next stage of the sales cycle?
2. The Sales Pipeline Report
This report tracks prospects by their stage in the sales cycle. It lets sales managers monitor the number of prospects at each phase and observe their progression speed or if they drop off.
There are five typical pipeline stages:
Stage #1 – Decision-maker shows interest in the product or service
Stage #2 – Sales rep meets with a decision-maker
Stage #3 – Salesperson showcases product demo to a decision-maker
Stage #4 – Proposal Offered
Stage #5 – Sale Won or Lost
3. The Sales Forecasts Report
This report allows sales managers to hold sales reps accountable for monthly deal targets and pinpoint opportunities needing special attention.
It helps project revenue and paves the way to the after-sale product/service delivery by answering questions such as:
In which month are the salespeople usually above/below quota?
Does the revenue typically decrease in any particular month?
How many accounts drop out or get added from one month to the next?
Does the rep have an easier/more difficult time achieving quota in one product line or another?
How We Can Help Improve Your Sales Operations with Salesforce
If you don't want to overcomplicate reporting experience in your organization, delegate all Salesforce-related challenges to our experts.
Here's how we can assist with the customization of Salesforce reports and dashboards:
Our consultants can help structure and categorize the data within Salesforce, ensuring that it's logically organized and easily accessible for reporting.
Our professionals can ensure seamless data integration to generate comprehensive reports that pull data from multiple sources.
We can design custom reports tailored to the unique metrics and KPIs relevant to the business.
Our experts can build interactive dashboards that provide a visual representation of sales and marketing data, making it easy to interpret essential sales metrics and make informed decisions.
To ensure that reports and dashboards are accurate, our Salesforce consultants can implement data validation measures and carry out periodic data cleaning. This prevents errors and ensures consistency and much more.
Do you still have questions about Salesforce reports and dashboards or need help with your Salesforce org? Book a free CRM consulting call.
Or you can go another way and use our pre-made app, Ascendix Search, for advanced searches, map-based results, or to edit multiple records at once.
We built the Ascendix Search app to upgrade your Salesforce experience and let you easily build granular lists of prospects to call. Interested? Request your free full demo!
What are reports in Salesforce?
Reports in Salesforce are tools that summarize and present data in a meaningful way. They transform records, like Contacts or Opportunities, into organized information using criteria like grouping, filtering, and calculations. These reports can be visualized in charts, answer business performance questions, and be exported for external use. They're stored in accessible folders, either public or private, based on user permissions.
What are the 4 types of reports in Salesforce?
Salesforce offers four standard report types: Tabular, Summary, Matrix, and Joined. While Tabular is the default and presents data in rows, the other types offer varying levels of data grouping and relationships. Custom report types can also be created for specific needs.
Anzhelika Serhiienko
,
Content Creator & Marketer at Ascendix
Anzhelika specializes in B2B content marketing and has in-depth expertise in promoting the company's products and services through high-quality content. On the Ascendix Technologies blog, Anzhelika shares her insights of Salesforce and Microsoft Dynamics 365 CRM tips & tricks as well as overviews of new CRM tools and technology trends on the market.
Salesforce List to Map & Salesforce Geo Mapping: All in One Tool!
Search for Salesforce records from multiple locations by drawing geometric shapes on a map and convert Salesforce lists to a map easily with Ascendix Search!