The daily workflow of commercial real estate brokers is commonly supported by leveraging familiar and readily accessible tools such as notepads, Microsoft Excel and Outlook to manage their business data. However, it's unrealistic for any CRE professional to expect top performance and distance themselves from the competition by using Excel as a CRM tool or Outlook for email marketing campaigns.
If you're reading this, you likely know that the key to increasing your efficiency, responsiveness, and accuracy is CRM.
CRM stands for Customer Relationships Management – a technology real estate and CRE professionals use to manage and nurture relationships with clients and leads.
Today's commercial real estate CRM offerings are diversified and multi-faceted and it is easy to get overwhelmed when deciding on the right tool for your brokerage. To this end, we've authored an article to help dissect the top commercial real estate CRM tools, their strengths, weaknesses, and other non-feature-related considerations for your evaluation.
AscendixRE CRM
AscendixRE CRM is one of the best commercial real estate CRMs based on Salesforce. Being an industry-tailored and robust CRM solution, AscendixRE delivers more value to brokers and agents than any other platform. All the nuances that we've learned over the 16 years in commercial real estate have been incorporated into the functionality of AscendixRE CRM.
With AscendixRE CRM, you can:
Conduct Geomapping search
AscendixRE is integrated with Ascendix Search – a tool that lets brokers find properties on the map within a specific area/radius/zone by applying various searching filters. Along with Properties, you can search for Contacts/Leases/Availabilities and export the lists into Excel or send them directly to clients via Mailchimp.
Send emails directly from AscendixRE CRM using Mailchimp
A new integration of AscendixRE + Mailchimp allows brokers to send targeted email campaigns with custom content and property templates in a few clicks without leaving a CRM or switching between separate systems.
The commission tracking feature in AscendixRE CRM allows real estate brokers and agents to easily manage and track their commission payouts for each deal they close. With this feature, you can set up commission rates for each agent and deal, calculate the commission payouts based on the deal value, and track the status of commission payments.
Track Property Status, Lease Expirations, Sales Transactions
AscendixRE CRM allows CRE brokers to manage and track their property listings, lease agreements, and sale transactions in one central location. In terms of listings, it tracks important details such as property listing location, pricing, status (whether it's active or pending), and monitors any changes to the listing, such as price reductions or offers.
In terms of lease expirations, within AscendixRE brokers can create a listing record and then track the details of the agreement, such as the lease start date, lease end date, rent amount, and any other relevant information. The CRM also includes Composer Online – a tool brokers can use to generate any types of lease reports, documents, agreements and invoices.
With this feature, brokers can track the progress of each deal, manage tasks and activities, collaborate with team members, and generate reports and documents related to each deal. The system allows assigning tasks to team members, setting deadlines, and tracking the progress of each task within the system. Brokers can also set reminders and notifications to ensure that everyone is on track and deadlines are met.
Integrate CRM with Outlook and Gmail
AscendixRE CRM offers seamless integration with Microsoft Outlook and Gmail, allowing brokers to manage email communications directly within the CRM platform. This integration makes it easy to keep track of email correspondence with clients and leads and ensures that all communications are centralized and organized in one place.
Generate reports and marketing collaterals
AscendixRE is integrated with Composer – a robust report generation tool for CRE brokers. Composer contains a huge library of predefined templates brokers may need: from Property flyers to Offering memorandums. Brokers can also use Composer to design their own templates and send visually-appealing emails to prospects.
Perform advanced search of Contacts/Companies/Properties/Leases/Inquiries
Ascendix Search is a powerful search engine built into AscendixRE CRM that allows to quickly find and filter data based on specific criteria. With Ascendix Search, brokers can search across multiple objects, including Contacts, Companies, Properties, Leases, and Inquiries, to find the data they need in seconds.
The power of Ascendix Search lies in its ability to search across multiple objects simultaneously. This means that brokers can search for a keyword or phrase and get results from all of the objects in the system, rather than having to search each object separately.
Collaborate with clients and sign NDAs and contracts
MarketSpace is a cloud-based platform that is fully integrated with AscendixRE CRM. The tool provides a secure virtual workspace for teams to collaborate on deals and transactions. Within MarketSpace brokers can share files, collaborate with team members, manage deal pipelines from start to finish, securely sign NDAs and contracts.
The integration between the AscendixRE and MarketSpace enables users to seamlessly transfer data between the two systems, eliminating the need for manual data entry and improving workflow efficiency.
Advantages of AscendixRE Сommercial Real Estate CRM
High accessibility to skilled professional resources
Flexible CRM customization and configuration
Centralized data management and automated interactions with stakeholders, clients, partners, tenants, and investors
Appealing pricing plans
Industry-tailored CRM functionality
Concierge service
Get a full overview of AscendixRE features in this video.
Pricing
AscendixRE price consists of 3 pricing plans:
xRE Foundations ($79/user/mo)
This pricing plan includes 2 hours of consulting and interactive training (within a flexible time of signing up), multifamily functionality, Deal/Account/Contact management, data deduplication, and much more.
xRE Enterprise ($99/user/mo)
With this optimal plan, you get all AscendixRE CRM functionality included with advanced search, geo-mapping functionality (Ascendix Search), and brochure generation tool (Composer)
xRE Unlimited ($129/user/mo)
The Unlimited plan includes all AscendixRE CRM features, Ascendix Search, Composer, and a property listings portal – MarketSpace.
Also, pricing plans cover Salesforce license and the opportunity to import accounts and contacts using original data template mapping.
Request
AscendixRE CRM
Demo 
See how AscendixRE can help you close more deals and improve your prospecting.
REThink CRM
REThink is a CRE-optimized CRM solution built on top of Salesforce. In February 2021 it was acquired by Buildout. Since then, REThink has been positioned as the main CRM system (deal pipelines, contact, properties, and companies' information resides here), whereas Buildout offers advanced marketing and reporting functions, which are not included in the base subscription of REThink.
Key features of REThik CRM
Deal pipeline management
Task tracking
Comps analytics
REThink Search (used to look up new properties)
GEOsearch (mapping tool)
Stacking Plan
Commission Calculation
Workflow tools for automation
Integration with Outlook / Gmail
Mobile App
Pricing
REThink CRM costs $120/user/mo + additional one-time setup fee of $250.
The price covers:
Access to built-in commercial property data
Onboarding
In-house customer support
Integration setup
Training of your team
In-product help center and access to the resource library
If you need advanced marketing functionality (branded marketing collaterals, customizable stacking plans, email blasts, etc.) you need to buy a Buildout marketing license separately as well.
Apto Commercial Real Estate CRM
Apto is a commercial real estate CRM built on Salesforce. It provides a web-based solution for managing customer relationships, back-office, deals, listings, properties, and more. Recently, Apto was acquired by Buildout.
Apto commercial real estate system allows brokers to manage the full lifecycle of a deal, set up appointments, automate daily tasks, forecast sales, etc.
Key Features
Contact Management – Helps brokers to quickly find contact information in CRM and enter information once as well as organize all information and link between contacts, businesses and properties
Prospecting Tools – Ability to make connections quickly – like strategic call lists and contact info- and win more deals, make proper commission estimates, etc.
Deal Management – Provides brokers with visibility into deal progress and the necessary actions to drive each one forward
Reports & Dashboards – This solution helps brokers to pull performance metrics, run reports on different criteria, and track commissions so that every team member can see the results
Integration w/ Outlook & Gmail
Workflow tools for automation
Pricing
Apto offers a straightforward pricing structure. For $129/user/month, users gain access to:
Built-in commercial property data
Onboarding
In-house customer support
Integration setup and training
In-product help center and resource library
There is an additional one-time setup fee of $250. Data migrations require scoping and will incur an additional cost. Tools for generating branded CRE reports and sending branded emails are sold separately for extra cost as well.
RealNex
RealNex CRM is a tool that helps commercial real estate brokers, brokerage firms, investment sales brokers, leasing agents, office/asset managers, and tenant reps automate their deal flow and create branded marketing collateral for their properties.
RealNex provides an integrated suite of real estate solutions for customer relationship management and marketing.
This software allows brokers to push and pull data between different platforms. The RealNex bundle allows you to harness your CRM, financial analytics, and property listing/e-marketing functions under the same roof.
RealNex is suitable both for a single broker or the traditional global brokerages.
Key features:
Cloud-based CRM
Advanced tracking system: ability to track properties, and clients, and manage the pipeline
Accessibility: on-demand access from any mobile device
Synchronization with third-party tools – Outlook/Gmail Sync
Easy data entry
Mass email marketing campaigns
Stacking plan building tool with customizable templates
Transaction tracking.
Pricing
RealNex offers 2 pricing plans: Basic Subscription and Advanced Subscription.
A basic subscription (CRM only) includes 200 emails per user per month and has several pricing options:
Annual: $1188 (= $99 per month) + $99 one-time onboarding fee per user
Annual but paid Monthly: $109 per month + $99 onboarding
Advanced subscription Navigator (CRM + other functionality) includes 1000 emails per user per month and has several pricing options:
Annual: $1788 ($149/user/mo) + one-time onboarding fee of $149
Monthly with annual commitment: $174 per month
ClientLook
ClientLook allows you to manage every integral aspect of your commercial real estate business, including your properties, leads, clients, and deals. ClientLook has tailor-made sections for each business component to maximize business management efficiency in every area.
In addition, the software can also be integrated with several other CRE apps and services.
Features
Contact management – This feature allows brokers to build relationships between people and properties, check the updates, and search Contacts quickly
Property Tracking – Brokers can search for properties, enter every property detail, manage and track property listings
Deal Tracking – This feature allow CRE specialists to keep track of all contacts and emails related to a particular Deal
Integrations with third-party tools – ClientLook integrates with tools like The Analyst PRO, RPR, MailChimp, HubSpot, and Google.
Pricing
ClientLook has three types of pricing plans:
Free (for new brokers): you pay 0$ for 4 months, and then $99/mo thereafter
Annual: you can pay $89/user/mo (the total price billed annually is $1068)
Monthly: $129/user/mo on month-to-month term. You can convert to annual at any time and save $480 (the total annual price is $1548).
Freshworks CRM
Freshworks CRM is a robust CRM platform designed to assist businesses in managing their customer interactions throughout the entire lifecycle. It offers a comprehensive suite of features to streamline sales processes, enhance collaboration, and provide valuable insights into customer relationships. Freshworks CRM is known for its user-friendly interface, customization options, and scalability.
Key Features
Lead Management – Freshworks CRM allows commercial real estate brokers to capture, organize, and prioritize leads. The platform assists in tracking lead interactions and managing them through the sales pipeline.
Contact Management – Brokers can maintain a centralized database of contacts, including property owners, investors, and other stakeholders. Freshworks CRM facilitates contact organization and communication history tracking.
Deal Tracking – The platform enables brokers to monitor and manage deals at various stages of the sales pipeline. Brokers can set milestones, assign tasks, and collaborate with team members for efficient deal progression.
Document Management – Freshworks CRM provides functionality for document storage and organization. Brokers can manage important documents related to properties, contracts, and agreements within the CRM.
Analytics and Reporting – Freshworks CRM offers analytics and reporting tools to help brokers gain insights into sales performance. Metrics can be tracked, and reports can be generated to identify trends and areas for improvement.
Mobile Accessibility – Recognizing the mobile nature of the real estate industry, Freshworks CRM provides mobile accessibility. Brokers can access information, update records, and communicate on the go using their mobile devices.
Pricing 
Freshworks CRM offers four pricing plans:
Free: The Free plan is a great way to get started with Freshworks CRM. It includes all of the basic features that you need to manage your leads and contacts, such as contact management, deal management, and task management.
Growth ($15/user/month): The Growth plan is a good option for small businesses that need more features than the Free plan offers. It includes all of the features of the Free plan, plus features such as email marketing, lead scoring, and custom reports.
Pro ($39/user/month): The Pro plan is a good option for medium-sized businesses that need more advanced features than the Growth plan offers. It includes all of the features of the Growth plan, plus features such as workflow automation, predictive analytics, and custom integrations.
Enterprise (Contact Freshworks for pricing): The Enterprise plan is a good option for large businesses that need the most advanced features that Freshworks CRM has to offer. It includes all of the features of the Pro plan, plus features such as dedicated support and custom development.
The pricing for Freshworks CRM's ongoing pricing plans depends on the number of users and the plan that you choose.
HubSpot
HubSpot is a customer relationship management (CRM) platform that helps businesses of all sizes manage their leads, contacts, and deals.
Features
HubSpot offers a variety of features that can be useful for commercial real estate brokers, including:
Contact management – HubSpot allows you to store and manage all of your contact information in one place. This includes contact names, email addresses, phone numbers, and other relevant information.
Lead management – HubSpot helps you track and manage your leads throughout the sales process. You can create lead nurturing sequences, schedule follow-up tasks, and track your lead conversion rate.
Deal management – HubSpot helps you track and manage your deals from start to finish. You can create deal pipelines, track your sales progress, and close more deals.
Task management – HubSpot helps you manage your tasks and to-do lists. You can create tasks, assign tasks to other users, and track your progress.
Email marketing – HubSpot allows you to create and send email marketing campaigns to your leads and customers. You can segment your audience, personalize your emails, and track your results.
Reporting -HubSpot provides a variety of reports that can help you track your progress and identify areas for improvement. You can create reports on your leads, deals, tasks, and email marketing campaigns.
In addition to these core features, HubSpot also offers a variety of integrations with other popular software applications. This makes it easy to connect HubSpot to your existing workflow and to get the most out of the platform.
Pricing 
HubSpot pricing is complicated because the company has different prices regarding types of offerings: Platform Solutions and Products. The company offers different pricing bundles that can be customized by clients. Within a wide range of offerings, it gets difficult to define the exact price, so it's better to contact HubSpot sales managers.
For commercial real estate CRM Suite may be interesting. The Suite plan is HubSpot's all-in-one platform that includes all of HubSpot's products, including CRM, Marketing Hub, Sales Hub, Service Hub, CMS Hub, and Operations Hub. The Suite ranges from $1600 per month (Professional Pricing Plan) to $5000 per month (Enterprise Pricing Plan).
VTS
VTS is a commercial real estate (CRE) software platform that connects landlords, tenants, brokers, and other professionals to streamline the leasing process. It offers a variety of features that can be useful for commercial real estate brokers, including:
Features
Property search – VTS provides a comprehensive database of commercial properties for rent and for sale. Brokers can use VTS to search for properties based on criteria such as location, type of property, size, and price.
Market data – VTS provides real-time market data on commercial real estate transactions. Brokers can use this data to inform their pricing decisions and to negotiate better deals for their clients.
Lease management – VTS helps brokers to manage the entire leasing process, from generating leads to closing deals. Brokers can use VTS to track their leads, create proposals, and manage negotiations.
Collaboration – VTS allows brokers to collaborate with their clients and other professionals in real time. Brokers can share listings, proposals, and other documents with their clients and other professionals through VTS.
Pricing
VTS offers three ongoing pricing plans for commercial real estate:
Essentials: The Essentials plan starts at $1,000/year
Professional: The Professional plan starts at $2,000/year
Enterprise: The Enterprise plan starts at $3,000 per/ year
VTS also offers a free trial of all of its plans, so you can try out the software before you commit to a paid plan.
The price of VTS depends on the features that you need and the number of users that you have. You can get a custom quote by contacting VTS.
SharpLaunch
SharpLaunch is a commercial real estate (CRE) marketing platform that helps brokers and teams automate their marketing tasks and workflows to streamline their marketing and get more leads and sales.
Features
Property search – SharpLaunch provides a property search engine that allows visitors to search for properties listed on your website and in your database.
Property websites – SharpLaunch can create custom property websites for each of your listings. These websites can be optimized for search engines and can be used to generate leads and schedule appointments.
Lead management – SharpLaunch's lead management tools can help you track and manage your leads throughout the sales process.
Document portal – SharpLaunch's document portal allows you to share documents with your clients and prospects securely.
Marketing automation – SharpLaunch's marketing automation tools can help you automate your marketing tasks, such as sending follow-up emails and nurturing leads.
Reporting – SharpLaunch provides a variety of reports that can help you track the performance of your marketing campaigns.
Pricing 
You need to contact Sales Managers to get ongoing prices for subscriptions.
9 Best CRE CRMs Features & Pricing Comparison
So, now that we've covered some of the features/functionality to evaluate when considering these tools, it's time to compare the features set of the five best commercial real estate CRMs.
| CRE CRM | In-house Professional Services | Property Data Tracking | Customization | Built-in reporting tools | Follow-Up Functionality | Mass emailing | Marketing Tools |
| --- | --- | --- | --- | --- | --- | --- | --- |
| AscendixRE | | | | | | | |
| REThink CRM | | | | | | | |
| RealNex | | | | | | | |
| ClientLook | | | | | | | |
| Apto CRM | | | | | | | |
| Freshworks CRM | | | | | | | |
| HubSpot | | | | | | | |
| VTS | | | | | | | |
| SharpLaunch | | | | | | | |
Best CRE CRM Key Features
In terms of pricing, every CRM offers flexible and customizable pricing plans. Commercial real estate CRM pricing plans vary, offering options from budget-friendly to enterprise-level solutions. Providers like AscendixRE CRM, Apto, ClientLook, RealNex, and others offer tiered plans to accommodate diverse business needs, making it essential to assess features and scalability for the right fit.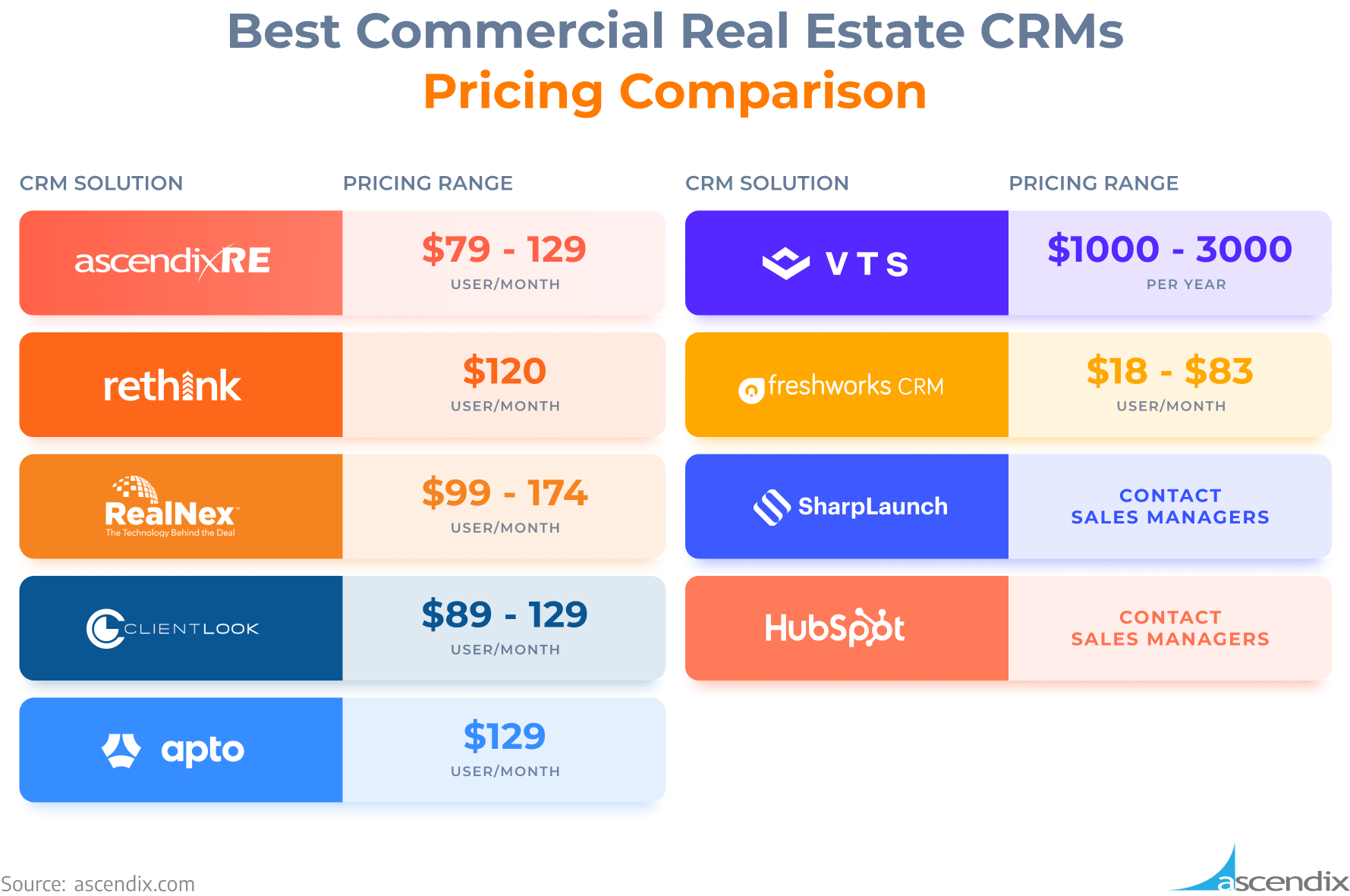 So, how to make the final decision on the best CRE CRM, when you've already assessed the functionality of commercial real estate broker software?
Check CRM provider's reviews on independent platforms from verified reviewers and ask for clients' references
Evaluate all pros and cons thoroughly
Look for the best price-quality balance. Remember that every feature has its price. You don't have to choose a commercial CRM with the longest list of features because you'll not use all of them to boost your ROI.
Search for CRM providers that have reliable customer and technical support.
Generic CRMs vs. Industry-Specific CRMs: What to Choose?
When choosing CRM, brokers face a dilemma: whether to select a generical CRM that is not specialized in commercial real estate or to choose an industry-specific one.
Generic CRMs
By generic CRMs, we mean all CRM solutions you can use for contact management, deal pipeline automation, sales/marketing automation, etc. that are not tailored specifically for commercial real estate usage. The top choice generic CRMs among brokers are HubSpot CRM, Pipedrive, Monday Sales CRM, Zoho CRM, and others.
Advantages of generic CRMs for CRE brokers:
Generic CRMs may be cheaper with basic subscriptions
They allow you to easily track leads, monitor and evaluate marketing efforts, and produce relevant and effective reports on demand.
Disadvantages of generic CRMs for CRE brokers:
They aren't tailored to the needs of CRE brokers
There are limits to how configurable/customizable they are
Extra costs for customization and tailoring to the nuances of the CRE market
If you summarize the monthly subscription and customization costs, you'll see that the total price for generic CRM will be higher compared to industry-specific CRMs.
Industry-Specific CRMs
Industry-specific CRMs are CRM solutions for commercial real estate industry. The most popular examples are AscendixRE CRM, ClientLook, RealNex, REThink CRM, Apto, and others.
Advantages of industry-specific CRMs:
They are designed specifically for the CRE industry
Most allow for some level of configuration while others (especially those designed on the Salesforce platform) allow for quite an extensive amount of customizations
They integrate functions like contact management, scheduling, email campaigns, report generation, and client collaboration
Everything can be accessed and shared online, so colleagues and clients get what they need regardless of where they are
They are designed to solve business problems that exist in commercial real estate based on years of working in the industry.
Disadvantages of industry-specific CRMs:
CRE CRM tools are priced in a slightly higher bracket than the entry-level non-CRE CRM tools.
The beauty of industry-specific CRE CRMs is that you invest money in a one-stop tool tailored to the CRE industry to increase usage, efficiency and effectiveness in getting deals done.
Must-Have Features for Commercial Real Estate CRM
Commercial real estate CRM is designed to help brokers manage interactions with prospects, clients, tenants, investors, and other brokers seamlessly, from early-stage conversations to advanced deal tracking.
Instead of a cluttered notebook or Excel spreadsheet, modern brokers use commercial CRM to streamline the process of engaging with key people and nurturing them to close the deal successfully for their clients.
Choosing the best CRM for CRE is easier when you can know that must-have features for the best commercial real estate CRM and can compare the features set of market leaders.
With this in mind, we created a list of commercial real estate CRM features and compare 5 CRE CRMs according to the availability of a specific feature. As a savvy commercial real estate broker, you need customer relationship management software that's tailored to your unique needs. Here are the essential features commercial real estate professionals should look for: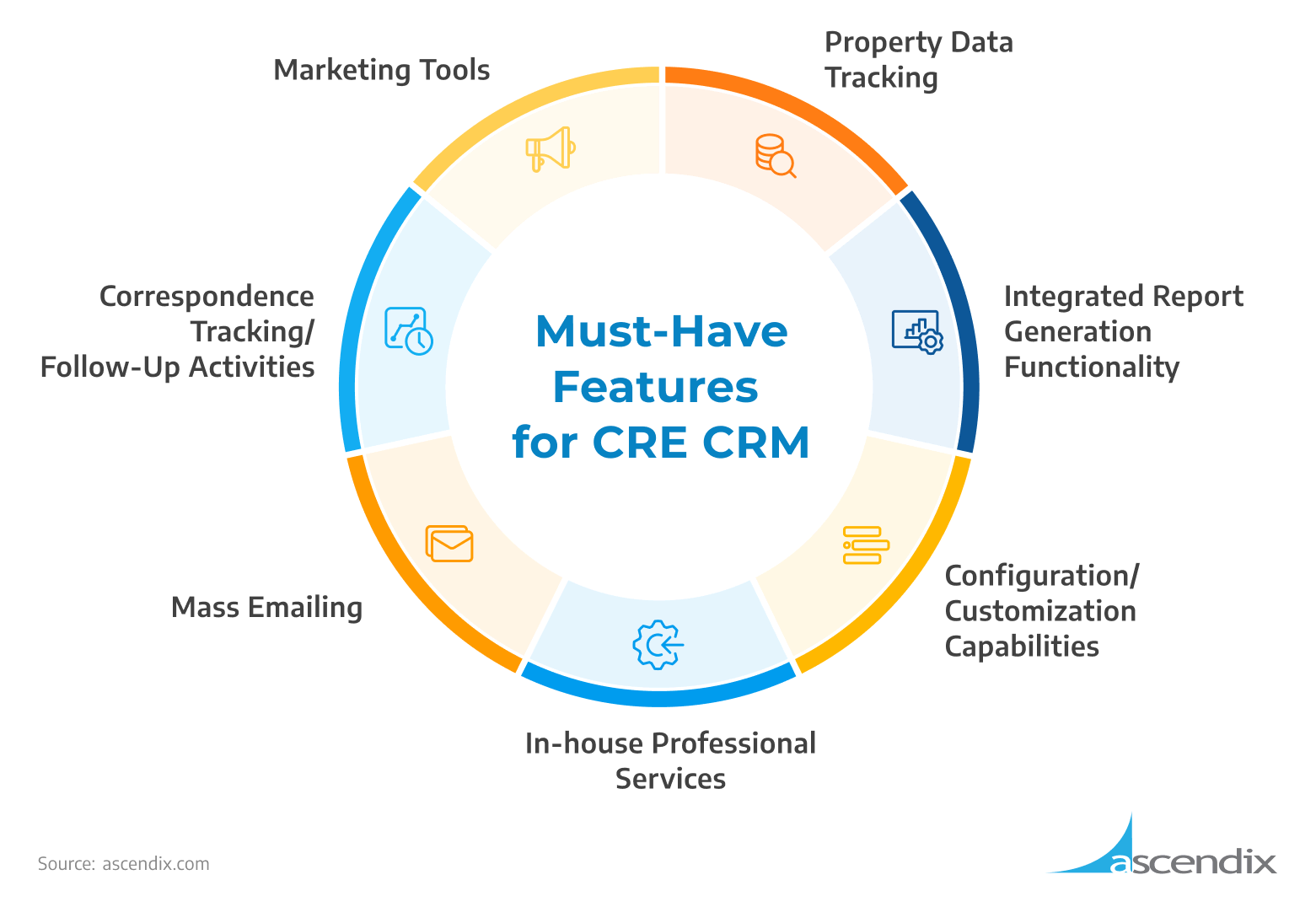 Property Data Tracking
A built-in property database allows users to connect clients with properties. When choosing commercial real estate CRM programs, pay special attention to the depth and breadth of property and related record tracking. Top broker CRMs allow you to create a custom local database and link it to your existing deals and prospects.
Configuration / Customization Capabilities
As many systems are hard-wired to accommodate CRE industry specifications, customizable fields and form layouts are vital features to consider in a commercial real estate CRM.
To use a commercial CRM, you need it to adapt to your needs – set up the required fields to create a record with any data you need, instead of surfing across multiple systems.
Easy fields and form layout customization are signs of an advanced commercial real estate CRM.  You should have the ability to customize your CRM system to match your unique workflows, allowing you to tailor the platform to your specific preferences.
Check whether a vendor can configure and customize a CRM platform considering the specifics of your niche, your unique corporate needs, and the amount of data you use. A good CRM system for commercial real estate businesses should have a user-friendly interface that is easy to navigate, with an intuitive and visually appealing design that simplifies data entry and retrieval.
Ideally, the company must have resources to suggest the most optimal way to create necessary CRM functionality, configuration & customization of:
UI optimization
Security & permissions
Data import
Bulk data processes.
For example, Ascendix does have such resources and can assist you with modifying CRM using default point-and-click tools (by configuration) or custom code-based development (by customization).
Integrated Reporting and Brochure Generation Functionality
To get a better understanding of your performance, your customer relationship management software should offer analytics and reporting tools that help you track key metrics like deal flow, lead sources, and other important indicators.
It is a nice-to-have feature that can save you a lot of time and money. Many CRMs have limited reporting and brochure-generating functionality. If you want to create visually appealing property brochures directly from your CRM, in most cases, you'll pay extra for a separate third-party product. The best CRE CRM will have a built-in report and marketing content generation tool included in the pricing plan.
Having such functionality allows you to reduce manual work facilitating the generation of property flyers or marketing activity reports on your own in a few clicks.
Correspondence Tracking/Follow-Up Activities
Correspondence tracking and follow-up reminders are other noteworthy features of commercial real estate contact management software.
You can't expect to remember every call and/or meeting you've arranged or every deal that needs some clarification. That's what follow-ups are for.
All you need is to set up a reminder on a record and forget about it until the time comes. Also, you can follow up on Contacts related to specific Companies and Accounts. You'll see your follow-up activity grouped by the date for each record.
If a commercial CRM system you're considering has a wide range of follow-ups, that's a positive sign.
Mass Emailing
The CRE industry is all about establishing trusted relationships using various methods of communication. One of those is emailing.
Brokers send dozens of emails daily through commercial real estate CRM. But what makes a good bulk email send succeed is personalization.
Clients become more loyal to brokers that refrain from such generic and non-targeted emails. You have all the data inside a CRM, so why not link every email with the customer record and send personalized emails?
If CRM is properly integrated with email tools, it isn't a difficult task.
Deal Tracking
Top-notch CRM software should include a robust contact management system that allows real estate agents to store and manage all client information in one place, including notes, communications, and other relevant details. It should enable you to track deals from start to finish, with features that enable real estate brokers to create, manage, assign tasks, and set reminders for every stage of the process.
System Integration
Your CRM software should easily integrate with other tools and platforms, such as email marketing, e-signature, and portal software, to streamline your real estate workflows and improve efficiency.
Mobile Access
In today's fast-paced business environment, it's critical to have CRM software that provides mobile access, whether through a dedicated mobile app or mobile-friendly web interface, to enable you to access your data on the go.
While the must-have features may vary from organization to organization, these essential elements are the building blocks of any effective CRM system for commercial real estate professionals.
Marketing Tools
Integration with your existing commercial real estate marketing tools and synchronizing with new tools is a vital requirement for choosing the best commercial real estate CRM.
This feature ensures you follow up with prospects regularly, and track marketing activity to create a solid strategy for marketing your commercial property. A good CRM must contain a well-rounded range of tools for mass email campaigns, integration with social media accounts, generating branded marketing collaterals, etc. So, check them thoroughly.
In-house Professional Services
Many CRM providers don't have enough resources to offer data migration, administration, and integration services using in-house teams. They outsource these services to 3rd party service partners which leads to delayed service delivery for clients.
By choosing the best CRE CRM, pay attention to whether a CRM vendor mentions in-house professional services. Having both the product development and services delivered by one company eliminates conflicts of interest and streamlines the overall delivery experience. This service is especially relevant for large companies.
Final Words
The success of your CRE business is closely connected with the process of selecting the best CRE CRM. The selection requires a disciplined approach, dedication of time to review the various options and attention to detail on what separates each solution.
With this in mind, we compared the functionality of 5 commercial real estate CRMs and analyzed them deeply, so you can save time for searching. We also tried to clarify the difference between generic and industry-specific CRMs and explain why forward-thinking brokerages choose industry-specific solutions.
Finally, we provided you with a list of must-have features for CRE CRMs that you can use as a checklist during your CRM selection process.
If you don't feel 100% confident about which CRM to choose, contact Ascendix team. Our experienced CRM consultants are ready to help you with all stages of CRM implementation, migration, and optimization.
Win more CRE deals with AscendixRE CRM  
Track calls and emails with ease while automating property listing, marketing emails and client reporting. Get AscendixRE demo.
Commercial Real Estate CRM FAQ
What is the best CRM for Commercial Real Estate?
Taking into account the price-quality balance, level of customer and technical support, built-in features and apps, client feedback, and user experience, you may consider AscendixRE CRM.
Why is Commercial Real Estate CRM important?
Commercial real estate CRM helps firms to run and upgrade the next activities:
Pipeline Management – A good CRM for CRE will ensure you follow up with deals when needed. With CRM in hand, you'll never forget to call for leases or follow up with your clients on a particular day.
Better Team Collaboration – When your team is informed about the current workflow, it makes all the processes visible and increases your team members' loyalty. As a result, a team delivers better results
Back Office Management – Robust commercial CRMs offer back-office management as well. This feature reduces the time spent tracking multi-agent commission plans, generating customizable invoices, applying for payments, and more
Business Scalability – The best commercial real estate CRM is scalable. It means, your CRM has a high level of extensibility, so you can manage increasing amounts of data as you scale and integrate third-party tools for additional functionality.
Kateryna Zhukovina
,
Content Marketer
Kateryna creates engaging content about Salesforce consulting, Ascendix products, and CRM best practices for the commercial real estate industry and legal services. Her articles provide readers with relevant data, stats, business tricks and overviews of new industry trends and CRM updates.