Commercial real estate is an industry sector that contains an abundance of data. However, analytics that really benefits professionals are still a rare thing to find.
Brokers might spend a significant amount of time and effort collecting data that meets specific criteria. In the end, however, they might realize that all the information they've managed to dig, alas, isn't worth it!
Explore How Ascendix Products Can Help You in Commercial Real Estate Data Analytics
Therefore, industry specialists rely on commercial real estate data analytics to invest time, money, and effort effectively and drive profitability. The primary role of commercial real estate data analytics is to provide both buyers and sellers with explicit information about the property market, property itself, and its qualities which will help them to make more informative decisions and predictions.
This article is an attempt to provide you with comprehensive information about commercial real estate data science, analytics, and sources to find it.
What's covered in this article?
The sense of commercial real estate data science in terms of the CRE industry
The role of data analytics in commercial real estate
Types of CRE analytics
Top 3 commercial real estate data analytics companies
Let's get started!
Unlock commercial real estate insights and opportunities with ease — start research!
Commercial Real Estate Data Science
I won't surprise you with the statement that decisions around commercial real estate are numbers driven. CRE professionals employ data science to make strategic decisions and convince the clients that this certain property would be a good investment.
However, for some people, "data science" may be no more than just a buzzword. Let's identify what exactly commercial real estate data science means.
Data science is a field that comprises mathematics, statistics, computer science disciplines and incorporates techniques like machine learning, deep learning, cluster analysis, data mining, and visualization.
Within CRE industry, data science is crucial for creating sales strategies, marketing campaigns, etc. Every year the number of data-driven companies increases because industry professionals experienced the real power of data.
" In the near future, data science will have an important role to play, as it will be able to not only improve a business strategy but also improve the way and quality of our lives. "
Since 2017, the proportion of CRE organizations that expect to be "data-driven" has doubled to 56%. The development of data science capabilities provides CRE professionals with information like area description, the fund available, risk level, expected CAP rate, etc.
On the other hand, it helps to shed light on the following questions:
Is this the right time to invest in commercial properties?
What will my ROI (rent on investment) be in the next two years?
How much is my existing portfolio worth?
Commercial real estate data science allows businesses to understand market trends and different behavior types of their clients.
Data Analytics in Commercial Real Estate
Data analytics provides brokers with up-to-date information from demographic, segmentation, location, or geographic databases, so they can build a commercial real estate strategy based on consumer and market trends and avoid costly mistakes.
A few examples of data analytics in commercial real estate:
heatmap analysis
projected revenue charts
property rental calculators
analysis of the tenant's benefits due to flexible leases
customer and traffic information for a retail center
staff usage information for office space
Agents and brokers use this information to predict how a specific property will perform in the future and what its possible ROI will be.
" Data provides insights into factors such as rent growth, expense growth, and demographic and migration trends, as well as rent spreads between different asset classes. The future of commercial real estate investment is data and technology, and as this becomes a bigger focal point for the industry, we also will reap benefits, such as increased efficiency and more streamlined processes. "
Type of Commercial Real Estate Analytics
Type of CRE analytics
Description
Descriptive Analytics
Provides insight into the past, showing what has happened during a given period.

Provides the following CRE metrics:
-Loan-to-Value (LTV)
-Debt Coverage Ratio (DCR)
-Return on Investment (ROI)
Diagnostic Analytics
Provides insight into the past, showing why something happened during a given period.

This type sheds light on evidence which may lead to a positive change in your CRE business. Diagnostic analytics is the foundation for predictive and prescriptive analytics.
Predictive Analytics
Predictive type is forward-looking analytics.

It helps brokers to forecast their future earnings, highlight the risks, and create an action plan accordingly.
Each type of commercial real estate data analytics can help investors and managers better understand the sources of risk—from asset level to macroeconomic—so they can plan appropriate mitigation measures.
" Data suddenly becomes actionable information for facility managers to consistently make the best possible decisions in aligning the portfolio with the overall corporate mission. "
How to Collect CRE Analytics
There is a vast variety of different CRE data sources (business data, API, customer reviews, videos, social media posts, etc.) that allows data analysts to collect relevant data.
So, how to collect CRE analytics data?
The first step is to collect data from different sources. The second step is to clean and transform the data to make it usable. Then comes exploratory data analysis (third step), which combines visualization and statistics. This step aims to define and refine the selection of variables used in the model.
The fourth step is dedicated to choosing potential models and algorithms that fit the business's requirements. Data analysts apply machine learning and deep learning techniques and evaluates the results.
The final fifth step is showcasing the results to stakeholders to demonstrate the practical implementation of CRE analytics for their business.
What can CRE Analytics do for your organization?
Thanks to CRE data analytics, industry professionals get clear and practical insights for strategic actions that they must adopt by combining data from different sources and advanced analytics technologies.
However, brokers sometimes need a place to store and enter the received data under one hood. In such cases, here comes AscendixRE CRM with advanced functionality and multiple dashboards, each providing a comprehensive look across your real estate and facilities portfolio.
AscendixRE can help you:
Enter, store, and track key performance metrics across the commercial real estate portfolio
Utilize CRE data analytics results to generate targeted lists of contacts
Track required properties, listings, sales, leases, land, capital sources, availabilities
Visualize stacking plans, display properties on a map, etc.
Get the maximum of AscendixRE CRM!
Schedule a call with a manager and request a demo to get all the benefits for your commercial real estate business.
Top 3 Commercial Real Estate Data Analytics Companies

Built over 50 years of best practices in the data and analytics business, the platform enables CRE specialists to gain a deeper understanding of their customers, prospects, and trade areas.
This solution provides access to more than 22,000 variables, including demographics, consumer preferences, area analytics, etc. Using executive reporting dashboards, brokers can share insights with stakeholders.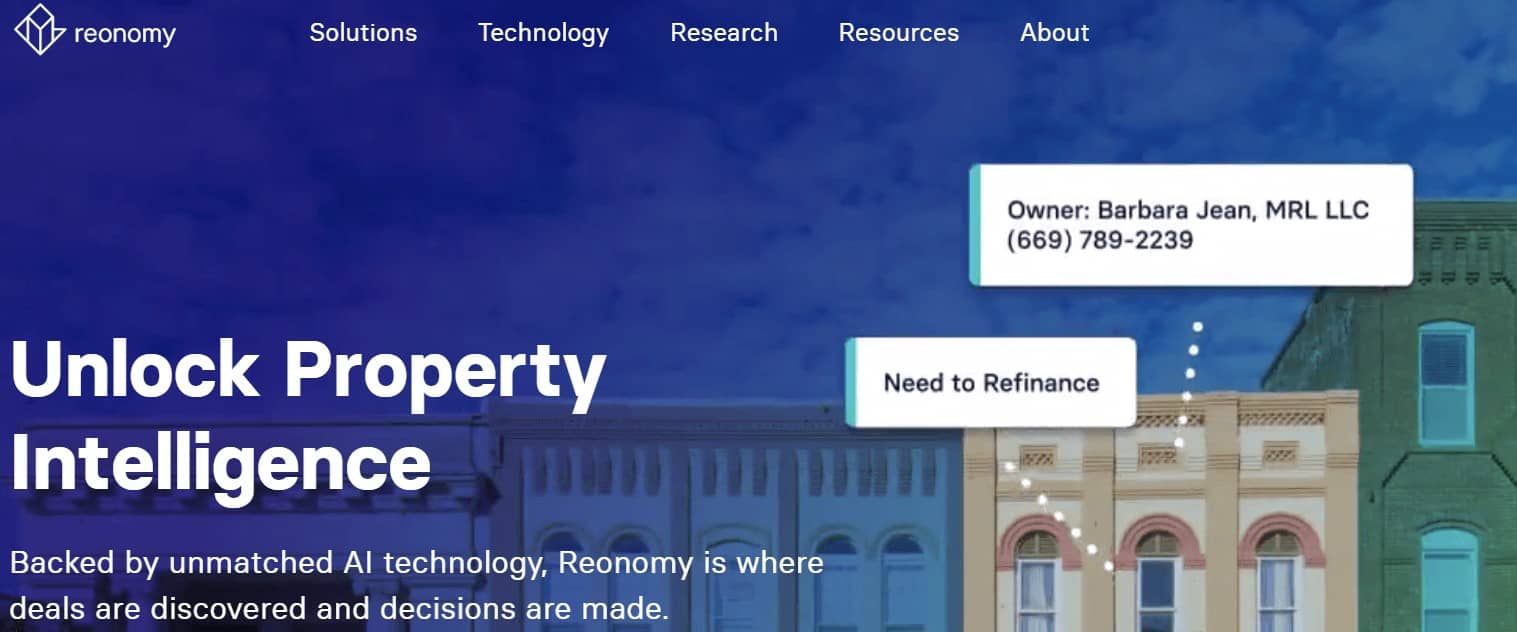 The company offers advanced data analytics solutions and a network of data providers gathered in one property intelligence platform. Using Reonomy, CRE agents and brokers can analyze property details, transaction history, occupant data, ownership data.   
Moreover, it includes integrations with 3,100 local county assessors, secretary of state, census data, title companies, commercial data & geospatial providers.  
The received data can be easily integrated into your internal systems. 

Real Capital Analytics provides CRE industry players with valuable data from a vast network of independent sources to drive the commercial real estate investment markets.  
The company has recorded over $20 trillion commercial property transactions linked to over 200,000 investor and lender profiles and provided its subscribers with a full micro to the macro view of your chosen market.  
CRE data analytics and research results are published in Capital Trends reports (Global, US, Europe, and Asia), frequently quoted in industry news and academic research. 
Wrapping Up
Data science and analytics in the commercial real estate industry are starting to make waves. Utilizing commercial real estate data analytics within your business presents a great opportunity to have a competitive edge among your peers.
Using various commercial property data in combination with analytics helps you foresee different scenarios and future trends and avoid pitfalls along the way.
CRE data analytics allows to make data-driven decisions faster and reduce risk.
To utilize analytics effectively, you need a solution that offers storing and organizing options for data details. Consider AscedixRE CRM for commercial real estate as a platform where you can handle all the valuable data about your contacts, properties, opportunities, availabilities, and leads.
Read on our case studies and contact us to discover how Ascendix CRM solutions empower companies to improve deal sourcing and client relationships
Kateryna Zhukovina
,
Content Marketer
Kateryna creates engaging content about Salesforce consulting, Ascendix products, and CRM best practices for the commercial real estate industry and legal services. Her articles provide readers with relevant data, stats, business tricks and overviews of new industry trends and CRM updates.