Mailchimp has become the most favorite email marketing tool for more than 15 million people, especially, those who run small businesses and non-profit organizations due to its budget-friendly pricing.  However, the process of Salesforce Mailchimp integration has its pitfalls and peculiarities.
In this post, we'll run over our best practices for synchronization, Mailchimp alternatives for Salesforce, and much more.
Since 2001 MailChimp has quickly become one of the most used email marketing solutions for creating, sending, and tracking email campaigns. Mailchimp and Salesforce integration allows platform users to leverage all Mailchimp advantages without leaving the Salesforce organization and, as a result, better engage with their customer base.
The integration of these two solutions lets you import Salesforce contacts to MailChimp, build segmented contact lists, and automate communications with your customers. Let's look at Mailchimp in greater detail, especially, in terms of the benefits of synchronization of Salesforce with Mailchimp.
What our blog post will cover:
What is Mailchimp
Mailchimp Salesforce Integration Benefits
What You Should Know Before You Start MailChimp Salesforce Integration Project
Mailchimp vs Salesforce Marketing Cloud
How to Integrate Mailchimp with Salesforce and Salesforce-based CRMs like AscendixRE
What is Mailchimp
MailChimp is the world's largest marketing automation platform. It helps millions of small businesses send various email campaigns and generate new leads. On top of that, due to it, you can create beautiful email templates, digital ads, social media posts, postcards, set up drip campaigns, run A/B tests, create, and much more.
Moreover, this digital marketing solution can be integrated with more than 250 platforms like Salesforce, LinkedIn, Vimeo, Calendly, OpenTable, etc to interrelate your marketing activities across the systems.
Cortni Q, for example, claims that she likes Mailchimp's integrability with Salesforce and G-Suite and ability to send out important and seasonal information to their clients:
You can use MailChimp for free if you have less than 2,000 subscribers and send up to 12,000 emails per month.
Mailchimp Salesforce Integration Benefits
Mailchimp and Salesforce integration enables you to:
Synchronize all of your Mailchimp data like subscribers into Salesforce CRM and link them to existing contacts and leads in your org.
Create new leads in Salesforce for email addresses that don't match existing leads, giving your sales team more people to reach out to.
Update regularly Salesforce contacts and leads with Mailchimp campaign activity
Get better visibility into your marketing engagement activities
Target your audience with more personalized content like specialized digital ads
View all subscriber activity and campaign success statistics to understand better your customers.
Here is the list of companies that use Mailchimp for Salesforce: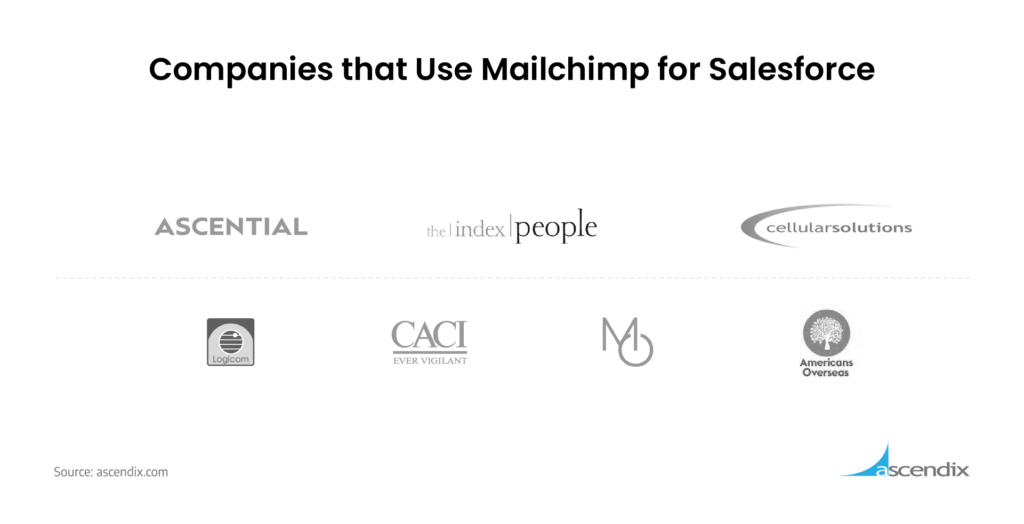 One of Salesforce Mailchimp integration reviews mentions that the greatest advantages of this integration are free pricing and easiness to use:
How to Start Salesforce Integration Project 
Prior to synching Mailchimp with Salesforce, you need to consider several aspects of this integration like:
Salesforce Editions
MailChimp for Salesforce requires one of the following platform editions: Professional, Enterprise, Unlimited, Developer, or Performance. Pay attention that if you have a Professional edition, you will need to ask your Salesforce Account Executive to enable API access before you install the Salesforce integration.
Integration Approach
In general, you can link your CRM with Mailchimp in three ways:
Each of these approaches has its pros and cons like, for example, the main drawback of using third-party integrators is that they typically consume your inbound API call limits – which means that once you've hit the governor limit, you cannot make any API calls into your org for a set period of time. And this can negatively impact your org if you use other products that make API calls.
Moreover, unlike the MC4SF application, third-party integrators may increase the storage limits very quickly if you use any notes or attachments in your email campaigns. However, the MailChimp application has its weaknesses as well.
For example, if you update your data in the Mailchimp app, your data will NOT automatically be updated in Salesforce, because the Salesforce platform serves as a single source of true data in this integration. It can pose a significant issue if you want to be GDPR compliant and not to add someone who has already unsubscribed from an email list to your Mailchimp list again.
Below we'll explain how to maximize the app integration on the example of our solutions. Also, we suggest you reading Mailchimp for Salesforce user guides before you launch the process:
Account Access and Permissions
What else should be noted is that to access Mailchimp Salesforce integration you need to have Trailblazer.me account and your Mailchimp account needs to have Manager access or higher to complete this integration.
To edit users' permissions to enable the integration you need to follow these steps:
Select 'Manage Users' under 'Administer' in your Salesforce account.
Click the exact users that you want to edit.
Hover over to 'Permission Set Assignment' until the popup appears and click 'Edit Assignment'.
Use the 'Add' arrow button to add both Mailchimp User and Mailchimp Admin to 'Enabled Permission Sets' and click 'Save'.
Repeat this step for each user who needs access to this integration.
Mailchimp and Salesforce integration only allows you to connect your Salesforce account with a single Mailchimp account and in your Salesforce integration, you'll be able to see only Regular Email and RSS campaigns.
Testing Options
Before you jump right to the active use of MailChimp within Salesforce it's better to see how well you've managed to integrate. Think about the features you need to test the most to ensure its success like a test List View, Audience, Campaign, or records for testing purposes.
Besides the above-mentioned points, you should keep in mind that Mailchimp Salesforce integration is not just the app installation. It is a complex process that may involve customization and configurations using either Process Builder or Flow Builder in Salesforce.
Molly K said in her Mailchimp Salesforce integration review that to maximize the performance it's better to have a dedicated staff member specializing in Salesforce integration:
Sync Mailchimp Activity Details with Salesforce
We'll help you link your Mailchimp activities like Clicks, Opens, and Bounces with your Salesforce Org.
Mailchimp vs Salesforce Marketing Cloud
As a Mailchimp alternative, Salesforce Marketing Cloud is designed with a marketer in mind. Unlike Mailchimp that can be a good fit for startups and small businesses, Salesforce Marketing Cloud serves better for larger field sales organizations with more intricated sales & marketing strategies.
For example, if you need a custom-branded email template or custom email automation/segmentation logic for big volumes of contacts, Salesforce Marketing will cope with this task better than Mailchimp. However, on the other side, Mailchimp is much easier to use and manage provided it's integrated correctly.
If we speak about the pros and cons of these two email marketing solutions, they are the following:
Mailchimp Pros
A great variety of ready-to-use templates to apply to each of the marketing campaigns
An ability to monitor and track the progress of these campaigns in real-time
The great integrability with social media accounts in Facebook, Twitter, or LinkedIn
Affordable pricing/free plan availability
Doesn't require deep technical skills to launch and operate
Shelly Strickland said the following about Mailchimp pros:
Mailchimp Cons
UI can be not expressly clear
Difficult to customize
Limited as of marketing functionality for
Lacks good documentation
Justin Harding described the following disadvantages in his MailChimp Salesforce integration review:
Salesforce Marketing Cloud Pros
An ability to manage newsletter subscriptions and to deploy them on specific dates/times
Automatization of the newsletter distribution
Secure data sharing and storage
Ability to discover and manage the right audience
Centralized depository of all contacts address information, opportunities, and notes within a single Salesforce account
Good customizability
Ability to seamlessly sync it with other Salesforce Clouds
Salesforce Marketing Cloud Cons
No free plan
Too many default features for small businesses that can confuse
Implementation can take much longer than that one in MailChimp
Requires additional time for training and optimizing
Another Mailchimp alternative, Salesforce product – Pardot, similarly to Salesforce Marketing Cloud offers a greater extend of marketing activities together with Salesforce. However, this integration also has its pros and cons that are well described in this Reddit thread.
Now, it's time to jump directly to our Mailchimp for Salesforce user guide on how to connect these two platforms using our Salesforce-based CRM for commercial real estate: AscendixRE and AscendixRE Land CRM as examples.
How to Integrate Mailchimp with Salesforce
Our CEO Wes Snow recorded a two-minute video where he shows how AscendixRE Land and MailChimp integrate. For those on the AscendixRE platform, this integration is exactly the same.
How to Send Contacts from Salesforce (AscendixRE) to MailChimp
#1 Create a mailing list in MailChimp to be able to send/import contacts to MailChimp, you have to create a list in MailChimp. If you have it ready, skip this step.
#2 Using Member Queries to Create lists in MailChimp
Go to Member Queries located in the MailChimp for Salesforce App in the MC Setup Tab and create a New Query.
Select an existing list you wish to start adding contacts to, then select Next./li>
Under Build Filters select contact, then select the fields you would like to filter by. (E.g., we are filtering by Relationship Type = Buyers).
*Select + Add Row to include additional filter criteria.
When you have finished setting up your filters click Next to Preview and click Next again to set up your MC Query Name and set when this query should run.
Click Save and Run when done.
Great! Now all you need to do to add contacts to this list is to set the Relationship to Buyer. Once Member Queries are set up any contacts fitting your filter criteria will automatically synchronize to your List in MailChimp once a day.
That is! Now you can set up MailChimp campaigns off lists generated from Salesforce.
Share Your Salesforce Challenges with Us!
We are here to help you find the best solution and integration approach for your business.
How to Update Field Mappings
Although we used Member Queries to help us import contacts into MailChimp, don't forget to update your Field Mappings!
Under MC Setup select the Lists subtab and click on Map Fields on the list of your choice.
Now match your Salesforce Fields to the correct MailChimp fields.
To add new Mailchimp fields use the Add a new list field section.
Select the Mailchimp field type and enter the field type EXACTLY as it appears in Mailchimp.
Now you can match it to a corresponding field within Salesforce.
No need to save! All changes are automatically saved!
How to Delete Contact from Your List
To delete the contact from your list, simply change the field value in your AscendixRE/Land and wait 24 hours or your next sync cycle for those changes to appear within MailChimp.
More Salesforce Mailchimp Integration Best Practices
Linking the Mailchimp Subscriber and Its Activity to Leads and Contacts
Craig Woodman shared his approach in setting up this synchronization on Trailblazers Community through custom integration with a flow. To do it you need to create a custom lookup form from the MailChimp subscriber object (and MailChimp Subscriber Activity object) to the lead and contact record that afterward will be matched by the email address (with the help of the Process Builder).
You also have to deploy automation to write that field in place, either by looking up the MailChimp specified relationship on a lead or by finding a matching email address. After these manipulations, the process will look like this: a mailer goes out in Mailchimp, a record gets sent back through MailChimp Subscriber Activity as a sent action, the flow picks up these sent statuses, and creates a campaign with campaign members for those sent email.
The only issue that can appear here is duplicates. However, it can be solved through a junction object or by duplicate management. To easily track opens, clicks, sends, bounces, unsubscribes, etc, exactly on the record page and to update the campaign status, you can use Mass Action Scheduler (however, new scheduled flows can also cope with it).
These activity monitoring through MailChimp Subscriber Activity will require creating an event for each click open or similar activities but this can be done with the flow as well.
How to Update Mailchimp Data in Salesforce
It is another pain that Bob Leaper on the Trailblazer Thread tried to solve in the following way:
Set up the Audience Fields in MailChimp that you want to capture including the Salesforce Account ID and Contact ID.
Create a query for the contacts and leads that you want to add to the Audience in Mailchimp for the Salesforce app in the Salesforce platform. You can also add tags to sort out MailChimp campaigns with different messages.
Run and schedule the Salesforce extract as needed and run your MailChimp campaigns
To re-import Activities into the Salesforce platform you can use Dataloader.io to track who, actually, got the campaigns. Here is where having the Contact ID and Account IDs come in handy. Salesforce will flag the next hard/soft bounced emails, but you will need to take the unsubscribed contact notices you get from MC and manually update the Do Not Email field in Salesforce.
You can also delete the email and past it in the Contact Description field so as to double-check information and to avoid spamming without losing the email info.
How to Import Leads from MailChimp After the Initial MC4SF Setup
To address this issue, Ron Kiker offers the following option:
Go to the MailChimp Setup tab.
From there, click the "Edit" button and check the "Allow MailChimp to create Leads in Salesforce?" box.
Click "Save."
Also, to complete leads synchronization you have to turn on Hourly Sync. If you already have this feature turned on, then this will be executed on your next Hourly Sync batch and your Salesforce account will be updated.
To turn on the Hourly Sync in Mailchimp you need to follow these steps:
Click App Launcher and choose Mailchimp for Salesforce;
Click the MC Setup Tab;
Navigate to Settings Tab and toggle the Data Sync slider to a blue checkmark.
Now, your Mailchimp Audience information will be passed to Salesforce every hour and Mailchimp Campaign activity will be updated daily at midnight in the time zone associated with your Salesforce account.
Another option, if you don't want to activate Hourly Sync you can simply click the "Sync Now" link to the MailChimp Lists and have Leads imported into the Salesforce platform.
More Mailchimp for Salesforce best practices you may find on Trailblazer Community threads:
You may seek Mailchimp for Salesforce help on  r/salesforce and r/MailChimp/ subreddits. Here are a few discussions worth mentioning:
Another source of Mailchimp for Salesforce support is the Salesforce forum on Stackexchange.com and Salesforce Developers' forum.
For example, there you can find helpful comments on issues like when MailChimp Campaign Hourly Stats Take Up Too Much Data in The Storage Usage or solutions to errors in connecting Mailchimp with Salesforce.
But, if you haven't found the right solution to your Mailchimp for the Salesforce integration challenge, our CRM consultants are always ready to assist you with it. We will offer the best practices for:
syncing and tracking MailChimp activities like Sends, Bounces, Unsubscribes in Salesforce,
automation of data synchronization between the systems,
association of Mailchimp subscribers with Contacts and Leads and many more.
Our Salesforce consultants will help you overcome all system integration challenges, suggest the best approaches for synchronization exactly for your organization, and ensure that this integrated solution completely meets your project needs. Have faced any Salesforce integration issues and seek professional help? Discuss them with our professionals!
Chris Edwards
,
Senior Salesforce Consultant at Ascendix Technologies
Chris is a Salesforce-certified administrator with 7+ years of experience in Salesforce consulting services, administration, app integration, organization of clients' trainings and data analytics and migration. She is also an author of multiple CRM guides and trainings for Salesforce admins and users. In Chris' former life, she lived in NYC, traveled the world, went skydiving, and swimming with sharks. She can now be found in a Texas suburb with 3 kids, escaping the heat at a nearby pool.
Salesforce Integration Services by Ascendix
Our Salesforce consultants will design an individual integration roadmap and integrate seamlessly your data, systems, and apps under your Salesforce solution