In this release, AscendixRE gets a new level of advancement and breaks the barriers of email marketing for real estate agents and CRE brokers. We've enriched our integration with Mailchimp – the famous marketing tool appreciated by small teams and brokerages across the globe.
Now you can send emails to different contacts without the hassle of creating audience lists beforehand, craft professional looking email templates and merge rich real estate oriented data for up to date content delivery to exacting audiences – all right within your CRM.
Additionally, you can:
Select & filter recipients right from database – no pre-made audience lists are needed!
Create email templates with dynamic content driven from data already existing in your CRM
Perform the entire email send process without having to leave CRM
Send emails right from your Inquiries module
Filter, select and send one or many Properties to a target audience
Increase your audience size to the limits of your Mailchimp subscription (anywhere from 50,000 contacts and up)
Mailchimp to AscendixRE CRM integration is available in AscendixRE Enterprise and Unlimited plans.
Want to See This Integration in Action?
Book AscendixRE demo, where our sales team shows you the extended functionality of real estate marketing within a single CRM.
What Can Brokers Do With This Integration?
Select & Filter Recipients Right from Database – No Pre-Made Audience Lists are Needed!
Earlier in order to send emails to Contacts, you had to create an audience list in your CRM in advance and wait until it gets synchronized with Mailchimp overnight.
Now, you can simply tick the recipients and send a meaningful email campaign to them without creating an "audience" group and waiting for it to be recognized by Mailchimp. We call this feature "ad hoc" selection of records.
You can also apply filters to narrow down the list of contacts and send emails to the target audience based on specific criteria or preferences.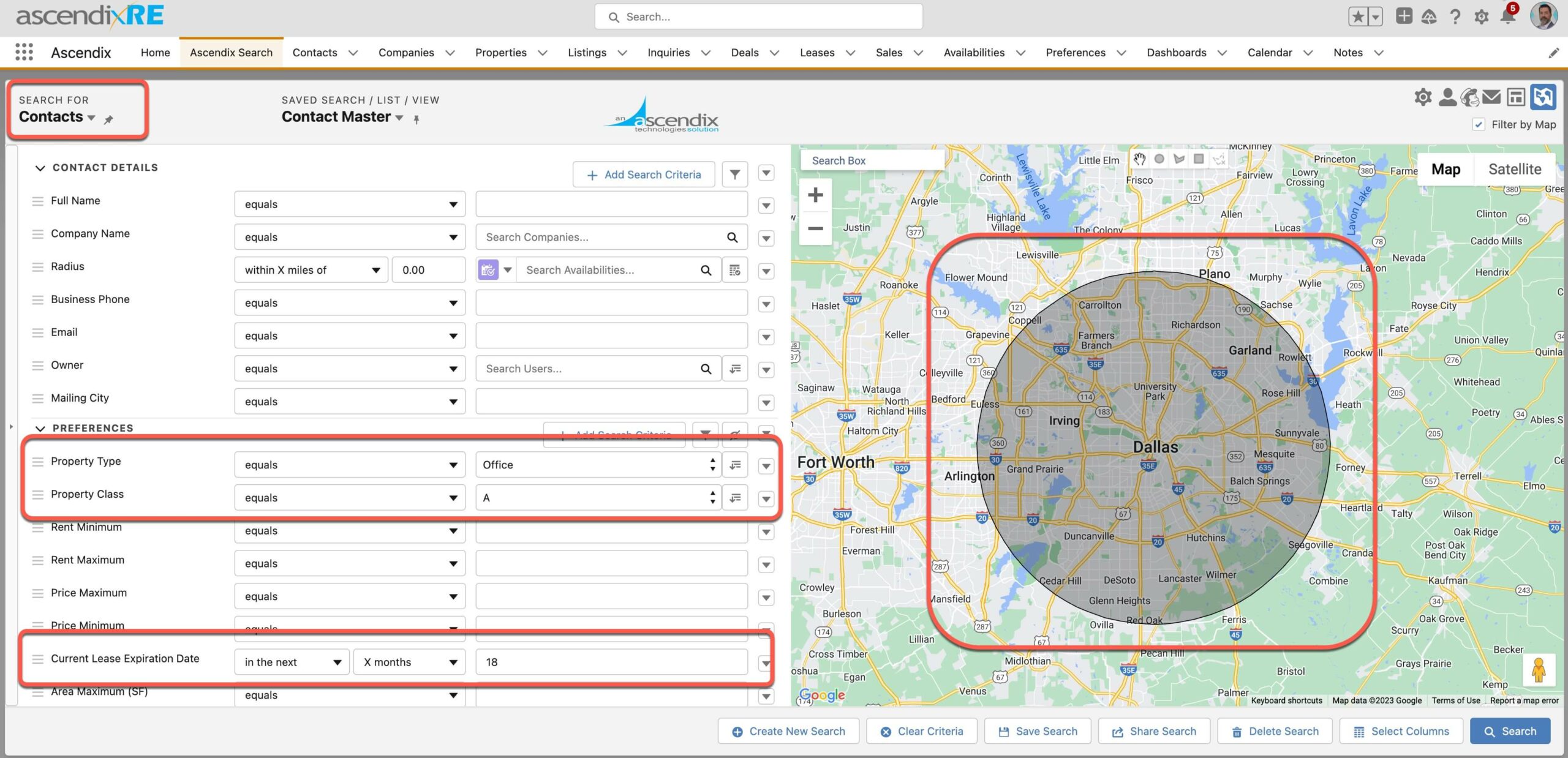 Create Email Templates With Dynamic Content Driven From Data Already Existing in Your CRM
Earlier in Salesforce + Mailchimp integration, there was no ability to automatically change the content in those templates from the CRM interface – you would need to go back to Mailchimp and manually update data in each template.
With our new integration, you've got the ability to merge data that you already have in CRM into templates with dynamic merge fields. This allows you to set up an email template and reuse it for ongoing publications with different property and related data. The content is dynamically fed from your AscendixRE CRM into Mailchimp – you don't have to toggle between the systems anymore.
Just pick the right contacts and content right from your Inquiries or Properties screen and create an email template that can be used for all future email sends.
Send Emails to Inquiry Records
Mailchimp is not aware of this custom object called inquiries. But using AscendixRE CRM + Mailchimp integration, you can now send emails to Inquiry records in a few clicks. Using Ascendix Search as an audience builder, you can filter the precise set of inquiries to send an email containing custom selected property listings for their consideration in a matter of seconds.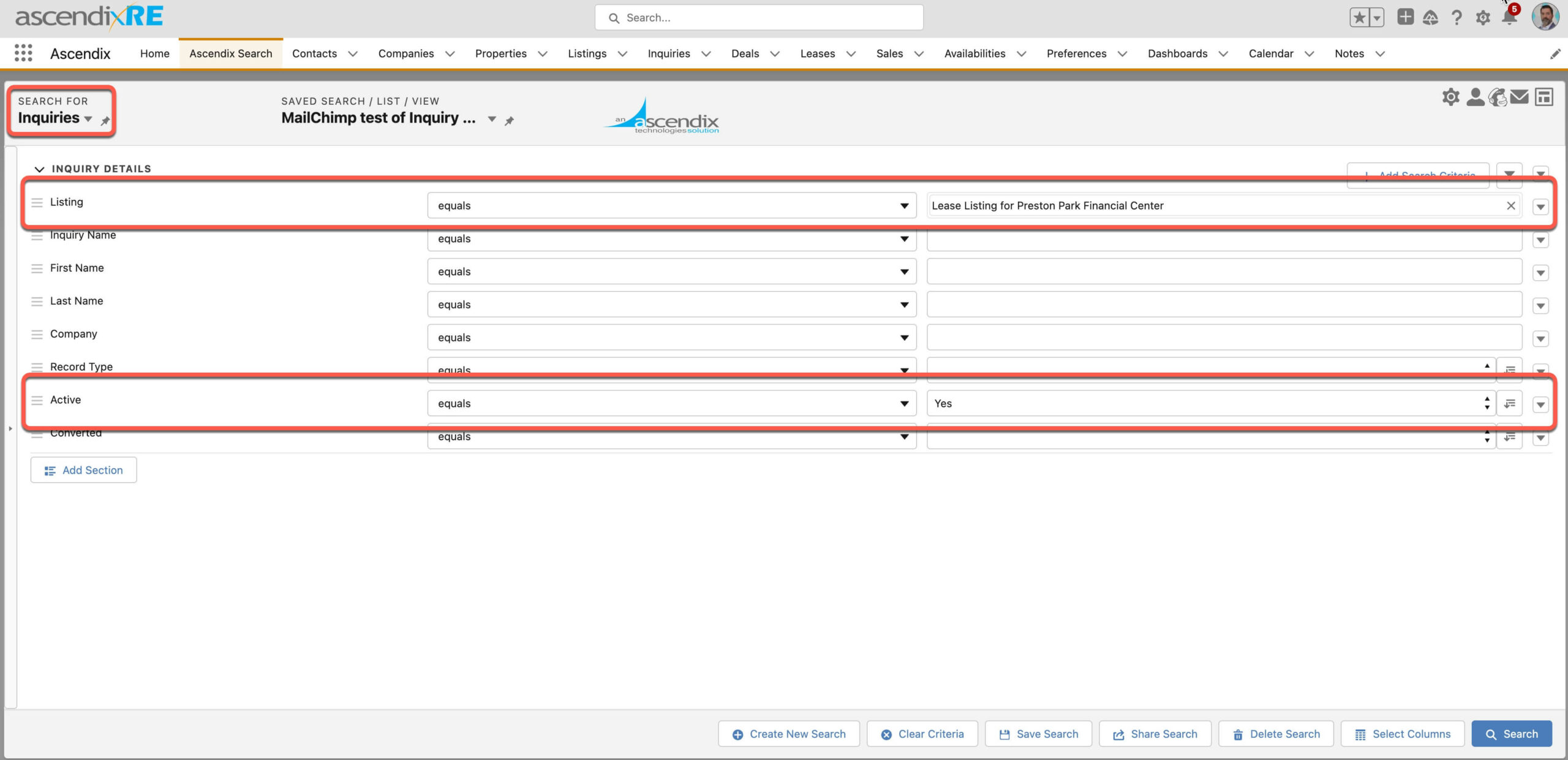 Send Collection of Properties to the Target Audience
Just as you can filter and select targeted audiences for your email sends, you can also filter and select specific properties to include as content in your email. Just select properties you want to include in your email by ticking them or drawing a shape on the map, select recipients – and your email will soon land in their inbox.
Also, you can view the results of an email campaign at a record level from the Mailchimp account.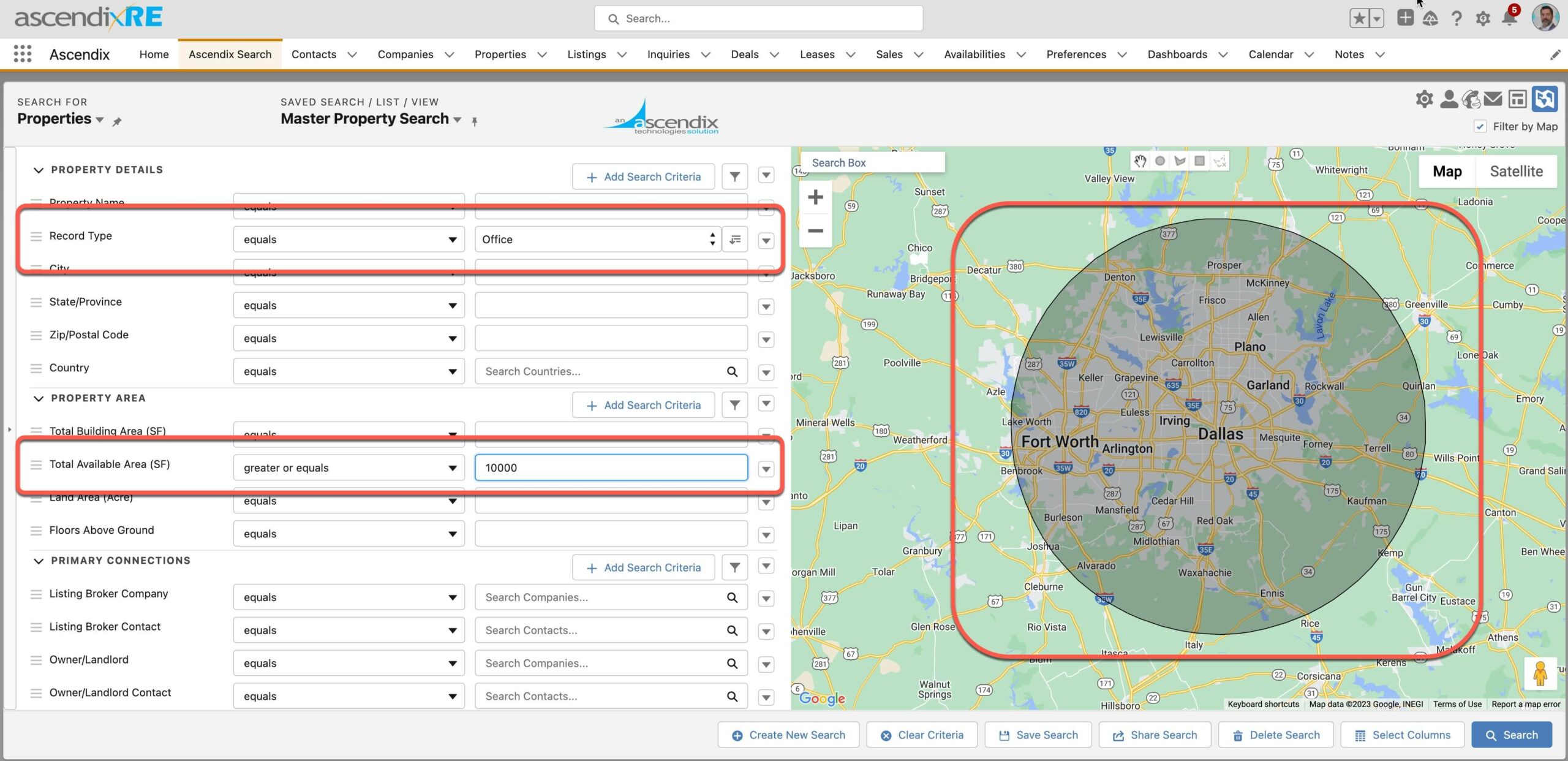 Increase Your Audience Size to the Limits of Your Mailchimp Subscription (Anywhere From 50,000 Contacts and Up)
By default, Salesforce users are allowed to send only 250 emails per send within their system. With Ascendix Search + Mailchimp integration, Mailchimp serves as your email delivery engine and thus you are no longer subject to the Salesforce limits but rather those related to your Mailchimp subscription.
Streamline Your Email Sends
Now with all the mentioned above benefits, you can streamline the email sends by selecting the target audience, target content and templates in a few clicks as well as applying ad-hoc sending – all within your CRM.
For teams wanting to scale up their marketing performance with no extra effort, this integration makes a huge difference as you don't need to anticipate which contact record you're going to send emails to, what content was pre-packaged in your template or having to toggle between applications to accomplish all of this – AscendixRE + Mailchimp resolves all of this.
Find more details on the configuration setup of your Mailchimp account and its functionalities in the user and admin guides we have created.
Interested in learning more? Contact us to schedule a live demo of our solutions! Are you looking for commercial real estate CRM? Make sure to check our AscendixRE and Ascendix Search!
Check out this video to experience all the features we described in this article.
Kateryna Zhukovina
,
Content Marketer
Kateryna creates engaging content about Salesforce consulting, Ascendix products, and CRM best practices for the commercial real estate industry and legal services. Her articles provide readers with relevant data, stats, business tricks and overviews of new industry trends and CRM updates.