Commercial real estate isn't an industry with a free information flow. Very few brokers are willing to share their commercial real estate database publicly. To be more specific, most CRE brokers keep private databases of properties and clients separate from their colleagues and officemates.
The storage place of any commercial real estate database is a CRM. Having customizable CRM features allows brokers to do much more than they can with just a spreadsheet. But what features are required for effective filtering, automation, and suggestion of leads?
To help you match the features to your challenges, we have compiled a list of essential commercial real estate broker database features. Let's dive in!
Want to Try All the Features of a Commercial Real Estate Broker Database?
No problem! Contact us to get a demo of AscendixRE CRM.
What Determines Commercial Real Estate Broker Database Success
Shortly, the features of your current CRM software determine the successful processing of your database. Let's analyze each component of the real estate agent database more specifically.
Intuitive UI: CRE agents and brokers need to input the data quickly and easily. Smooth and intuitive UI design in CRM brings these goals to reality.
Powerful search engine: this feature empowers specialists to search properties based on various filters quickly.
Extended import features: CRM should allow brokers to add an unlimited number of contacts and companies from any CSV formatted file. Hence, it should handle CSV files with any field configurations, create groups for each imported list, and more.
Easy migration: This feature is one of the major concerns. Your CRM must be designed to make the migration from an outdated database system to the new one seamless and fast.
Data security: Brokers spend their careers accumulating their databases. An ideal real estate broker database complies with security settings that both protect an individual broker's data from external threats and make it visible only to them.
Mobile access: CRE industry requires to be flexible and mobile. That's why brokers need 24/7 mobile access to the database on the go and from any device.
Customizable property templates and reports: Brokers need to generate many reports and templates. The ability to make them customizable according to specific needs is beneficial.
Integration with other CRE tools: Commercial real estate database connection with marketing and commissions tools is a perfect match for brokers. They can use one tool to research, prospect, create a call list, and develop a proposal, market a listing, and get paid out all in one place.
Consider this passage as a checklist for essential CRM features vital for managing your commercial real estate. If your current CRM is missing something from the list, look for alternatives.
" I can't stress enough the importance of taking time to prepare the data to assure the usability of the tool for you and your future team. This investment of time was key if I wanted to build the best database in my market. I truly believe a database that is highly organized with my market intelligence will lead to more deals. If you want to have a quality dataset that is better than the competition, it is something that you have to spend your personal time on upfront, then your data will be streamlined in the future "
Core Features of Commercial Real Estate Broker Database
A significant part of CRE management is the creation and maintenance of a real estate agent database. Information about owners, tenants, and all transactions must be properly recorded and easily accessible in the day-to-day business flow.
Database tools and features that meet specific brokers' needs provide a strategic advantage in commercial real estate brokerage. What features do we mean? For your convenience, we'll break them into five categories and provide visual examples from Ascendix products.
Category #1. Database Administration
Maintaining and processing your own commercial real estate database is one of the best ways to create a competitive advantage for brokers. AscendixRE CRM simplifies this complex process and makes it completely intuitive. You can do everything you need: from adding your properties manually to exporting your data from Salesforce to Excel in a few clicks.
List of features for commercial real estate database administration:
Custom logs triggered by actions (e.g., new property uploaded/deleted, portal activities by contacts) that can be filtered and searched
Manual and automatic property data uploading and editing
Bulk uploading
Creation of targeted lists
Manage Availabilities in real-time
Tracking of prospective contacts
Unlimited numbers of attachments and media references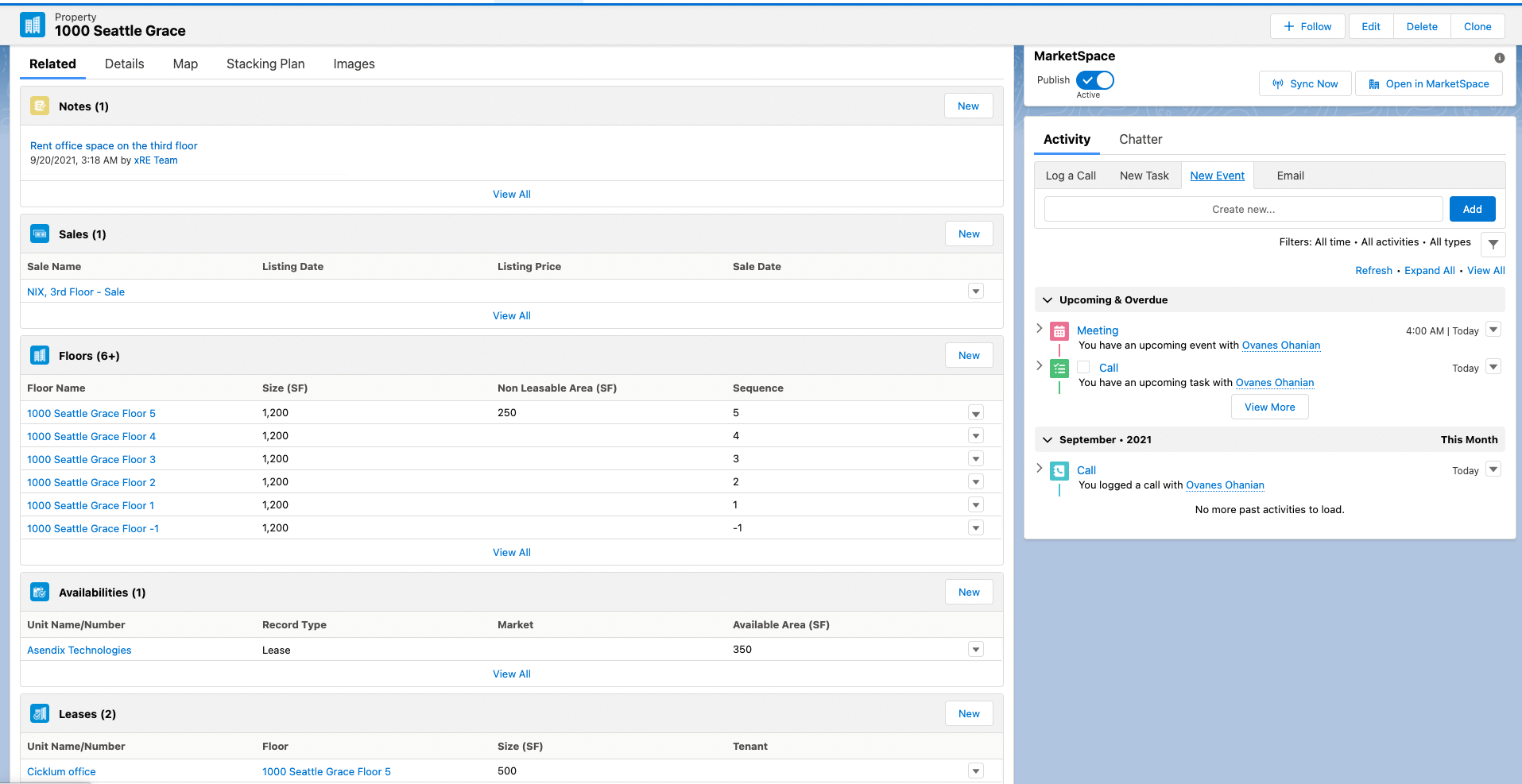 Category #2. Database Search and Filtering
Simple, modern commercial real estate database search and filtering features with map-based search engine let brokers work faster and efficiently.
List of features for commercial real estate database search and filtering:
Сreate granular lists of prospects to follow up
Look for quires using keywords and key phrases
Ability to save searches for future needs without recreating the same query to get certain data
Scan search & filter: Access the property record, and find all related Inquiries, Availabilities, Deals & Leases to that property
Flexibility to change fields you're searching on
Ability to put necessary fields into PDF or Excel reports and format them
Search segmentation (buyer intent, type of sale, property type, etc.)
Customizable search attributes (location, price, listing status, parking type, etc.)
Use a map to search for properties with multiple zip codes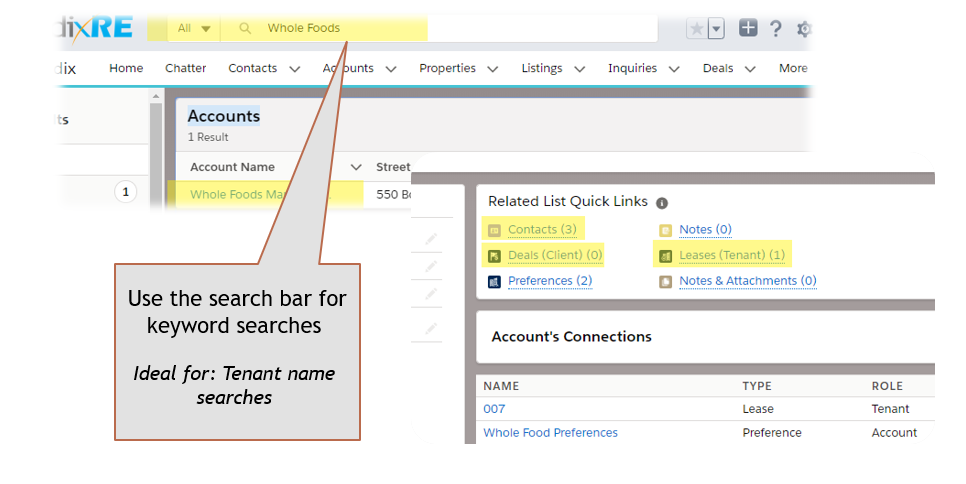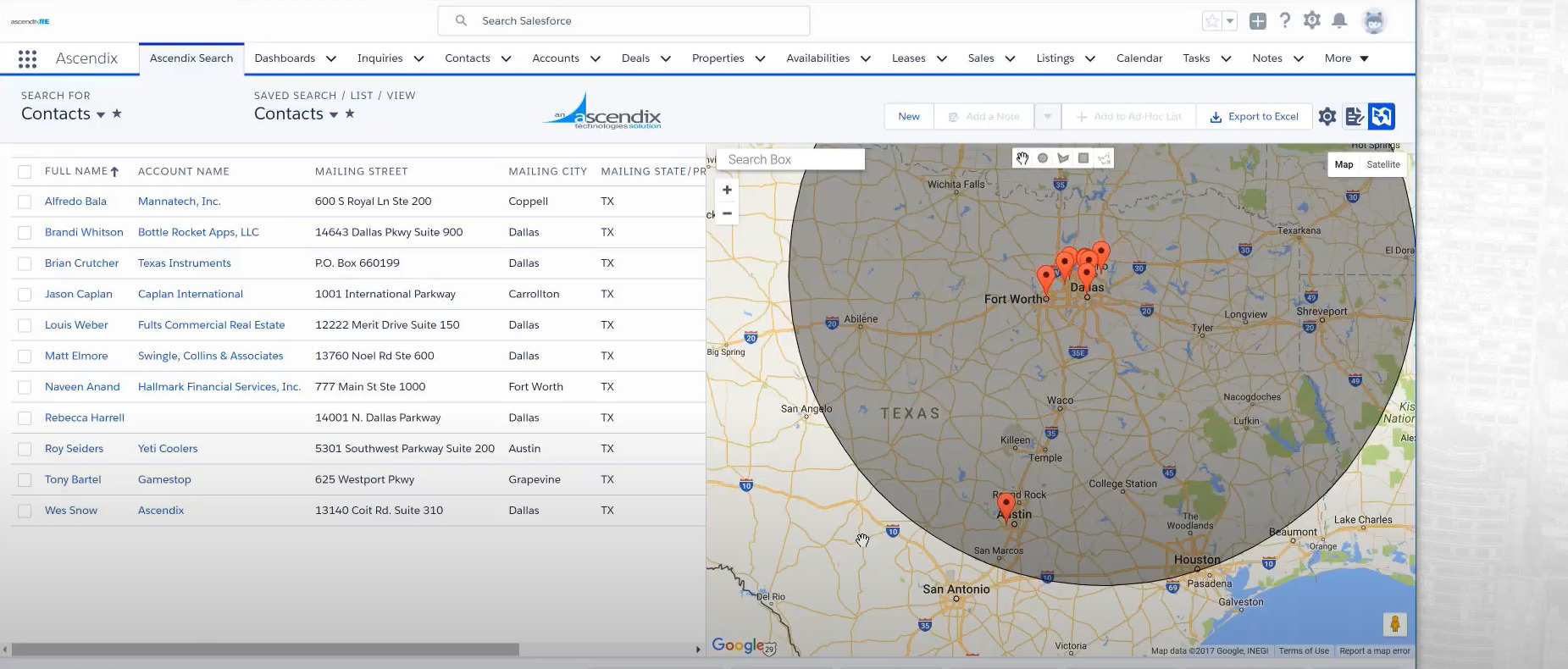 Category #3. Analytics
Analytic features are vital for tracking the results of your work and making a forecast about what works well and what needs to be improved.
List of features for commercial real estate database analytics:
Analytics reports about your marketing activities
Track of data on past deals in a dynamic
Analysis of scheduled activities with accounts and their results
Custom analytics reporting and visualization
Analyze metrics to gather leads and compile comparables for future listings
Commercial real estate database analysis to evaluate Opportunities
Track transaction pipeline to forecast revenue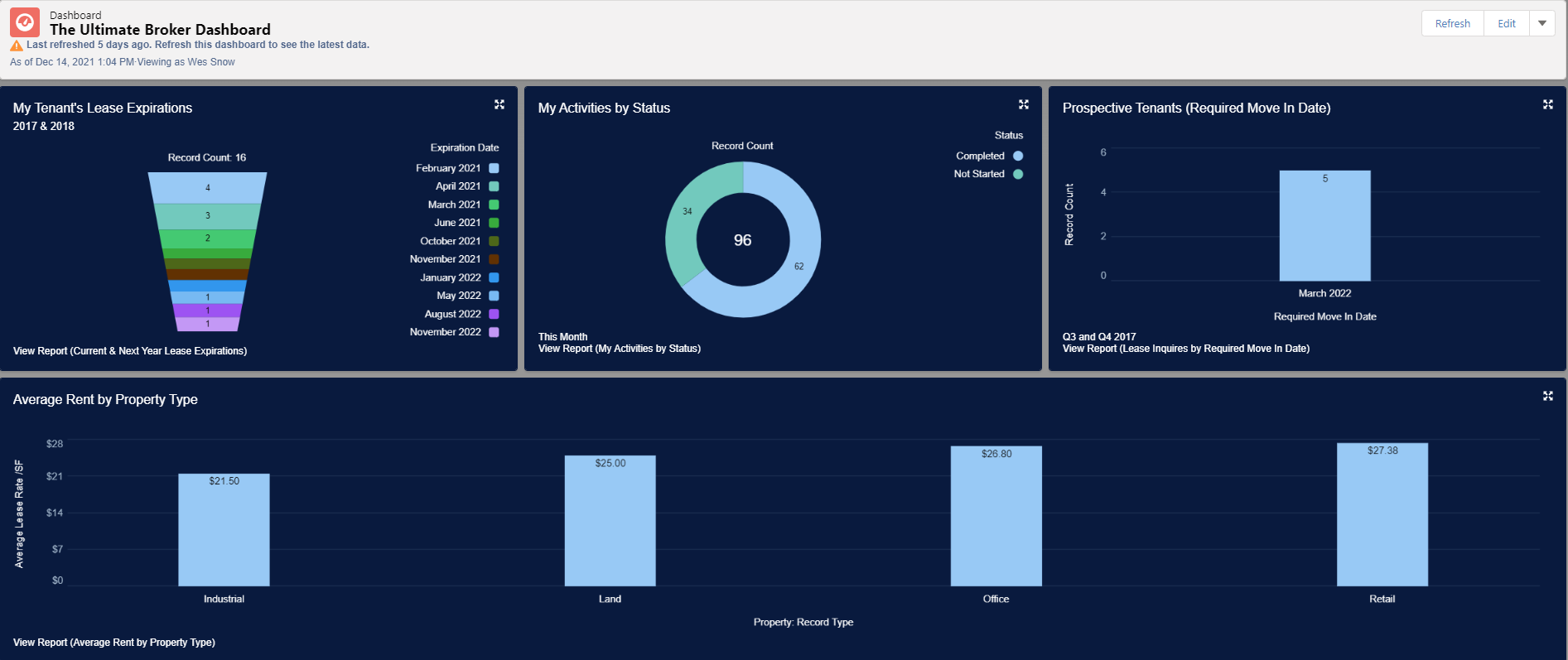 Category #4. Property portal
Brokers need to market their Listings and Availabilities using advanced search and multiple filters.
List of features for commercial real estate listing database property portal:
Custom notifications on new properties, price change, photo change, property availability change, etc.
Detailed listing information (ownership data, building details, expanses, area, etc.)
Ability to upload any type of Listing documents (detailed floor plan, technical documentation, and more)
Direct contact with a broker by submitting the contact form or via phone call
User-generated reviews and ratings
Property comparative analysis
Robust search engine to filter and select the best-matched properties
3D visualization, virtual tours, point-and-click floor plans.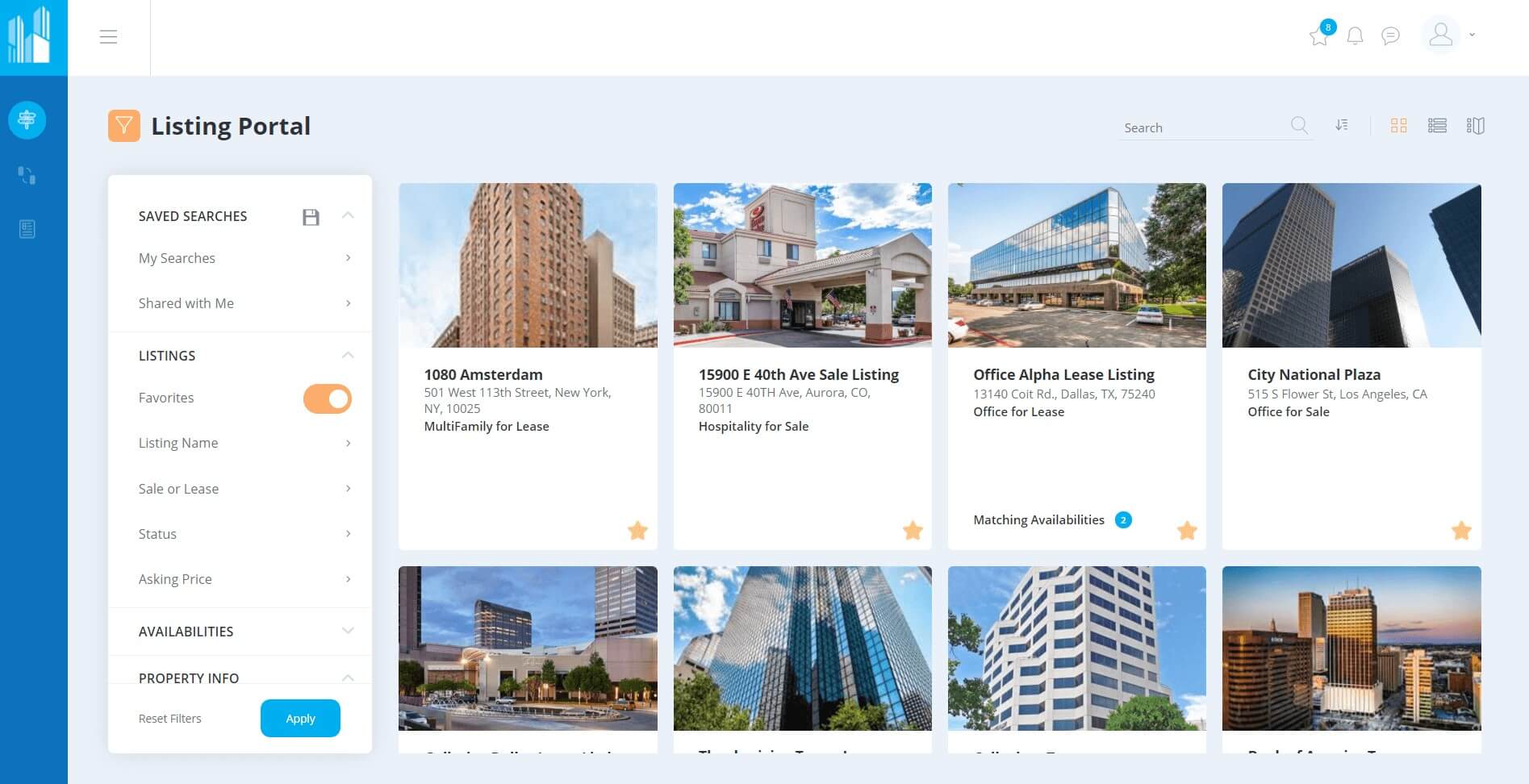 " An agent or broker with a substandard prospect and client list will find life very difficult in the property industry; they will likely leave the business quite soon due to a lack of momentum and income. The 'peaks and troughs' in our market will soon frustrate and slow income opportunity for many agents. The only way to remove the 'bumps in the road' to growth is to create a good prospecting system and support it with regular daily action. "
Category #5. Automation and Customization
If you spend too much time on repetitive tasks, automate your workflows. Done right, it helps to save time by eliminating mundane tasks and enhances you to concentrate on top priority tasks.
Besides, consider customization as a value-added feature of the commercial real estate broker database. As not all CRMs can be customized, check if a CRM provider can help you with data migration and CRM customization.
Do they provide customization services? And can they customize CRM to meet your needs?
List of features for commercial real estate listing database automation and customization:
Automated task creation
Ability to get notifications about lease expiration and other essential events
Automated approval process
Send mass email campaigns right from CRM
Automatically generate property brochures, activity reports by getting data and pictures from CRM
Wrapping Up
I hope this article will serve you as a helping tool in identifying features for your commercial real estate database software. In case you need additional information concerning specific features, feel free to contact us.
We'll provide you with a professional CRM support team to assist in the process. With over 25 years of experience offering reliable CRM software solutions, we can make your upgrade your commercial real estate broker database so you will close more and more deals.
Kateryna Zhukovina
,
Content Marketer
Kateryna creates engaging content about Salesforce consulting, Ascendix products, and CRM best practices for the commercial real estate industry and legal services. Her articles provide readers with relevant data, stats, business tricks and overviews of new industry trends and CRM updates.