A few years ago, our AscendixRE CRM users requested the ability to locate their records on a map and filter records via a map. They also needed a simple way to build their prospecting lists, send collections of properties to targeted audiences, and create custom lists of properties based on client preferences.
That's why we created our Ascendix Search app – a great software assistant that helps brokers work smarter, not harder.
In this post, we explain how you can improve commercial real estate prospecting by searching Contacts/Properties/ Opportunities through radius or zip codes, building targeted lists of prospects, conducting geo mapping search of Properties, and tracking lease expirations thanks to Ascendix Search.
What is Ascendix Search?
Ascendix Search is available as an AppExchange app (it is a Salesforce app shop like App Store or Google Play) and a standalone solution applicable to Salesforce or our custom CRE brokerage CRM AscendixRE, which is based on Salesforce, too. But let's focus on Salesforce for now.
Anybody who has a Sales or Service Cloud will be able to deploy Ascendix Search into their Salesforce instance. It will immediately recognize all the core and custom objects so that you can start performing searches on Salesforce data.
Ascendix Search provides expanded search options beyond what Salesforce provides in the core platform. It aims to make the navigation within CRM data more effective and your work more productive.
Additionally, the app helps perform complex data searching using filters and criteria that are not always available in global Salesforce search. Here's a breakdown of how Ascendix Search surpasses Salesforce standard search.
Compare Ascendix Search vs Global Search
Request a live demonstration of Ascendix Search to get a fair comparison.
Being one of the best mapping software for commercial real estate, Ascendix Search lets you use maps and charts to filter your data, export searches to Excel, mass edit records, perform multiple actions, e.g., log multiple calls, notes or create multiple events, and find Contacts/Properties using radius search. As a result, you get the data you need faster and become more efficient in your activities.
Ascendix Search Features That CRE Brokers Love
By keeping common challenges brokers face with Salesforce property data search in mind, we added a unique feature set that makes Ascendix Search so beneficial for commercial real estate brokers.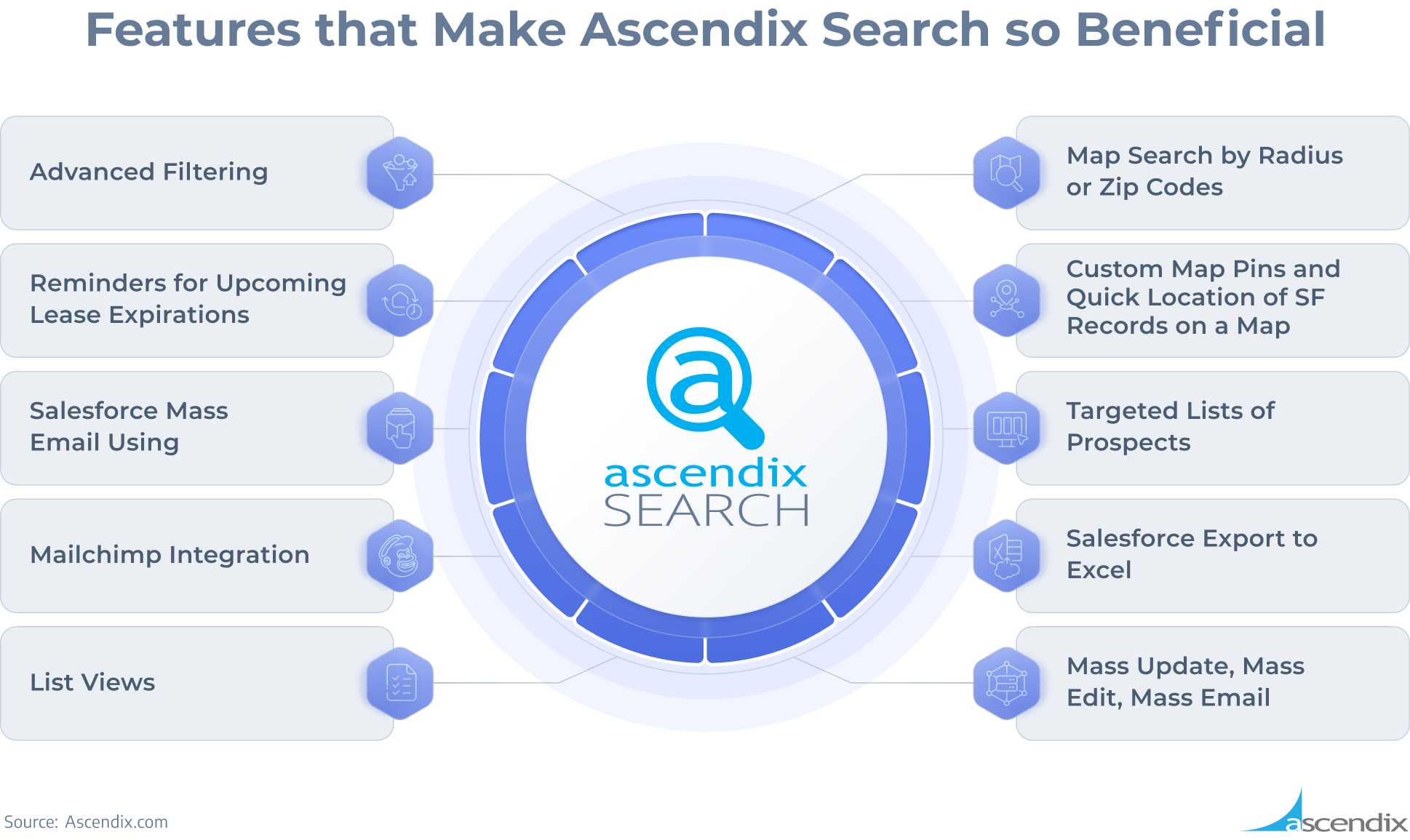 Advanced Filtering
As a commercial real estate broker, you want to be able to offer your clients properties that meet their specific requirements. Leveraging a tool like Ascendix Search allows you to smartly filter down your data, and, for example, find a list of Contacts with email addresses that are in Class A office space and have a lease that's expiring in 18 months.
Hint: Click to enlarge images in this post
Even though your database has 5000+ contact records, using advance filtering in Ascendix Search, you can filter down to 20 people that you want to call this afternoon about this new Class A office space that has five availabilities in it.
" I have been a user of Ascendix Search for well over two years. If you deal in unlisted properties or simply need to keep a database of properties with the top of mind awareness this program is a must. "
So, without a whole lot of energy and technical manipulation, you can:
Search for contacts where you have no activity with them in over 3 months
Search for contacts, who has a lease that's going to expire in 18 months
Search for contacts who's relationship type = client
Search for contacts who have a lease in the submarket of "X"
Search for contacts by map
Search for accounts without contacts.
" I like that I could narrow down to the square footage size of the buildings. Some clients are really specific on what they require and I don't want to set a deal up with something that is too small or just too big for their taste. I find it easy to customize the search options to give me just what I need to target. "
See How Ascendix Search App Can Enhance Search in Salesforce
Request a live demonstration of Ascendix Search to get practical knowledge.
Reminders for Upcoming Lease Expirations
Ascendix Search provides brokers with another great functionality for commercial real estate prospecting – reminders for upcoming lease expirations.
As Ascendix Search stores all data in one place, allowing you to filter the database and find Contacts with upcoming lease expiration dates.
Then, as you have a couple of properties in the area that might be interesting for this group of clients, you can easily send this list of Properties to the target audience as a reminder of the upcoming lease expiration.
This distinctive feature lets brokers make very timely emails and phone calls.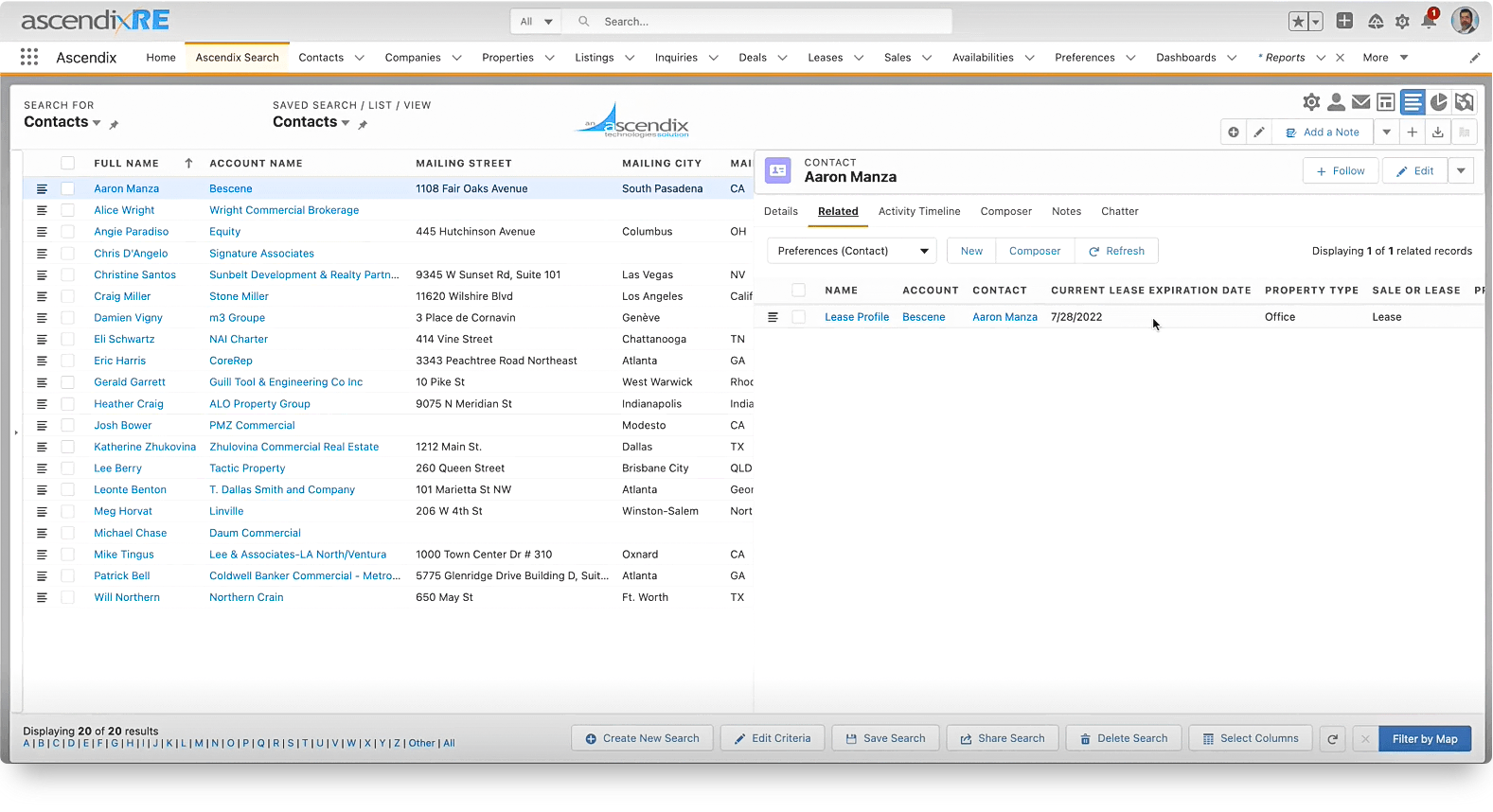 Salesforce Mass Email Using Mailchimp Integration
This newly introduced feature aims to simplify planning and launching within AscendixRE CRM. Thanks to Ascendix Search integration with Mailchimp, brokers can send a collection of Properties to the target audience, create email templates with dynamic content driven from existing data in CRM, and much more! All sent emails will be recorded as an activity for each email recipient.
Select & filter recipients right from the database or utilize pre-made contact lists
Build precise email lists using multiple criteria, including the 'email is not blank,' which is unavailable in Salesforce
Send emails right from your Inquiries module
Send mass emails to your saved searches & system views, Ad-Hoc Lists, search results, or selected records
Insert images and add attachments from your computer or shared documents
Send emails to 50,000 contacts and up, which is more than regular Mailchimp subscription
Export email lists from Salesforce to Excel
Save last mass email dates or other essential info thanks to mass edits.
Read more about Ascendix Search integration with Mailchimp here
List Views
List views in Ascendix Search are a powerful tool that can help you to find and manage records in Salesforce. They are a great way to save time and improve your productivity.
List views in Ascendix Search are a way to view and filter records from multiple Salesforce objects. They are similar to standard Salesforce list views, but they offer a number of additional features, such as:
The ability to search across multiple objects
The ability to create a list view based on any Salesforce object, including custom objects
The ability to use advanced search operators to search for records that match specific criteria
The ability to save and share list views with other users
The ability to preview records without leaving the list view.
" This app fills a much-needed gap in Salesforce Search & List Views - the ability to apply more granular filters, cross-object relationships - and game-changing features such as maps and charts. Not only has Ascendix helped us along the way with getting the app and up and running- they actively listen to our feedback and have made the product better based on the needs of our organization. If you are looking to bridge the gap between List Views & Reports - this is the app for you. "
You can apply search scenarios to any data, Properties, Listings, Deals, Sales, Leases and more.
Map Search by Radius or Zip Codes
Ascendix Search offers the valuable ability to search by zip code, a feature particularly beneficial for brokers. For commercial real estate brokers, locating properties, comps, and availabilities on a map is exceptionally useful.
Advanced Salesforce search by radius or zip code helps organizations to find and filter Contacts in Salesforce CRM to discover new opportunities and establish trustworthy relationships with clients. Salesforce has solid search functionality, but if you have specific queries, you can strengthen your searching process.
Ascendix Search solves this challenge by letting you draw geometric shapes such as circles and polygons on a map.
In a few clicks you get a list of properties from a certain region even if they have multiple zip codes. It means that you can offer properties to your clients that precisely meet their location requirements.
" We have been using the Ascendix Search for over a year now. The largest benefit to us has been in the ability to quickly locate information via the map, without having to filter after the search. For example, we need to find lease/sale comps for a specific area that may cross over into multiple zip codes. Go to the map, draw the polygon and there are the comps we need. In addition, finding lease expirations for prospecting purposes via the same search process. The less time we have to spend looking for information and the more time we can spend on actionable items exponentially increases productivity! "
So, with this feature, brokers can:
Conduct radius search for Contacts
Perform Salesforce search by zip code/city
Launch Zip code radius reporting
Find lease/sales comps and lease expirations within a specific area.
Custom Map Pins and Quick Location of Salesforce Records on a Map
You can define what values to display on pushpins on a map when users click on records. E.g., you can add the Property class, address, available space, listing Broker, primary image.
You can also change the color, size and shape of the map pins to add more visibility for your search results or even to send screenshots to your prospects. E.g., you can define custom images for each property type you have.
Other benefits from having such a tool for an advanced Salesforce search like Ascendix Search are:
Visual information about the closest records in a specified area
Customized Salesforce-related lists and search results
Displayed distance from the searched record
Enhanced data organization.
" With Ascendix Search, I'm able to run advanced searches and map results that aren't possible in other CRM solutions - something as basic as "Return me a list of San Francisco owners who own apartment buildings in XXX zip code "
Targeted Lists of Prospects
Another great feature that can boost your commercial real estate prospecting is the ability to create targeted lists of Prospects. Once you've found all the necessary information, you can easily save the list for future use (e.g., call list, mass email list).
You can create multiple lists based on your criteria and use them to call your prospects. Once a contact meets your criteria, they will appear in the list, so you won't forget about anyone.
The preview pane lets you view records quickly side by side, less clicking and navigating around. What is more, using Ascendix Search, you'll be able to picture those results in a chart or graphic.
" Ascendix Search has revolutionized the way our brokers cold-call. It has also given us valuable insight into where our data may be lacking and how to improve on that. "
Salesforce Export to Excel
To generate new leads, many brokers send mass emails or direct mail to their database. If you use a third-party provider or app, you'll need to get your data from the system. While it is a bit complicated in Salesforce, Ascendix Search lets you export your data with a few clicks:
Select the records you want to export
Click the 'Export to Excel' button
Download the results.xls file with the exact data presented in search results.
Also, you can export your Salesforce data to Excel fast to generate reports and better analyze your data (if you are more comfortable with Excel).
" The most useful tool has definitely been the filtering function for capital sources and then exporting those lists to Excel. It is great to get a long list of sources in just a few clicks. This has increased the speed of generating a sourcing sheet and has added some sources that we would not have thought of immediately. We absolutely love this search tool and highly recommend it to any commercial real estate firm. "
Mass Update, Mass Edit, Mass Email
Ascendix Search is a great tool for mass update of bunch of records with a value (leads, contacts, accounts, opportunities, cases, and any other objects). You can use the mass edit feature. E.g., you have TX and Texas in the field 'State'. Ascendix Search allows you to make sure that all records have the same value.
In terms of mass editing, Ascendix Search enables users to make specific changes to various fields across multiple records. For example, you might use Mass Edit to update the property size, location, and price for a set of listings. This feature streamlines data management by allowing you to edit multiple records' details without navigating to each record individually.
Thanks to Ascendix Search integration with Mailchimp, mass emailing becomes as easy as ABC. Users can create an email template, customize it, if necessary, select the recipients (such as a group of leads or contacts), and send the email to all recipients in a single operation. This is a time-efficient way to engage with multiple contacts at once.
" You do not need any unique training to run the program and it has several advanced tools for more detailed users. Its speed, efficiency and uniqueness is what you strive for you might want to give this product strong consideration. "
Ascendix Search vs Standard Salesforce Search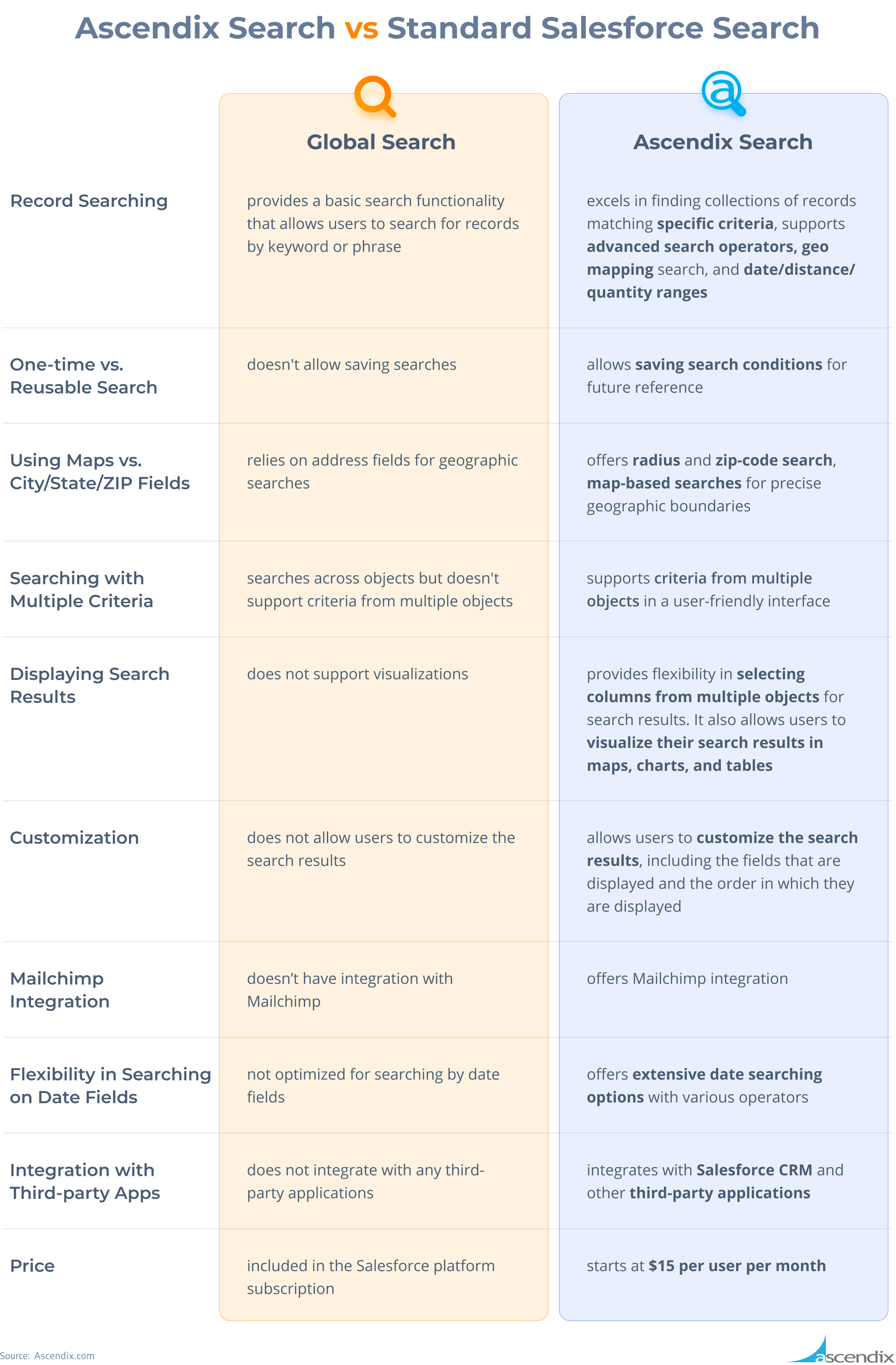 Best Commercial Property Search App
Ascendix Search is a standalone tool perfect for commercial real estate mapping, prospecting, Salesforce property data storage and cleanup, mass emailing, and more. Build on top of Salesforce, Ascendix Search is considered to be one of the best mapping software for commercial real estate.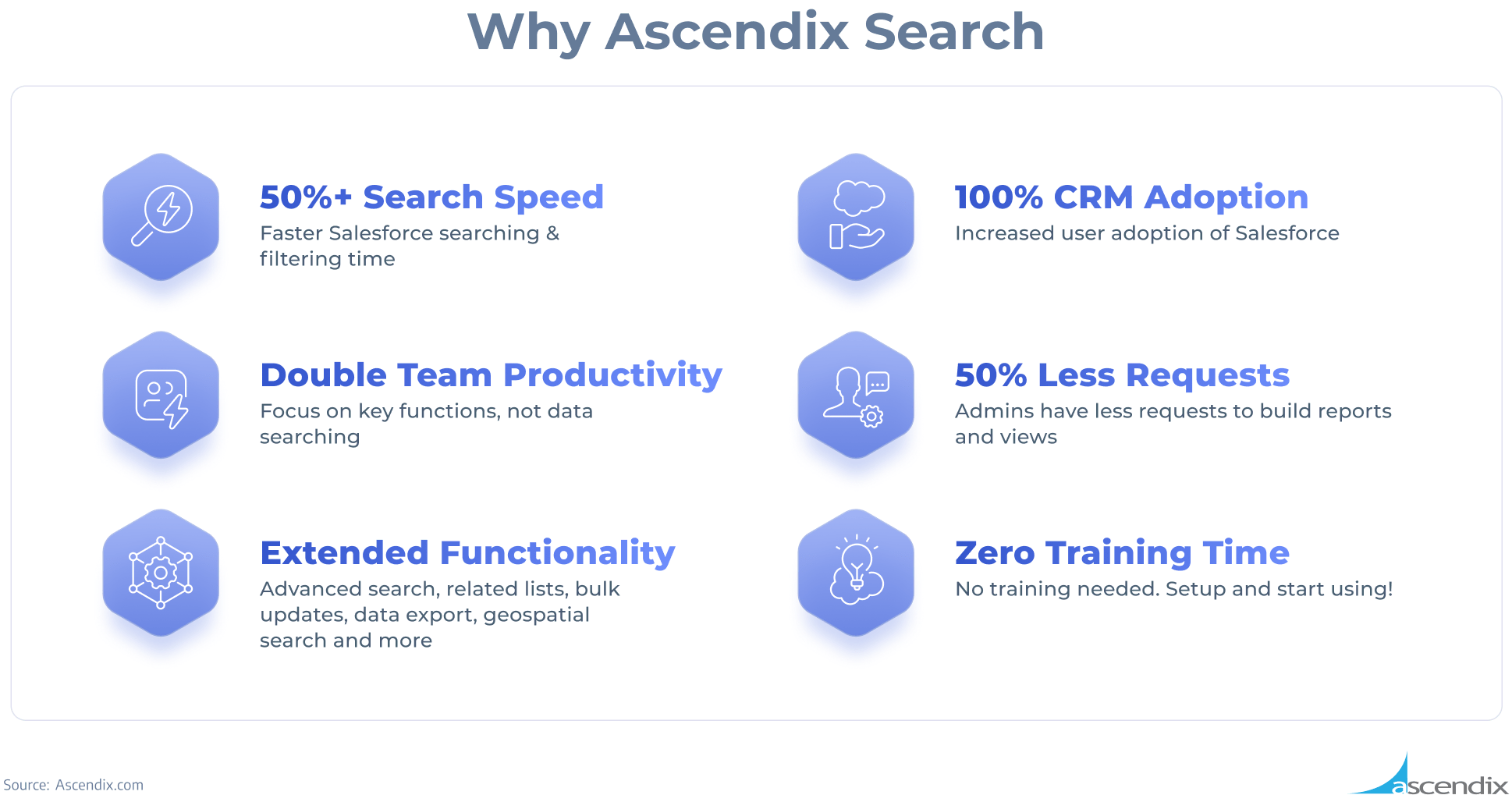 Ascendix Search extends Salesforce with advanced searching, list building functionality, map and chart searches, and productivity features, so you can:
Build granular lists of properties, availabilities, leases, sales, prospects to follow up
Locate your properties on a map and easily get a list of properties within multiple zip codes
Create call, email lists that will be updated automatically when new prospects meet your criteria
Export your data to Excel for further analysis
Mass update records, add multiple notes or record calls in one action
And it is all can be done in a few clicks! Any Salesforce user with Admin rights can install Ascendix Search and use it.
Priced at just $15 per month, this tool will significantly reduce your weekly workload, saving you valuable time.
Contact us to schedule a live demo or sign up for our trial.
Would you like to read reviews about Ascendix Search? Visit our AppExchange page and go to the Reviews tab.
Valeria Kokina
,
Director of Marketing at Ascendix
Valeria is a Marketing Operations leader with over ten years of B2B experience working with product and services companies. She is Marketing Cloud Engagement (Pardot), Hubspot, Clickdimensions certified. On the Ascendix blog, Valeria shares her tips to help you make the most out of your CRM software.
Salesforce List to Map & Salesforce Geo Mapping: All in One Tool!
Search for Salesforce records from multiple locations by drawing geometric shapes on a map and convert Salesforce lists to a map easily with Ascendix Search!