Are you a commercial real estate broker that uses Salesforce CRM? In this post, we explain how you can use your Salesforce more efficient, build targeted prospect lists, locate your properties on a map, track lease expirations thanks to the AppExchange app Ascendix Search.
Being a commercial real estate broker you have to deal with a huge massive of information. Needless to say, that except simple storage of all the data about your properties and deals, sometimes an opportunity to search for the necessary information quickly can play a crucial role. Using our Ascendix Search app, you can boost your productivity, save time, energy, make more money and win more deals.
What is Ascendix Search and Who Can Use It
Ascendix Search is an AppExchange app (it is a Salesforce app shop like App Store or Google Play) which means that it is built to extend the functionality of Salesforce.
The app helps to perform complex searching of data using filters and criteria that are not always available in Salesforce. Also, the app lets you use maps, charts to filter your data. You can export searches to Excel, mass edit records, perform multiple actions, e.g. log multiple calls, notes or create multiple events. As a result, you get the data you need faster and become more efficient in your activities.
If you are a user of Salesforce or another CRM built on top of Salesforce, e.g. our AscendixRE commercial real estate CRM, you can use Ascendix Search too.
To start using the app, go to the Ascendix Search AppExchange listing, click the Get it now button and follow standard installation steps. 
Only users with Admin rights can install the app. Want to try it, but don't have Admin rights? Ask you Salesforce admin to install it for you. We have a 30-day free trial with no obligations. The app is affordable for anyone and costs only $15 user per month.
Without further ado, let's see how Ascendix Search can help commercial real estate brokers.
Advanced Filtering of Properties, Leases, and Anything Else
As a commercial real estate broker, you want to be able to offer your clients properties that meet their specific requirements.
"I like that I could narrow down to the square footage size of the buildings. Some clients are really specific on what they require and I don't want to set a deal up with something that is too small or just too big for their taste. I find it easy to customize the search options to give me just what I need to target." GuilIermo Garcia shared.
Hint: click to enlarge images in this post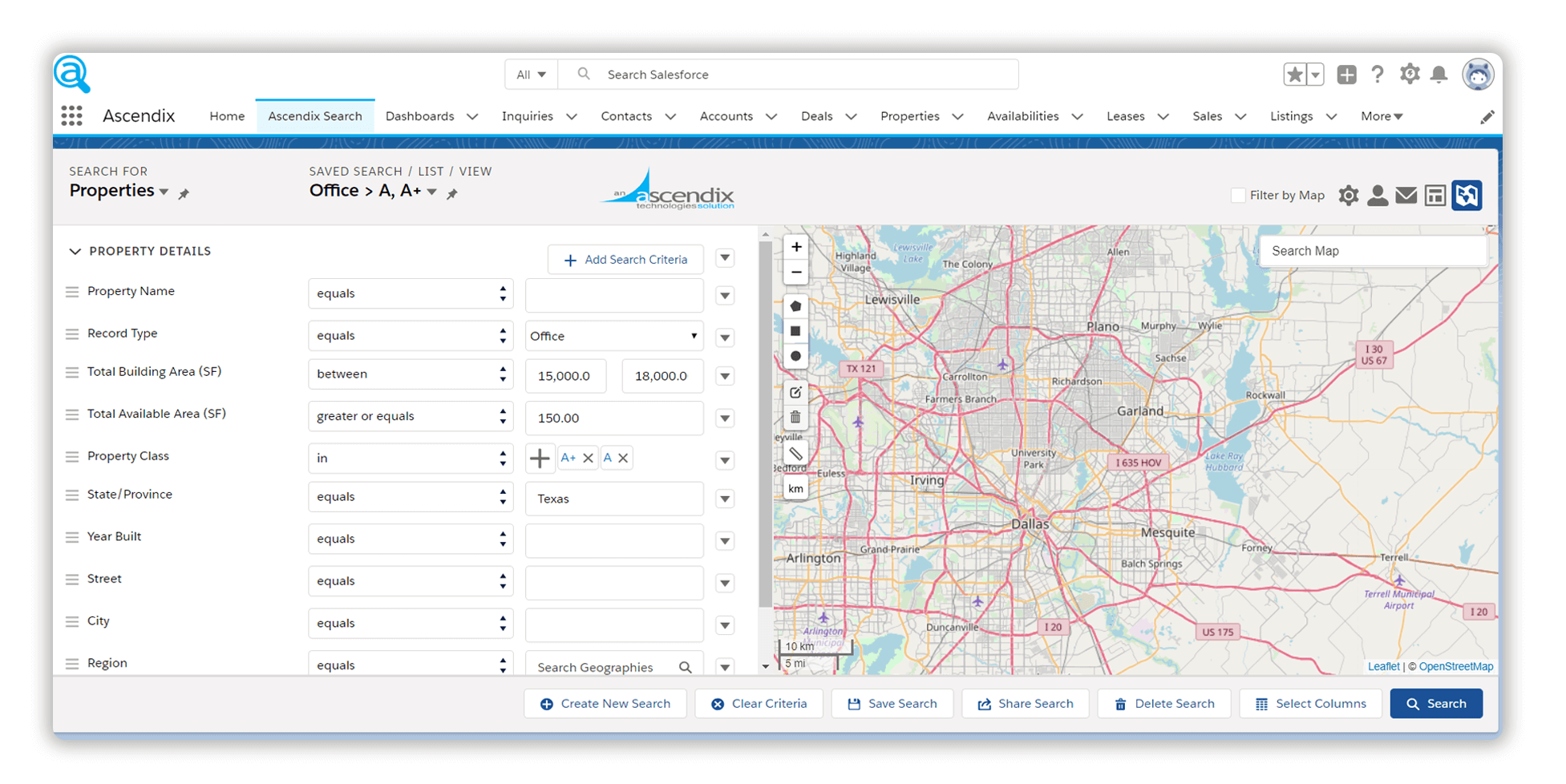 Ascendix Search: looking for office buildings using multiple criteria 
Here are some of the searches you can perform with Ascendix Search:
Search for contacts where I have no activity with them in over 3 months

Search for contacts, who has a lease that's going to expire in 18 months

Search for contacts who's relationship type = client

Search for contacts who have a lease in the submarket of "X"

Search for contacts by map
You can apply search scenarios to any data, Properties, Listings, Deals, Sales, Leases and more!
Chris Pearson: This app fills a much-needed gap in Salesforce Search & List Views – the ability to apply more granular filters, cross-object relationships – and game-changing features such as maps and charts. Not only has Ascendix helped us along the way with getting the app and up and running- they actively listen to our feedback and have made the product better based on the needs of our organization.  If you are looking to bridge the gap between List Views & Reports – this is the app for you.
Map Search Including Multiple Zip Codes
Ability to locate your properties, comps, availabilities on a map is exceptionally useful for commercial real estate brokers.
While properties might be located not far from each other, they might have different zip codes. Another use case is that your clients might be interested in properties from a certain radius, e.g. one hour drive from Dallas. How to get a list of properties that meet this location criteria if you know there are lots of towns within this radius?
Ascendix Search solves this challenge by letting you draw geometric shapes such as circles and polygons on a map.
Joey Wang: With Ascendix Search, I'm able to run advanced searches and map results that aren't possible in other CRM solutions – something as basic as "Return me a list of San Francisco owners who own apartment buildings in XXX zip code".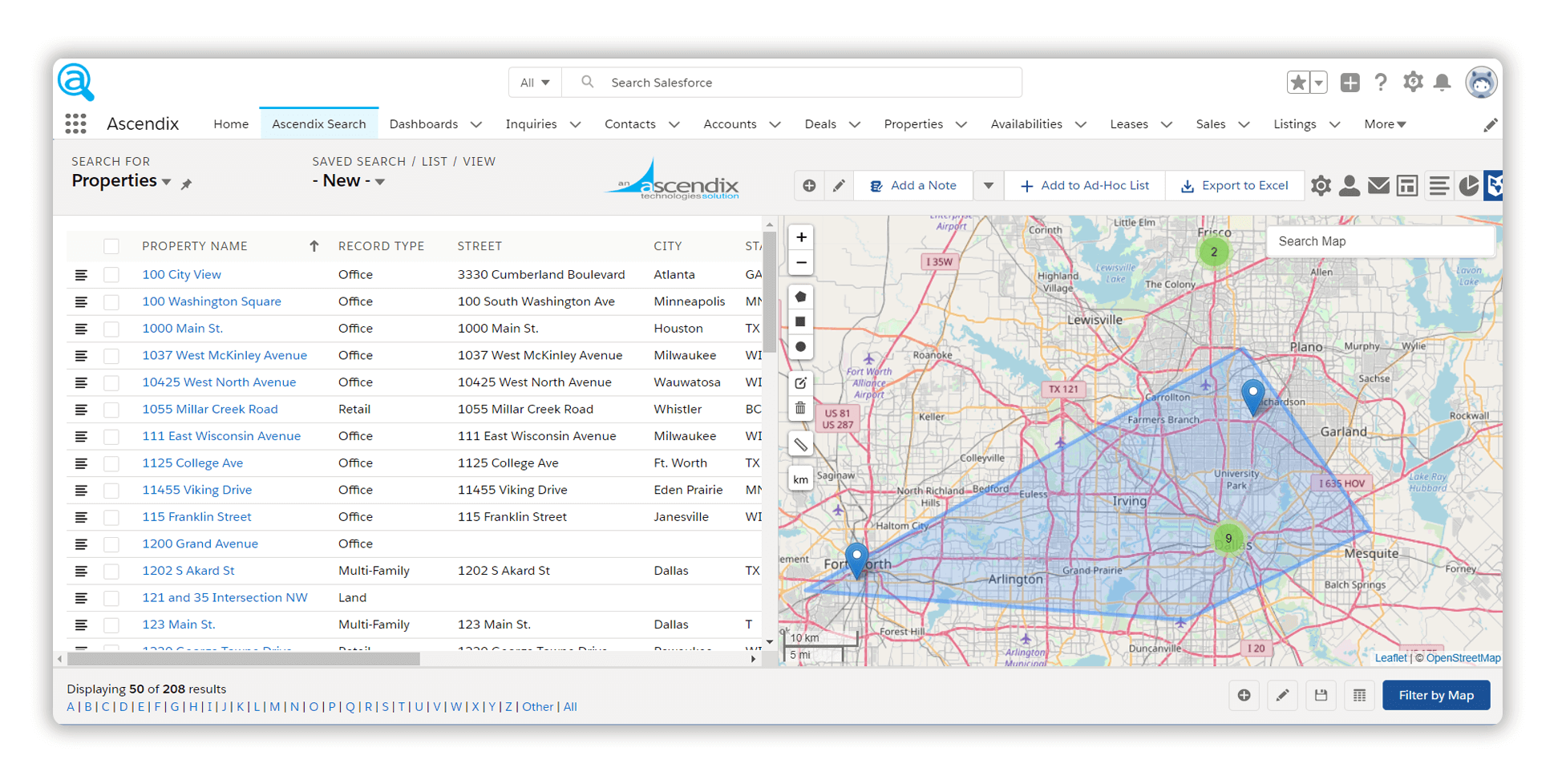 Ascendix Search: Filtering Properties by Map
A few clicks of the mouth and you get a list of properties from the certain region even if they have multiple zip codes.
It means, that you can offer properties to your clients that precisely meet their location requirements.
Finding lease/sales comps, lease expirations is another reason to use map search.
Hal Penchan: We have been using the Ascendix Search for over a year now. The largest benefit to us has been in the ability to quickly locate information via the map, without having to filter after the search. For example, we need to find lease/sale comps for a specific area that may cross over into multiple zip codes. Go to the map, draw the polygon and there are the comps we need. In addition, finding lease expirations for prospecting purposes via the same search process. The less time we have to spend looking for information and the more time we can spend on actionable items exponentially increases productivity!
What is more, you can define what values to display on pushpins on a map when users click on records. E.g., you can add the Property class, address, available space, listing Broker, primary image.
Ascendix Search:  The configured pop-up window
Targeted Lists of Prospects
Once you've found all the necessary information, you can easily save the list for the future use (e.g., call list, mass email list).
You can create multiple lists based on your criteria and use them to call your prospects. Once a contact meets your criteria, they will appear in the list so you won't forget about anyone.
Claire Pistek: Ascendix Search has revolutionized the way our brokers cold-call. It has also given us valuable insight into where our data may be lacking and how to improve on that.
Ascendix Search: Creating a list of contacts that were interested in office buildings with the move-in date in the next 6 months
Kary Bulsterbaum: I have been a user of Ascendix Search for well over two years. If you deal in unlisted properties or simply need to keep a database of properties with the top of mind awareness this program is a must.
The preview pane lets you view records quickly side by side, less clicking and navigating around. What is more, using Ascendix Search, you'll be able to picture those results in a chart or graphic.
Adam Rezner: After using Ascendix Search for a few weeks, there is no way I can go back. It is so much easier and more efficient to use than reports, and you can really hone your criteria in a way that's not possible anywhere else. Additionally being able to use the dual pane view and see locations, make updates, or view related records is a huge boost to productivity. I highly recommend it!
Salesforce Export to Excel
To generate new leads, many brokers send mass emails or direct mail to their database. If you use a third-party provider or app, you'll need to get your data from the system. While it is a bit complicated in Salesforce, Ascendix Search lets you export your data with a few clicks: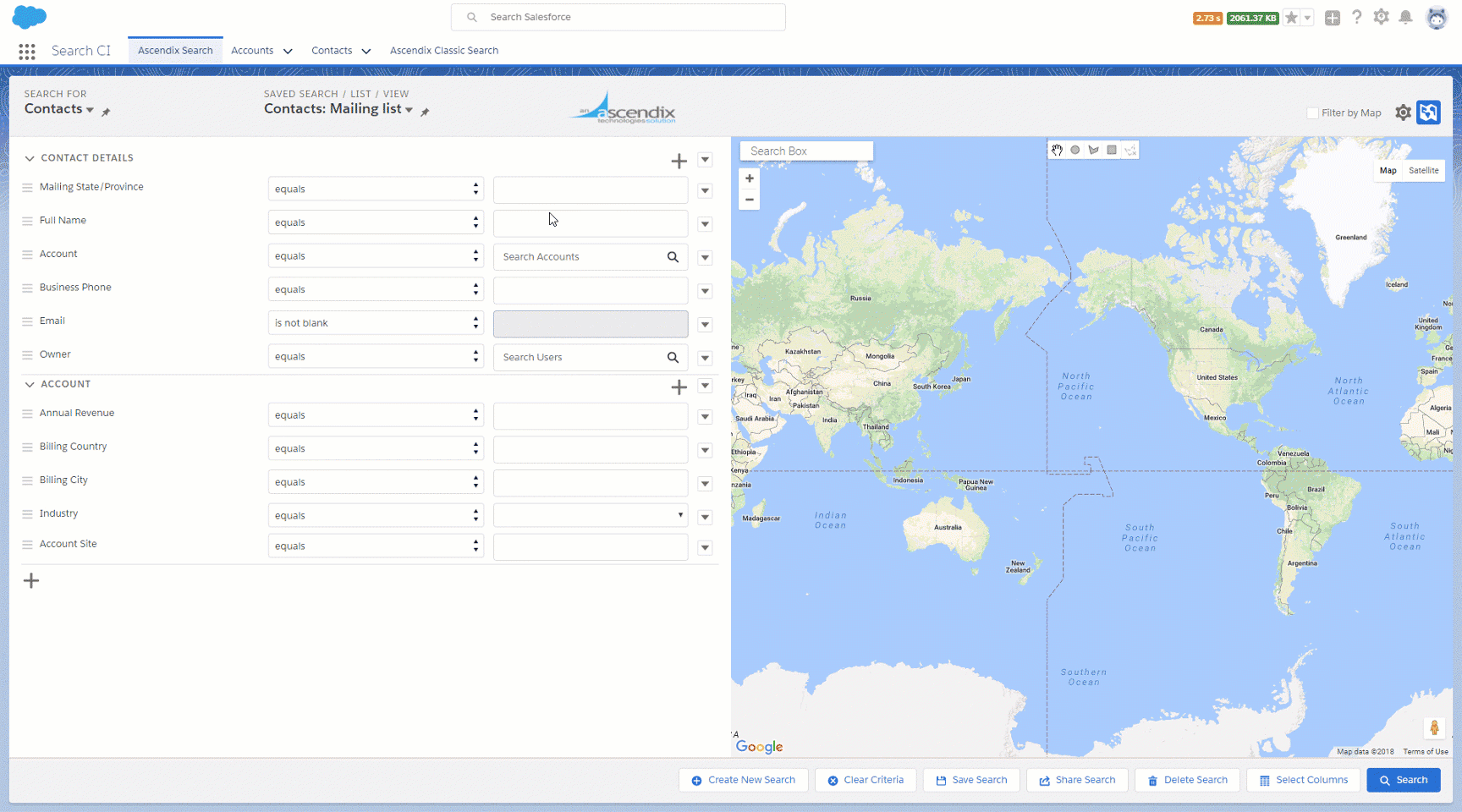 Select the records you want to export.

Click the 'Export to Excel' button.

That is! A Results.xls file will be downloaded with the exact data presented in search results.
What's more, you can use export to Excel to generate quick reports and to better analyze your data (if you are more comfortable with Excel).
Karev Weaver: The most useful tool has definitely been the filtering function for capital sources and then exporting those lists to Excel. It is great to get a long list of sources in just a few clicks. This has increased the speed of generating a sourcing sheet and has added some sources that we would not have thought of immediately. We absolutely love this search tool and highly recommend it to any commercial real estate firm.
Mass Update, Mass Edit, Mass Email
Ascendix Search is a perfect data-cleanup tool. If you need to update a bunch of records with a value (leads, contacts, accounts, opportunities, cases and any other objects), you can use the mass edit feature. E.g. you have TX and Texas in the field 'State'. You want to make sure that all records have the same value.
You will be also able to add multiple notes, schedule calls, events and send mass emails easily.
Kary Bulsterbaum:  You do not need any unique training to run the program and it has several advanced tools for more detailed users. Its speed, efficiency and uniqueness is what you strive for you might want to give this product strong consideration.
To sum up, Ascendix Search will let you get the data you need faster and be more efficient. The app costs $15 per month but will save you multiple hours per week. The app is available for all Salesforce users and you can try it for free during the first 30 days.
Need more info? Contact us to schedule a live demo or sign up for our free 30-day trial.
Would like to read more reviews? Visit our AppExchange page and go to the Reviews tab.