Updated on May 31, 2021
[Editor's Note: This is an updated version of 02/04/2018] Ever spent time creating the perfect view of data in Salesforce only to realize you have to recreate the criteria within a report in order to export it to Excel? It's doable, but the creation of a report for the average user is a bigger ask. In this post, we'll show how to export Salesforce data in a few clicks using Ascendix Search app and other tools.

To clear the fog around the data extraction from Salesforce. org, we need to clarify what it actually is and why you may need to export the data.
Here is a quick overview of what will be discussed in this post:
What is data export and what tools you can use to extract your data,
A guide on how to export or backup your Salesforce data,
Tips on how to export Salesforce reports to Excel quickly,
Salesforce data export limits,
Answers to the top data export FAQ.
What is Data Export in Salesforce?
Salesforce data export is extracting of system records performed for three main purposes: to backup your data (and since data recovery service retirement in July 31, 2020 it has become an issue to worry about), to integrate with another system and import data there, or to have the data in a spreadsheet format for reporting.
The necessary data is exported in a convenient way as a set of comma-separated (CSV) files up to 150 MB each and are packed into .zip files of 512 MB. So as to generate data export you need to be an administrator of Salesforce org or to be granted with this system permission by admin.
Salesforce data export can be performed by two ways: manually or automatically. In order to extract the data you can use functionality within Salesforce, free/paid tools like Ascendix Search, or invest in building your own software solutions for data management.
Built-in Salesforce data export functionality implies using Data Export Service (also known as Data Export Wizard).
Data Export Service
It is a service available in Setup menu for manual weekly or monthly data extraction.
In addition to this, you can export data automatically at the same intervals but with certain Salesforce editions limitations.
For example, you can generate backup every 7 days in Performance and Enterprise Editions, but in Developer and Professional Editions you can create export only every 29 days.
Data Export Service (Data Export Wizard)
You may also use free Salesforce data extract tools like Data Loader, dataloader.io or a less popular option, Workbench.
Data Loader
It is a client app developed by Salesforce for mass data import and export that should be installed separately. It can be operated either via the easy-to-use wizard UI (user-interface) or a command line (for Windows only).
Through the user-interface you can specify the configuration parameters and CSV files used for import and export.
While using the command line you can specify the configuration, data sources, mappings, and actions in files and automate the data export process.
You can also use this option to integrate with another system via API.
Watch a short video on how to download and install Data Loader.
dataloader.io
Similarly to Data Loader, this tool has a user interface for selecting the object, fields and criteria. With the help of dataloader.io you can write your own SOQL query.
Its free pricing option allows to extract 10,000 records per month with the file size limit of 10 MB with a capability to integrate with Dropbox, Box, and FTP.
Data import and export from dataloader.io
Workbench
This solution is free, but is not an official Salesforce product.
Workbench is designed for developers and admins to interact with Salesforce via the Force.com APIs.
To export data from Workbench, you need to opt for Bulk CSV in the "View As" options and run your query.
Once it has run, you can download the query results by clicking on the download icon next to the Batch ID.
Workbench Salesforce Data Export 
Ascendix Search
Ascendix Search is an app created to simplify and enhance the General Salesforce search and data export.
To see our app in action and how it can help you streamline data export from Salesforce to Excel, read further our guide or watch a short app demo ▼ below .
Now, let's explain how to export all your Contacts, Accounts, or any other objects with built-in functionality if you have Salesforce Admin rights.
How to Export or Back Up Your Data from Salesforce?
If you wish to export all Contacts, Leads or actually all your data from Salesforce, Salesforce got you covered.
▶ Watch the video on how to accomplish it (only for Salesforce Admins):
Step 1. Go to Setup
Step 2. Type Export in the Quick Find and select Data Export
Step 3. Click on Export Now if you want to get data immediately or on Schedule Export to schedule your export
Step 4. Select what Objects you wish to export and click Start Export. Here you can also include documents and attachments.
It might take some time to export your data from Salesforce.
Once it is done, you'll get an email from Salesforce with a hyperlink and this hyperlink will direct you back to the Data Export.
The Hyperlink to Data Export Files
Here you'll be able to download your files.
That's it!
Exporting Selected Salesforce Reports
But what if you don't need to export ALL data? Or, wish to customize exported columns?
Assuming you still want to move forward with building the report, the user better hopes the appropriate report type is available; otherwise, the task becomes a bit trickier.
Incredibly frustrating, especially if all you wanted to do was simply mine some data and send it to Excel.
So, what is an enterprising user of Salesforce to do? You guessed it – "Google" it.
Here is what you can find when typing 'Exporting salesforce list views to Excel':
Can you export a view into Excel without creating a report?
Can I export List Views to Excel using Excel Connector
From there you find a variety of workarounds, one more confusing than the next.
Orbits of codes or options that aren't worth the hassle.
You also see many frustrated users and Salesforce admins – this creates a lot of work for them each day.
If you go through the comments on the various posts and forums, you see how-to requests and workarounds dating all the way back to 2011!
We decided to do something about it and created Ascendix Search, an advanced searching tool for Salesforce.
About Ascendix Search
Have a search result that you want to print off, share with the team, or manipulate outside of Salesforce?
Ascendix Search lets you quickly export Salesforce contacts to Excel or any other objects so you can have your data on the go.
Key Benefits:
Users with rights to Export can easily create lists of objects using multi-criteria
You can customize fields to export and add columns from related objects, e.g., you can add columns from the Account level when exporting list of your Contacts.
You'll be able to export only the data you need and will save time on deleting unnecessary columns or rows.
Admins can define who can export and how many records at a time.
You can save your lists, use relative data criteria to be able to export lists with actual data once you need it.
Speed up transfer of your data to other tools your team uses, e.g., Mailchimp or SendGrind.
It is easy and doesn't require training. What's else, you can use all functionality for free the first 30 days.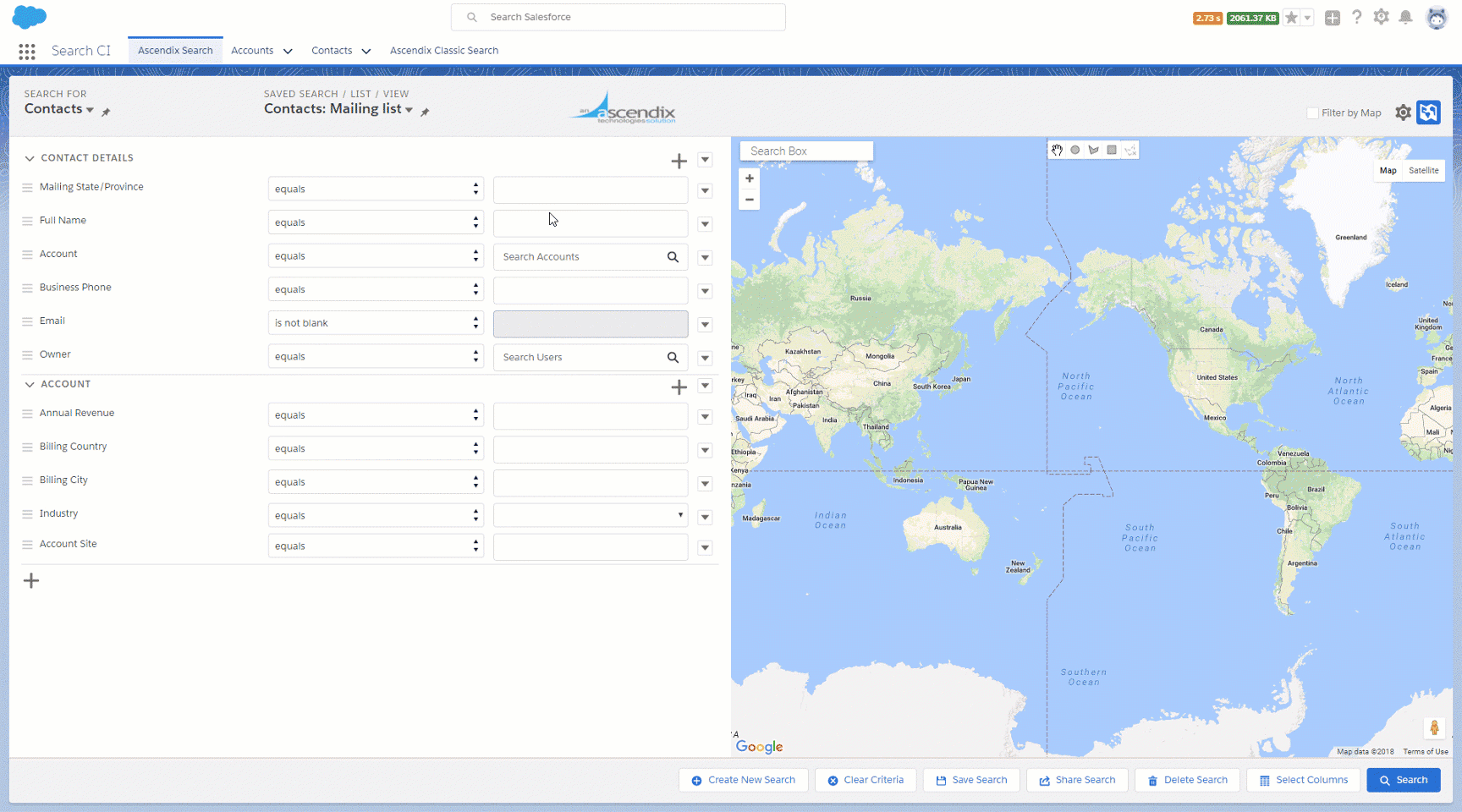 Exporting Contacts from Texas that work in Financial Industry
How to Export Salesforce Data to Excel with Ascendix Search:
Search data you need or simply open your saved list view.
From the search results page select Export to Excel* from the top right.
 From here you can choose what kind of data will be exported (selected records, all records in the current view, or all records matching the search criteria)
Export when done.
*This option is only available for those with the export permission enabled. Speak with your admin to enable.
Not only you can avoid creating a report or view to export Salesforce data to Excel, but you can also either export selected records or all records associated because Ascendix Search makes the process easier overall.
Salesforce Data Export Limits
Using Ascendix Search app, you can export up to 50,000 records in a single action. Admins can set the maximum number of records a user can export or disable this function.
Salesforce data export limits in Ascendix Search
We let you select a format of the exported list: Excel 2007+, Excel 97-2004, Comma Separated Values or HTML Document.
Also, you can customize the name of the exported list
Data Export Formats in Ascendix Search
Ascendix Search is an easy, but powerful app that will completely change the way you use Salesforce.
Apart from Salesforce data export, you can perform granular data searches, create related lists, mass edit records, add multiple activities in a single action, locate your Salesforce data on a map, get quick insights of your data and much more for only $15/mo.
More Salesforce Data Export FAQ
✔ How often should I backup my data?
Your team can export data for backup purposes every 7 or 29 days manually or automatically, depending on the amount of the data entered and your Salesforce edition.
Ascendix Search offers you an opportunity to generate as many Excel reports as you need at the time you need them.
✔ What permissions should I have to export data?
You have to have different permissions to perform data export based on the tools you use for this. Generally, admins of Salesforce org. have all the necessary permissions and can grant them to the particular platform users.
✔ How long does data export take Salesforce?
Export files are available for downloading for 48 hours after completion. Once the files have been removed from the 'Setup' section, there is no way for either customers or the support team to recover or download them.
What's more, the export files are removed as soon as a new Data Export is queued up, even if you are within the 48 hour window.
✔ Can you export a list view from Salesforce?
Salesforce has known issues with reporting functionality limitations like the list view export to Excel.
But it can be easily resolved with Ascendix Search for just $79 user/per month with a Salesforce license already included!
✔ What data can be exported from Salesforce?
You can export account, lead, contact, campaign member, custom object, or solution reports from the Salesforce platform to create an import file.
So as to export them, you need to include the ID value for each respective record in your report.
✔ How do I stop Salesforce from exporting data?
So as to change or to delete scheduled Data Export you can go two ways:
➤ To change details for a scheduled Data Export you need to follow these steps:
1. Navigate to Setup and enter Data Export in the 'Quick Find' box
2. If a schedule is set at the moment, edit its details, click 'Schedule Export' and Save
➤ To delete a scheduled Data Export you have to perform these steps:
1. Navigate to Setup and enter Scheduled Jobs in the 'Quick Find' box
2. Select Scheduled Jobs
3. Click the Del. action link beside the Data Export 'Job Name'
✔ Why is my Salesforce data export taking a long time?
Data export is queued and processed based on the data size. In addition, heavy traffic and large number of API calls in your Salesforce.org can negatively reflect on delivery time, that's why sometimes data extraction can take weeks after launching.
Ascendix Search is the best alternative for the fast and simple records export. It allows to cut down delivery timeframe by exporting only the data you need, without unnecessary columns or rows and get this data as soon as you need it.
Other frequently asked questions related to data export management and how to export Salesforce data to Excel can be found on this list.
Need help with your Salesforce? Ascendix is a Salesforce consulting partner that can help you with anything about Salesforce: from new implementations, customizations to AppExchange app selection and development from scratch. Contact us for a free consultation today.