The market size of CRM software expands every year. According to the assessment of Future Market Insights, the global CRM application software market is predicted to reach about US $62,200 Mn in 2022.
To analyze the impact of CRM on Legal Services, let's use some stats. According to Statista, 84% of law firms have admitted that using legal CRM has increased efficiency in their organization.
More than that, 77% of them are expanding their use of legal technology, adding contact management software for lawyers, intake management software, billing automation, and other software to their work processes.
Choosing CRM software for legal services requires time and deep expertise.
To help you make the right decision, we'll cover the following aspects:
Definition of law firm CRM software
Reasons to implement a legal CRM system
Top CRM for legal services.
In this post, we explain how to choose CRM software for legal services and provide our list of top 7 CRMs for law firms you should consider.
What Is Legal CRM?
Legal CRM is legal client relationship management software that helps legal professionals to store all essential data and history of communication with all stakeholders.
Legal CRM helps law firms to manage critical information about clients and engage with them effectively.
In other words, a legal CRM is a "brain" of a legal practice that tracks each lead and walks clients through their journey.
The ultimate purpose of law firm CRM is to manage the client intake process, attract, retain and interact with clients while lawyers and attorneys focus on practicing law.
Legal CRM helps keep the high rates of customer satisfaction and increase client referrals that boost the total revenue.
7 Core Reasons to Implement Legal CRM
According to Legal Trends Report in 2020 by Clio, firms using CRM software for legal services collected $15,124 more per lawyer in 2019 and projected to collect $27,304 more in the next years.
In a similar vein, Clio stated that СRM boosted caseloads on a per-lawyer basis for 16% more casework in 2019. In 2020, firms using client intake and CRM software saw over 20% more cases every month from February onward.
In 2019, firms using online client intake and CRM systems saw 9% more revenue per lawyer. This difference increased overall in 2020, reaching a high of 26% more income in August.
As you can see on the chart, the usage of legal CRM leads to a significant increase in matters and revenue for firms that actively use CRM.
According to the State of CRM at Law Firms (2019) report by Ackert, 78% out of 120 law firms across the US use CRM on a regular basis.
Most of the firms that don't have CRM are small (1-30 lawyers). The larger the firm, the more likely it has legal client relationship management software.
As you can see, a significant number of law firms evaluated the viability and value of implementing legal CRM software.  
If you still hesitate whether to implement a CRM in your law firm or not, read the list of reasons below to increase your education and lessen your fears or apprehension.   
Looking for Legal CRM Consultants?
Feel free to contact Ascendix. We'll assist you in choosing the best legal CRM software and customize it according to your needs.
Reason #1. Legal CRM Software Generates New Leads
As you know, the legal industry is a competitive market. And legal CRM helps to be on the wave. Legal CRM solutions enable quick and effective engagement with potential clients.
Law firm CRM helps lawyers improve client relationships, intake and case management, billing, matters management, marketing automation, and more.
Subsequently, CRM can generate new casework. Quick response and arranging the appointments are one of the keys to winning the race. Using legal firm CRM tools, you increase your chances of sustained uplift in lead flow.
Reason #2. Legal CRM Improves New Client Engagement
Considering COVID-19 restrictions, CRM supports remote workflows so that your law firm can provide matter information quickly and efficiently. In this way, you facilitate the engagement process and create suitable conditions to solve a legal problem.
By implementing legal client relationship management software, law firms can automate their routine business processes and track and win more deals, leading to increased profitability.
Reason #3. Legal CRM Reduces the Number of Lost Client Opportunities
Store all the essential information in one place. CRM for lawyers increases efficiency — it streamlines contact management and relationships with potential clients, keeping legal issues top of mind.
Reason #4. CRM for Legal Services Optimizes Firm Systems
CRM for legal services is akin to a central repository where you store client and matter files. This information is accessible within the system. Operating in a single interface allows attorneys and staff to get information in one click instead of searching through multiple databases and folders.
Reason #5. Key Metrics Analysis
Legal CRM platforms provide real-time visibility of key metrics across sales, marketing, legal operations, accounting, billing, and other functions. Having collected this data, you can predict trends in casework, matter, and client profitability.
Reason #6. Legal CRM Creates a Personalized Marketing Strategy
In some cases, CRM is more than a law firm contact management tool. It can also personalize your law firm's outreach. Having information about clients' location, industry, or type of targeted legal services, you can create personalized marketing and email campaigns.
Want to Make your CRM more Effective?
We will teach you how to use CRM software to the fullest without overpaying for unnecessary functionality
Reason #7. The Capabilities of Task Management and Automated Workflows
Legal CRM makes it easy to track the client's or contact actions: when they reach a particular stage or submit an online form on the website, they subscribe to emails, etc.
It helps you automate parts of your law firm contact management processes and tailor workflows that suit your business needs.
Your Proven Strategy for Choosing Legal CRM
The process of choosing legal CRM should be two-fold. On the one hand, you need to compare several CRMs for legal services to get familiar with the benefits and features they offer.
On the other hand, you need to analyze how your law firm operates and how legal CRM will support and automate your workflow.
Therefore, the proven to-do list for choosing legal CRM covers the following:
Come up with a list of must-have and nice to have features that your future legal CRM should have.
Identify teams that will be using a CRM, if you have multiple offices, double check if they follow the same processes and have the same needs. You might be surprised to learn that different locations have their own way of doing their work.
Plan ways of enhancing your customer service and marketing functionality using CRM. You might want to engage a CRM consulting company that could help you with your CRM strategy.
Choose accessibility first: the best CRM for lawyers lets employees log in from anywhere, via laptop/desktop or mobile app.
Consider legal CRM software built on a platform that constantly grows and upgrades to ensure smooth customer experiences as your law firm scales.
Prepare a list of software/applications that should be integrated with your CRM solution. Choose a CRM that works with other tools your business relies on, including email, billing, file sharing, and document signing apps.
Double check security measures implemented by the selected vendor. You don't want to have any risks with data security.
Top 7 Legal CRM Systems
Now, when you have a list of steps to think about before choosing a legal CRM software, we want to share our top 7 CRMs for law firms.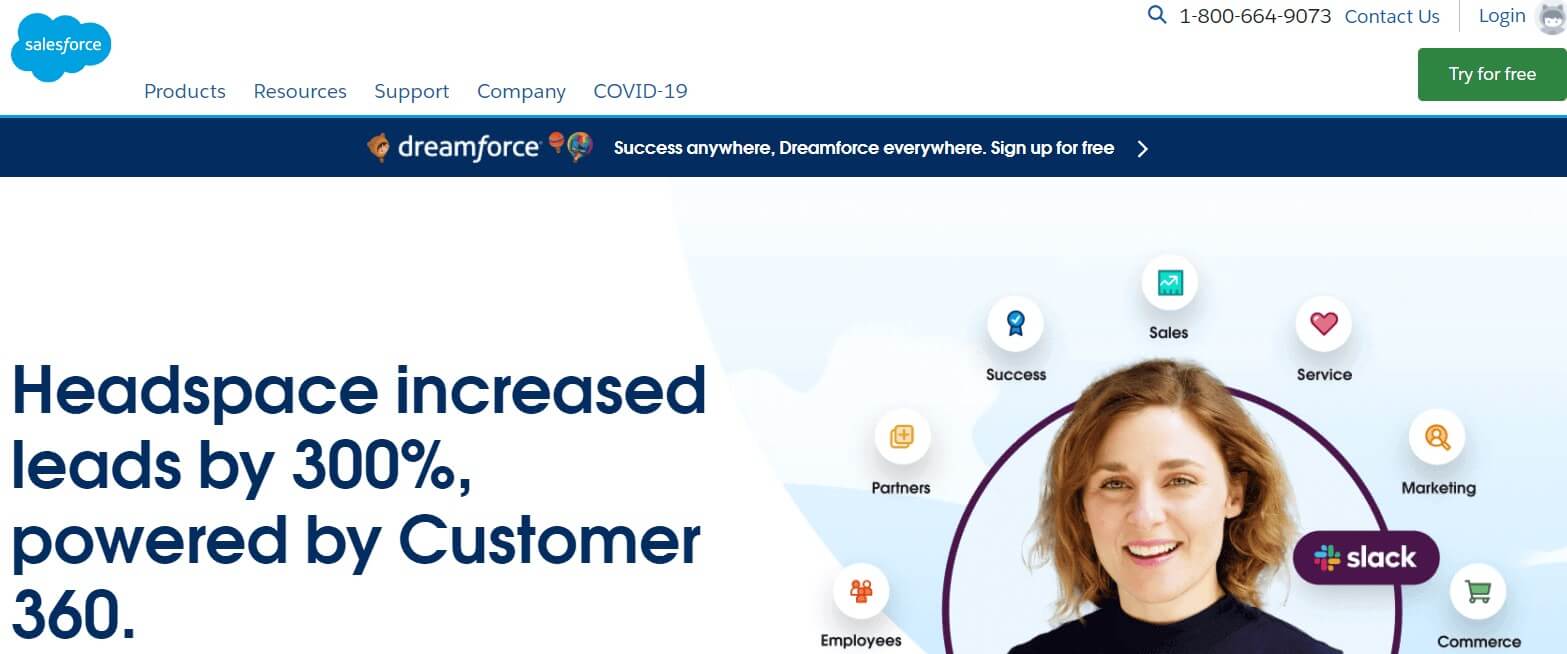 As the world's #1 CRM, Salesforce boosts the business of thousands of companies around the world. Salesforce CRM assists law firms in managing relationships with prospective clients by promoting interaction.
With data processing and report automation, law firms optimize their efficiency and produce more profits through structured and simplified marketing campaigns.
Additionally, Salesforce CRM minimizes the volume of documentation between the firm's clients and the jury for law firms.
Salesforce benefits for lawyers:
Well-structured case & contact management
Secure storage of your company's records
Provides easy reporting system
Offers advanced analytics
Handy tool for tasks planning
Ensures more client retention and satisfaction
It is the number one CRM in the world that offers you endless customization opportunities and multiple integrations.
And more.
Salesforce doesn't have a prebuilt version for lawyers so you should create the necessary objects and fields on your own or hire a Salesforce consulting partner.

If you are not ready to invest in Salesforce customization, then you should consider Litify.
Litify is a practice management platform for law firms. Built on Salesforce — the world's most secure and flexible platform — it helps manage and automate marketing, CRM, intake, matters, documents, referrals, reporting, and finances.
Advantages of Litify CRM for lawyers:
Prebuilt functionality for different law firms
Storage of big data and analytics of your law firm
Advanced optimization of the intake process. Using Litify you can easily gather the preliminary information from a new client and as well as with store case files
Facilitated interaction between attorneys and their clients
Access to customized reports on the fly. Especially interesting for Plaintiff firms that work on a contingency fee basis (particularly Personal Injury firms).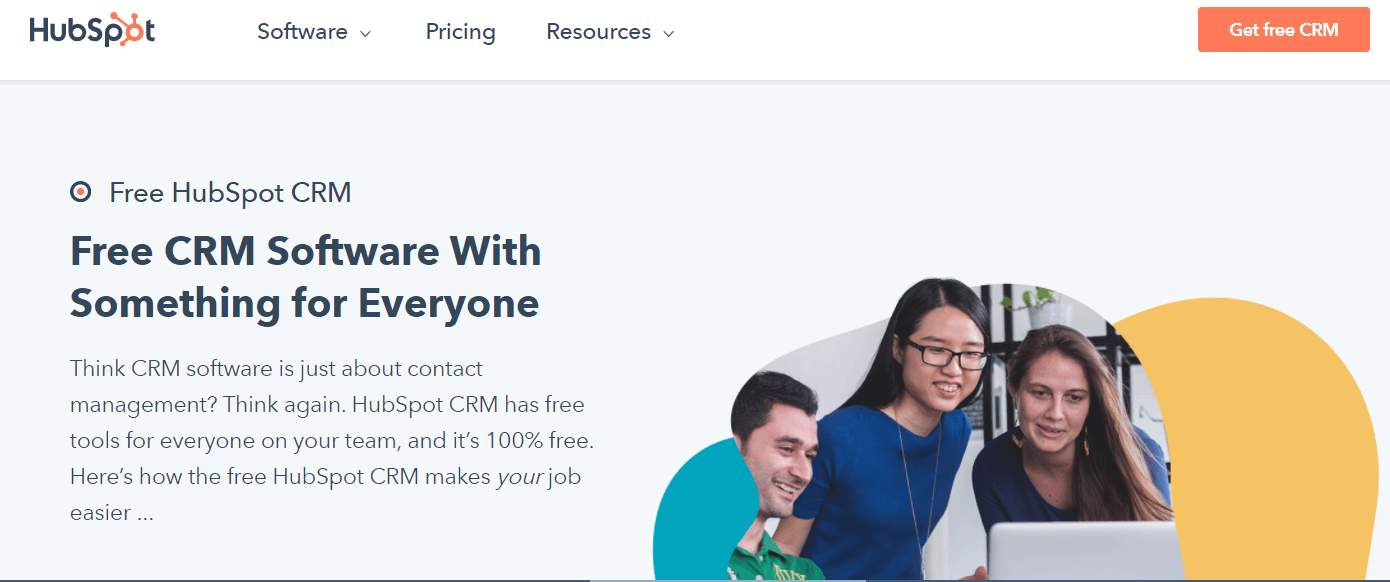 HubSpot CRM system helps you standardize the workflow of your legal business and automate tasks like data entry, scheduling follow-ups with your clients, etc. It empowers legal firms to generate more leads and interact with them through automated marketing activities.
Advantages of HubSpot CRM for lawyers:
Includes marketing, sales features, and service hubs all connected, so you can plan your marketing campaign and increase sales
Serves as an easy point of entry for law firms that have never used a CRM
Technical and users' support
Advanced built-in analytics and reporting solutions
Tracking of client interactions across platforms.
HubSpot doesn't have legal functionality, but it is easy to customize it if you don't have lots of customization requirements.

LegallyCRM is a Polish-based CRM provider that offers affordable, no-frills CRM services tailored to the requirements of the legal industry. LegallyCRM helps in document management, contact management, optimizes communication with clients, etc.
Advantages of LegallyCRM for lawyers:
Off-the-shelf legal CRM functionality
Safe system implementation and post-implementation training
Platform for calculation of provision, generating invoices, and managing recruitment
Technical support of your law office CRM throughout the contract
Available data backup, system update, and troubleshooting on a subscription basis.

Clio is legal practice management and client intake software for legal companies. Clio lets you manage your law firm securely from anywhere. Also, it offers an entire suite of tools covering the client's journey from intake to invoice. The team behind Clio understands the specific pressures and pain points of legal practices making this CRM user-oriented.
Advantages of Clio software for lawyers:
Seamless integration with G Suite, Outlook, Mailchimp
Access to highly rated customer and technical support
Tailor-made CRM for law firms that concern legal services issues.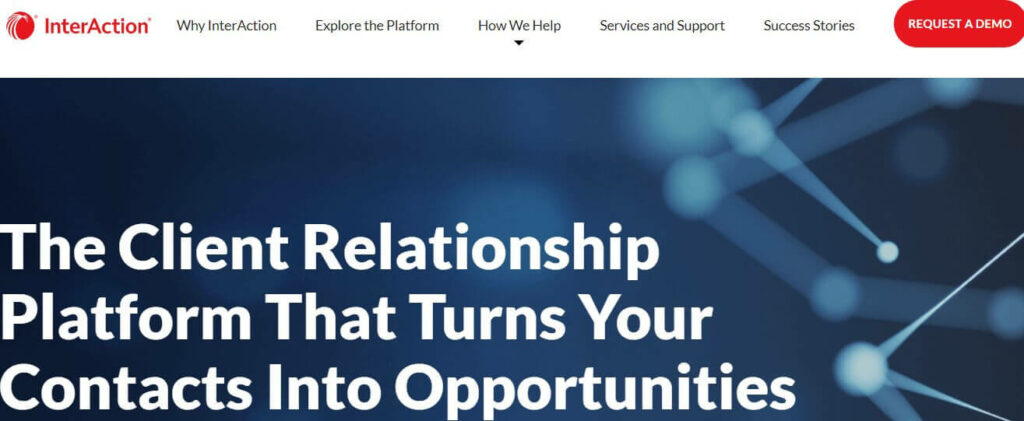 InterAction by LexisNexis is a CRM that provides large law companies with client insights. It helps law firms manage business relationships by incorporating insight into their sales activities.
Tracking engagement scoring analyses relationships among prospects, identifying key relationships that can lead to new opportunities.
Advantages of InterAction CRM for lawyers:
Engagement scoring: helps to target the right relationships by assessing the strength of each relationship and identifying potential opportunities
The Who-Knows-Whom functionality: InterAction CRM automatically shows the connections with the contact within an organization
Visual pipeline management: Provides complete visibility of opportunities and goals for law firms.

PracticePanther is a law practice management software that works well for law companies of all sizes. The software contains time tracking capabilities, expense management features, billing capabilities, payment processing functionality, and more. All these functionalities are integrated into an intuitive and user-friendly interface.
Advantages of PracticePanther software for law firms:
Online payment processing and tracking
QuickBooks accounting integration
API access
Internal chat with your team
Secure client portal
Unlimited data storage.
Why Ascendix as a Legal CRM Provider
To win the race in the post-COVID market of CRM-equipped law firms, you need to find an experienced CRM consultant that helps you to choose CRM with strong incentives and achievable usage.
Ascendix is a reliable provider of CRM consulting services and custom CRM development that has been working within the various industries for more than 25 years.
Ascendix Technologies is a certified Salesforce, AppExchange, Dynamics 365 partner and has multiple certifications and awards that prove our expertise.
The company provides CRM consulting services in three main vectors:
Ascendix takes care of clients and doesn't offer solutions without conducting an in-depth business analysis. The company's CRM consultants work thoroughly to find a genuine alignment between each lawyer's personal goals and those of your firm.
At Ascendix, we aim to provide your law firm/department with win-win solutions. We start with an in-depth analysis of your current systems, how you're using them, and what parts need to be improved.
Ascendix believes that the approaches for legal CRM adoption is the #1 consideration when choosing your firm's CRM consultant. That's why we have a wide variety of Salesforce consulting services:
Let's boost your law firm together! Feel free to contact us.
Wrapping Up
Nowadays, the legal sector is experiencing a rapid shift. For modern law firms, CRM is the rule, not the exception. Any firm that still lacks a CRM consultant is about to be left behind in a big way.
Ascendix wants to make your law firm a high performer that achieves better year-over-year performance.
As a CRM consulting company, we can prove that legal CRM can take the headache out of routine tasks like follow-up, entering client data, generating complex legal documents, scheduling appointments, etc.
Our CRM consultants can help your law professionals spend less time of their workweek on menial administrative tasks by adapting a suitable CRM in your law firm.
If you are interested in transforming your law business using CRM, feel free to check our case studies and contact us. We will be glad to provide you with a professional legal CRM consultancy to move to a new CRM platform that meets your business needs.
Kateryna Zhukovina
,
Content Marketer
Kateryna creates engaging content about Salesforce consulting, Ascendix products, and CRM best practices for the commercial real estate industry and legal services. Her articles provide readers with relevant data, stats, business tricks and overviews of new industry trends and CRM updates.
Let's Discuss Your Project
Looking for Legal CRM consulting partner? Need help with selecting the best legal CRM solution? Type your contact details and we'll get in touch to discuss needs of your legal business.