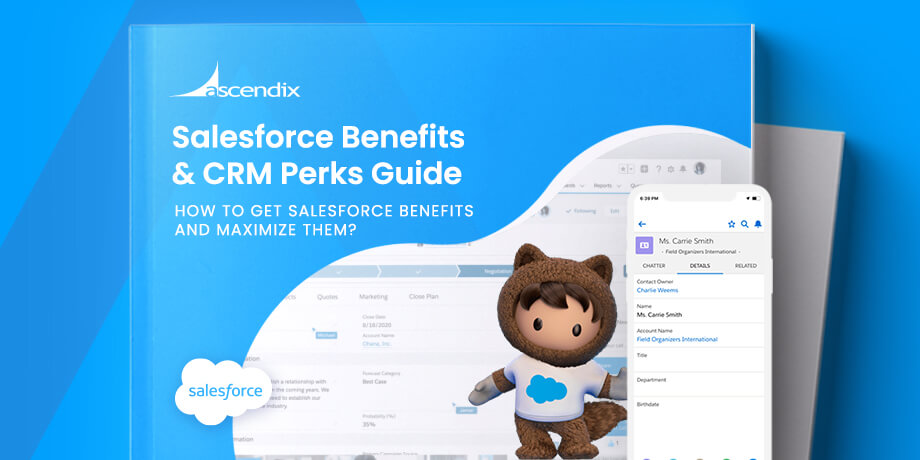 Since 2001, Salesforce platform has become an instant hit not only in B2B (Business – to – Business) sector but also in B2C (Business- to- Consumer) one. How have this tool managed to win as many as 150, 000 companies' hearts, what Salesforce benefits make it #1 CRM choice,  and what next steps in tech innovation Salesforce is going to make to please their existing customers and to attract new ones? Keep reading to find out.
Prior to talking about Salesforce benefits, let's take a short quiz about Salesforce and CRM market to see how much you already know about them.
What is CRM? 
a) Customer relationship management
b) Customer retention management
c) Customer reference management
Find out the answer here.
What is Salesforce? 
a) SaaS (Software as a Service) company
b) PaaS (Platform as a Service) company
c) Professional Services company that serves B2B sector
Check the answers here.
Let's assume, you already know the answers and we can transition to our main topic: What are the main benefits of Salesforce, and why so many companies become fans of this company and use its products and services for around 20 years?
Salesforce's Map to Success: Innovation, Integration & Diversity
For almost two decades Salesforce has been transforming from a cloud-based CRM software into a whole cloud-based infrastructure company. Its unique ecosystem makes it a separate "software world" within a tech world making Salesforce more independent and self-sufficient with each new company acquisition: Tableau, MuleSoft, Demandware, ExactTarget, Quip, ClickSoftware, and the list goes on.
We will go over the most prominent ones.
Tableau
Tableau was acquired by Salesforce on Jun 10th, 2019 for $15.7 B. Being regarded as a main competitor of Einstein, this analytics platform became the number one purchase on the Salesforce's wish list. The future of Tableau within the platform is still unclear : will it complement Einstein or take it over? Well, let's keep an eye on it.
MuleSoft
Mulesoft was purchased on Mar 20th, 2018 for $6.5B. Salesforce took over this company to simplify development of application networks using APIs and to interrelate apps within the platform. Now, the main purpose of MuleSoft, also known as "Integration Cloud", is to easily map and manage systems for a complete view of data, devices, and apps.
Demandware
Demandware was obtained on Jun 1, 2016 for $2.8B. This acquisition was meant to fill in the missing puzzle: to empower the world's leading retailers to innovate in the B2C sector and to enable 1-to-1 shopping experience. After purchase, it was quickly merged with Commerce Cloud and to the date, it's been providing a seamless retail experience across multiple channels.
ExactTarget
Salesforce acquired ExactTarget on Jun 4, 2013 for $2.5B to expand the platform in the marketing direction and to execute marketing automation, especially email marketing.  Since then,  ExactTarget together with Pardot (Pardot had been previously bought by ExactTarget) has been enabling marketers to leverage email, social networking, SMS, digital advertising management, and more with the Salesforce product suite.
Quip
Quip was purchased on Aug 1, 2016 for $750M to cover the document processing gap within the Salesforce platform. Quip allows advanced document management by making them sharable and actionable. Its functionality also enables collaboration on videos, images, calendars, and more.
ClickSoftware
Salesforce bought ClickSoftware on Aug 7th, 2019 for $1.35B to improve the effectiveness and efficiency of mobile workforces and field service organizations. After its purchase, ClickSoftware was transformed into Salesforce Field Service Lightning (FSL) product that services for scheduling service appointments, tracking vehicle locations, and product stock, etc.
Besides acquired companies, Salesforce has penetrated a number of business niches and customized its solutions for industry needs in a form of full-fledged CRM software.
Just look at the ever-expanding list of clouds Salesforce operates in:
Sales Cloud
Service Cloud
Marketing Cloud
Commerce Cloud
Community Cloud
Nonprofit Cloud
Education Cloud
App Cloud
Analytics Cloud
IToS Cloud
Health Cloud
🤓 If you would like to know more about these clouds and industries Salesforce operates in,  read our post: "What is Salesforce?"
What's more, regardless of the business vertical, Salesforce offers the following platforms at your service:
Force.com (or Lightning platform) is admins and developers' "playground" for designing custom Lightning Components and the creation of custom applications.
Salesforce1 is the platform for application development and exchanging data via Application Programming Interface (APIs) and prebuilt programming code components.
AppExchange is an online app marketplace where you can purchase Salesforce-based apps and Lightning components from third-party vendors.
Chatter is a Salesforce collaboration platform that helps to connect your team wherever they are, share important information on customers, prospects, competitors, and partners, and helps resolve customer service issues quickly. See a Chatter in action.
Salesforce Einstein is an artificial intelligence (AI) technology that enables you to forecast next opportunities, personalize experiences and to be proactive in resolving cases, create predictive customer journeys, and create smarter apps for employees and customers. Look at Einstein demo below:
Pardot is a B2B marketing tool for businesses which sales processes are highly influenced by sales representatives and managed through Salesforce Opportunities to execute email marketing automation. Pardot aligns well with sales, lead management, automated actions as well as marketing campaigns. Discover more about Pardot in a video:
Heroku is a platform that allows companies to build, monitor, and scale apps using their preferred programming languages and tools.
Salesforce Benefits: What Makes This Platform Stand Out on the CRM Market
As you can guess from the above-mentioned facts and what strikes at the first glance is that Salesforce is quite a self-supporting universe rotating around its core product – CRM software.
Along with the standard kit of general cloud-based CRM features like a centralized database of never-lost, structured, and organized data, and no necessity to purchase additional hardware, there are some peculiar features that make out of CRM software — Salesforce.
So, let's skip the guessing game and run quickly over main Salesforce benefits:
Agility and Customizability
Enterprise-Level Security
Third-Party Extensibility
360-Degree Customer View
Mobility and Accessibility
Reliable Reporting
Improved Collaboration
Automated Workflows
Visual Data Representation
Analytics Powered by Artificial Intelligence
Digitalized Time Management
File Sync and Share
Hassle-Free Contact Management
Comprehensive Sales Forecasting
Provisioning of the Best Practices
Supporting Resources
Frequent Platforms Updates
Agility and Customizability 
Salesforce's greatest strength is that it's a highly customizable platform due to its open infastructure.  Salesforce ensures your software scalability without worrying about the uptime and recovery process. By being a unique blend of PaaS tools, Force.com platform, SaaS CRM industry and AppExchange lead,  Salesforce empowers its users with simpler customization process without tons of custom coding and long development life cycle.
Salesforce platform uses a single code base that makes it possible for you to customize your CRM solution with tools that work on metadata layer. Multiple development tools and prebuilt apps offer limitless possibilities in personalizing features of your CRM like, for example, customization of  search & filtering, reporting or client's portal.
Also, you can customize various personal display options, page layouts, validation rules, fields, or objects to create seamless user experience with extended Salesforce functionality.
In addition, greater accessibility to the applications increases efficiency in the project in terms of interacting with the environments and provisioning builds from environment to environment.
Enterprise-Level Security
One more unquestionable Salesforce benefit is its high security standard.  Salesforce offers a top-notch level of data security and privacy protection and enables users to work both safely and efficiently.  Many layers of Salesforce's security protect your data from unauthorized access from outside as well as from inappropriate use by your company's users.
It is achieved by applying unique identifiers that are associated with each user's session and by deploying of an advanced technology called Transport Layer Security (TLS) that safeguards your information with server authentication and classic encryption.
Data Protection by Salesforce Source: Salesforce.com
Moreover, Salesforce is hosted in secure server environments, requires multiple kinds of authentication and is constantly upgrading its security protection approaches to guarantee complete protection of your sensitive data from technology side. To ensure total security, Salesforce also provides educational material on org's data protection for employees in its resource platform Trailhead.
However, if you need extra data protection and compliance, the company offers Salesforce Shield, a package of add-on security features like app and data use monitoring,  security policies automation, sensitive data encryption, and compliance audits. Watch a detailed demo of its functionality:
Third-Party Extensibility
By far, Salesforce has the most advanced and expensive eco-system for third-party applications. Salesforce's infrastructure and existing technology stack make system integrations a simpler process. Moreover, Salesforce APIs even enable the integration of legacy applications that are not a part of Force.com platform. Get to know this platform better with the video below:
If you have a concept of a Salesforce-based app that will make the work process more agile and efficient, Ascendix's AppExchange app development team will map it to reality and suggests the best strategies for marketing your solution on AppExchange.
360-Degree Customer View
Salesforce is a holistic ecosystem whose goal is to enable businesses to deliver exceptional service to their customers. All its features are aimed at deeper analyzing and understanding of the customer's purchase behavior to increase customer satisfaction rate and company sales revenue.  Thanks to the 360-degree view you can have a comprehensive portrait of your customer and its buying journey. Watch a Salesforce demo:
Mobility and Accessibility
Salesforce Mobile App enables you to access your product at any time and anywhere and to manage your data and events from mobile devices as easy as you can do it from your desktop.
Look at Mobile App demonstration:
Likewise, their apps help to improve collaboration and communication with your team by files sharing that you can access from any place with an Internet connection.
Reliable Reporting
Manageable reporting is an inevitable part of any business process taking into account all the channels you have to consider when analyzing your company performance. One of the undoubtful Salesforce benefits is an actionable and trustworthy reporting tool that enables you to clean, collate, organize, and tabulate your data to interpret it fast and easy. Explore more about reports and dashboards in Salesforce video:
This feature allows you to track who interacts with your organization and how well. Additionally, you can run reports with any parameters and categorize your customers according to various stages of your sales funnel: leads, opportunities, and sales.
Let's explain what these stages mean.
Leads are consumers that anyhow expressed interest in your business, for example,  by filling out a form on your website. Salesforce algorithms of reports help you to build a customer journey and know how to convert leads to opportunities.
Opportunities are consumers that are close to purchasing and requested a product demo. Thanks to the reporting feature, you can see the person's location in your sales funnel and the source of its acquiring, for example, ads or marketing campaigns.
Sales are your Opportunities converted into a customer. Reports will help you to track and analyze their habits after purchase and understand your customer buying behavior better.
To scale this Salesforce benefit, we've built an advanced search and reporting tool — Ascendix Search that combines robust filtration and the search functionality with an enhanced report generation feature on top of the Salesforce platform.
Improved Collaboration
Salesforce allows you to centralize all the internal and external communication in one place and to keep the most critical discussions, records, contact information, and projects in a social feed. It is a critical feature for tracking the progress of a certain interaction and making informed decisions based on the new details.
Our Salesforce-friendly product MarketSpace offers a centralized and secure collaboration space for the safe document, contracts, and file sharing. Our portal is a one-stop-shop for brokers that seek to have a property listing portal, a brochure and report generation tool, Deal and Collaboration rooms, and a centralized document management hub under one hood.
❓ How easy is it to implement Salesforce? How long does it take?  What are the main reasons Salesforce implementation may fail? Check the answers from our certified Salesforce experts: Wes Snow, Chris Petersen, and Marissa Mills.
Automated Workflows
Automation is one of the key Salesforce benefits because it can significantly reduce the time for nurturing leads and customer issues resolution, therefore, you will have more free time for analyzing data and prospecting. Salesforce can create tasks for you automatically based on a certain trigger.
E.g., once getting a new lead, Salesforce can assign this lead to a certain Salesperson based on territory, size of the lead or anything else. Then the system can create a sequence of tasks to connect with this lead. 
Visual Data Representation 
Spreadsheets limit you in terms of graphical presentation of your data. Salesforce, on the contrary, allows you to forget about manual putting and importing your data and identifying what's important. By clicking on your report you can display all the necessary metrics in dashboards, graphs, charts, or tables without having to dig into silos of files.
With an idea of a perfect and easy data representation in mind, we, at Ascendix, created Composer – a  Salesforce-based tool for branded brochures, property tour books, availability, lease, activity reports generation. Just in a few clicks, your textual report can be transformed into a visually attractive report with your brand logo on it.
Analytics Powered by Artificial Intelligence
Einstein Analytics can improve the way you analyze your data by providing accurate and detailed insights into the customer's information. Its scalability allows processing large volumes of data that makes it an irreplaceable solution for enterprise businesses.
Digitalized Time Management 
By having all the information at your fingertips, you can easily prioritize tasks and organize them accordingly. Moreover, due to integration with calendars, you can easily visualize your schedule for the day, week, month, etc.
File Sync and Share
Salesforce enables you to share documents from any device at any time and thereby simplifies commenting and versioning files in your organization. It ensures that all the information is updated and correct and you can get access to files as fast as you need it and be sure that it is up-to-date.
Hassle-Free Contact Management
Salesforce allows you to get critical data of interaction history with your customers and build relevant engage-enhancement strategies to improve the sales cycle.
Our Salesforce consultants will help to streamline your contact management and make your data work for you by providing the best ideas for data deduplication and optimization. Check more Salesforce help services we can provide.
Comprehensive Sales Forecasting
The forecasting capabilities of Salesforce greatly facilitate sales analysis and allow accurately predict future sales revenue and adjust your business strategies accordingly. Also, this feature helps to identify top performers on a real-time leaderboard.
Provisioning of the Best Practices
The environments like sandboxes for UAT that can ensure successful performance  are included in Salesforce subscription-based solutions or available at a nominal cost to set up additionally if it's needed.
Supporting Resources
Salesforce offers tons of supporting documents and guides for the platform on Developers' Community, Trailblazer Community, and provides free online trainings on Trailhead platform. See what Trailblazers have to say about this learning channel:
Moreover, you can seek help and exchange the ideas with fellow Salesforce users and experts, learn about coming events and known issues on Trailblazer.
Frequent Platforms Updates
A cherry on the cake is that Salesforce is constantly upgrading its platforms and has 3 major releases per year: Spring, Summer, and Winter.
And the amount of documentation, lead time, and preparation material is second to none in the market that makes it simpler to accommodate updates on Salesforce solution.
What's Next?
According to the latest news, Salesforce has just completed the acquisition of Mobify that will enrich Commerce Cloud with its digital storefront solution.
And, even though, according to Business Insider, Marc Benioff will try to avoid major purchases at the nearest time, the company continues to surprise the tech world with its unexpected partnership strategy.
Having already partnered with business moguls like Facebook and Apple, Salesforce has started cooperating with Microsoft, it's the closest competitor, on Microsoft Teams integration for Sales and Service Clouds.
Also, based on the current company's news feed, Salesforce is busy with the adoption of their most expensive purchase – Tableau within their platform and with its syndication with Einstein Analytics product to deliver a better analytics experience.
So, to sum up,  everything that the Salesforce fans and users have to do is to keep an eye on coming news of new platform capabilities and leverage current Salesforce benefits of CRM products and .
However, if you don't want to wait for new Salesforce features to appear, you can start enjoying current Salesforce benefits by customizing them for your special needs. Our team of  Salesforce consultants will gladly help you maximize current CRM capabilities and advise you on best practices of app integration to boost its standard functionality.
On top of that, we, at Ascendix provide a broad spectrum of Salesforce-related services including Salesforce implementation, integration, customization, administration, support, and AppExchange app development.
Since Ascendix's inception, we have led more than 200 projects of different complexity to the technology success. Sounds convincing? Then just request free consultancy with our Salesforce-savvy team!