Based on the PCMag study, over 80% of the top-earning real estate agents use a CRM system to manage their deals and listings. Salesforce is the #1 CRM on the market for 8 years in a row offering best-in-class solutions and Salesforce real estate CRM pricing options for firms of any size. In this post, we'll review these offerings together with the perks for commercial real estate agents.
Salesforce Real Estate CRM Pricing
There are 4 available Salesforce real estate pricing plans:
Essentials – $25/user/month (paid annually)
Professional – $75/user/month (paid annually)
Enterprise – $150/user/month (paid annually)
Unlimited – $300/user/month (paid annually)
If you decided to use Salesforce for your real estate practice, you have three options to buy Salesforce licenses:
Directly from Salesforce
Directly from Ascendix
Both from Salesforce and Ascendix

Buying From Salesforce Directly
What You Get
Depending on the kind of Salesforce plan you purchase (Professional, Enterprise, Group or Unlimited), what you generally get is a CRM system that lets you track Accounts, Contacts, Leads, and Opportunities.
It is industry-agnostic, meaning that it will not be tailored to your specialty.
It will require that you basically build it from the ground up to capture your business processes and the data modeling you wish to set up.
Example: You would need to build a Property object if you're in Real Estate or a Loans object if you're in Finance.
This can be a time-consuming process and most businesses don't have a dedicated resource to accomplish this.
Ascendix Technologies can serve as your Salesforce consulting partner by providing best practices, counseling, and implementing your business requirements in a way that makes your Salesforce investment a long-term valuable asset.
Depending on the kind of Salesforce plan you purchase (Professional, Enterprise, Group, or Unlimited), what you generally get is a CRM system that lets you track Accounts, Contacts, Leads, and Opportunities.
What You Pay
When you purchase a license from Salesforce directly, it can run you up to $300/user/month. You can find the detailed Salesforce pricing here.  Ascendix Technologies can provide you with competitive hourly rates for consults.
Buying From Ascendix Directly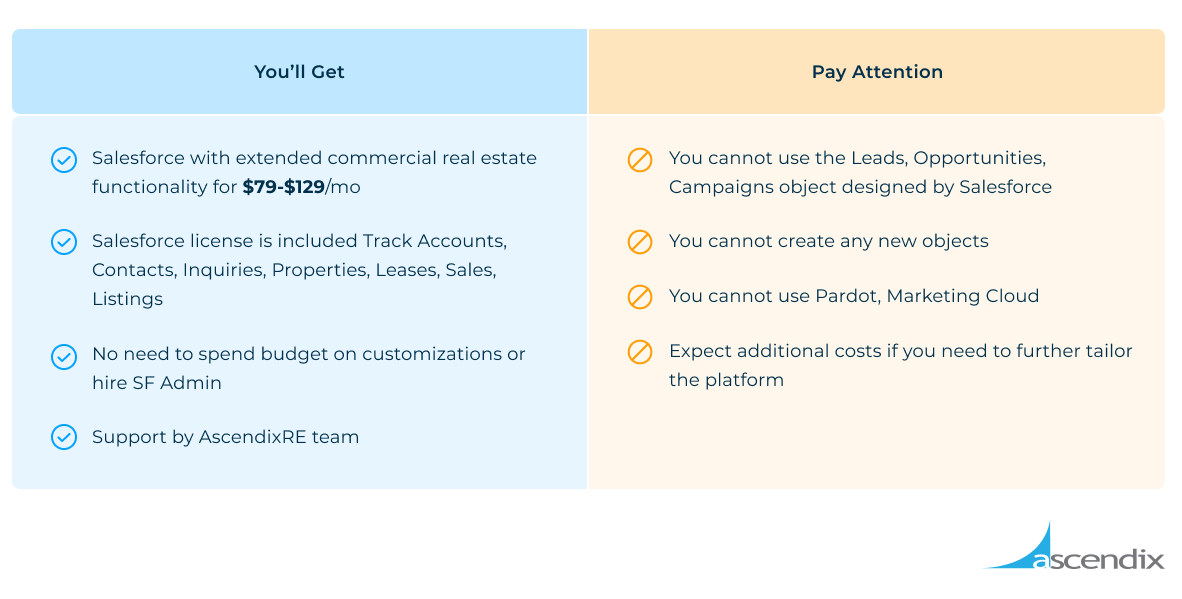 What You Get
You can select a Salesforce Partner who extended Salesforce functionality with custom features.
In this case, the pricing of their product will include a Salesforce license. Our AscendixRE CRM is a good example. Go to AppExchange (the marketplace by Salesforce) to search for other available solutions.
Ascendix Technologies is a Salesforce partner.
Beyond actually providing the consulting services mentioned above, we have also partnered with Salesforce to provide a blended "off the shelf" product for Commercial Real Estate firms.
This means that Salesforce has allowed us to use their core Account and Contact object to track relationships, and Ascendix has come in and already created Property, Lease, Sale, and Listings objects. It takes so much of the guesswork out since it's already "pre-plumbed."
There are limitations here because you're buying a bundled Salesforce & Ascendix product in one, you cannot use the Leads, Opportunities, or Campaigns object designed by Salesforce.
You also cannot create any new objects. While this may seem like a true limitation, you will find that for CRE firms, AscendixRE does the job…and then some!
What You Pay
This is the best part, you get Salesforce and a tailored solution for your CRE firm for as low as $79/user/month.
Even the highest tier of the product (based on features), runs at $99/user/month.
Still a great bargain for all you are getting.
Check out our pricing page for a full set of features.
If an off-the-shelf product meets all your needs, you may not need any consulting services.
However, if you would like to further tailor the platform for your business, such as needing assistance with changing forms and layouts, importing data, setting up dashboards, and setting up workflows for reminders of key dates, then engaging Ascendix Technologies for some consulting hours may not be a bad idea.
Simplify And Optimize Your Salesforce Solution with Ascendix
We will assess your CRM to review gaps in technical implementation, business usage, and suggest the best options for Salesforce optimization.
Buying from BOTH Salesforce & Ascendix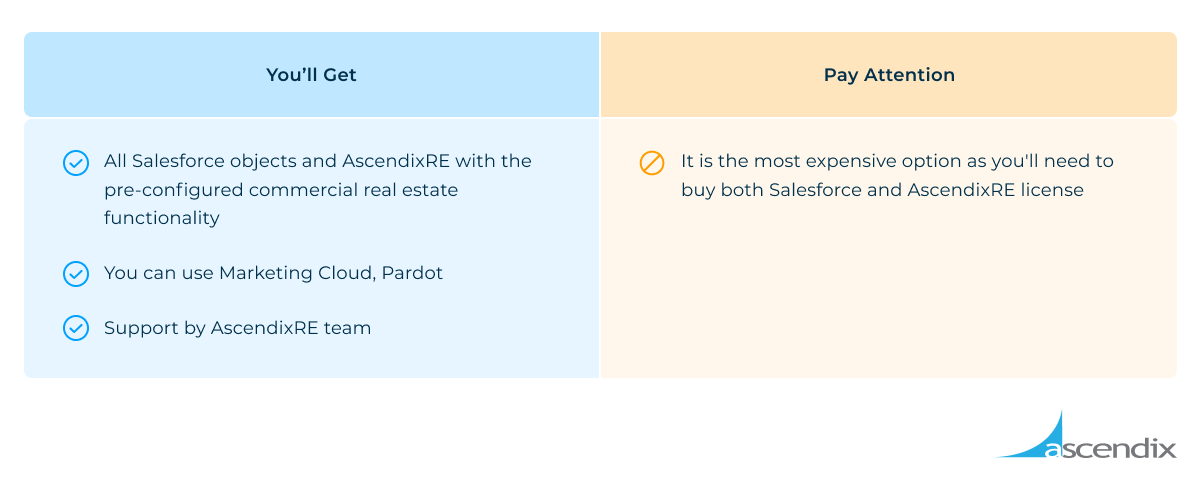 What you get
You can buy a Salesforce license from Salesforce and an AppExchange app from a selected partner. This is exactly what it sounds like.
You buy Salesforce licenses directly to take advantage of the full flexibility the platform has to offer.
In addition, AscendixRE can be purchased as a module that you overlay on top of a full Salesforce license giving you the flexibility of the Salesforce platform with the pre-configured commercial real estate functionality.
This is a unique approach as it implies a business wants a solid starting-off point using the data modeling that exists but foresees the need to expand itself in ways that might leverage marketing integrations such as Marketing Cloud or Pardot.
What You Pay
When you purchase a license from Salesforce directly, it can run you up to $150/user/month.
When you buy Ascendix as an "add-on" you get a discounted rate of $79/user/month for the full-featured product.
The premium on the price is because of the freedom to use the platform with very minimal limits.
Still not sure what road to choose? Engage one of our people in a conversation and we can help you decide what makes the most sense.
Chris Edwards
,
Senior Salesforce Consultant at Ascendix Technologies
Chris is a Salesforce-certified administrator with 7+ years of experience in Salesforce consulting services, administration, app integration, organization of clients' trainings and data analytics and migration. She is also an author of multiple CRM guides and trainings for Salesforce admins and users. In Chris' former life, she lived in NYC, traveled the world, went skydiving, and swimming with sharks. She can now be found in a Texas suburb with 3 kids, escaping the heat at a nearby pool.
Think Of Tuning Your Salesforce Org to Your Business Needs?
You found the right place! We provide a detailed Salesforce CRM assessment for your business purposes and advise on the selected approaches to configuration & customization of your Salesforce solution!