Updated on June 10, 2021
Have you already checked the Salesforce 19 (Winter, Spring, Summer) Release Notes? We scanned the release notes and summed up the most exciting features introduced in 2019. Learn about unleashed Salesforce features & improvements that got automatically pushed to you by Salesforce or that you needed to turn settings "on" to get a feature.
Let's start with the Salesforce Winter '19 released features.
Salesforce Winter '19: The Most Welcomed Features
1. General Interface
Recently Viewed Feature in Kanban View
2. Mass Emailing from Salesforce
Related Files in Salesforce Email Template
3. Activity Management
4. Reporting
5. Integrations
There's now an easy way to connect your LinkedIn Sales Navigator with Salesforce (Separate subscription required).
6. Here's a Tip
Who decides on the features that make it to the next Salesforce release? Is it a bunch of tech billionaires locked up in a room, throwing around their brightest ideas?
As tempting as that sounds, the features that get released approx. 4 times a year are voted on by the entire Salesforce user community (about 3 million-plus users).
If you go to the IDEA EXCHANGE, you'll find many threads representing user requests.
Those submissions are upvoted by other Salesforce users who also want that feature. After a certain # of thresholds or votes, the Salesforce committee considers including those features in the next release. That means that you could submit your own ideas or upvote others as well.
You can expect these changes to be in your system by June. You'll know you have it, when you see the Einstein riding a bicycle,  replaced with the bear riding the wave on a surfboard.
So what can you expect?
Salesforce Release Notes Spring '19: the Most Notable Features
1. Finally!!! Say Good Bye to "Recently Viewed"
This is the #1 pesky annoyance clients have reported. You have individual detail sections, but you can't modify the visibility of the related activities. Note that Admins might disable this feature. Now you'll be able to pin a favorite view (like All Contacts or My Prospects).
How: To pin an unpinned list, click its pin icon. To pin a different list, select the list view and pin it instead. The default pinned list for all objects is Recently Viewed.
How to Pin an Unpinned List in Salesforce
2. Print a Record View
Many of you have asked if you could just basically print the screen in Salesforce Lightning. This was not possible, until now.
How: Open a record and click Printable View. The sections and fields on the printable view reflect the current user's page layout. The related lists reflect the current user's related list preferences.
You can change visibility for all record details
How to Print the Screen in Salesforce Lightning
3. A "1 click" approach to completed Tasks
Now you can mark that your task was complete with one click right in the activity timeline or the task detail view. Also, you can re-open the task with one click.
How to Mark that Your Task Was Complete with One Click in Salesforce
4. A "1 click" approach to creating Follow-Up Tasks
The new button 'Create Follow-Up Event' will let you create a new event with the key information copied from the original task so you don't need to copy-paste the information.
How to Create Follow-Up Tasks with One Click in Salesforce
5. Outlook integration – You can log emails to contacts not in the CC' or in the TO line of the email
Before this release, you could log email from 
Microsoft® Outlook to contacts, leads and person accounts in Salesforce if they were located in TO or CC fields. Now you can search for other people in your Outlook or Gmail and log the emails. Salesforce will include them in the record's activity timeline and will update the last activity date field. 
If you would like to review an entire list of what is coming, click here for the entire set of Release Notes.
Salesforce Summer '19 Release Notes: The Top Features
1. Salesforce Related Lists
Enhanced Related Lists
Take your related lists to the next level. With Enhanced Related Lists, you can show up to 10 columns, resize and sort your columns, perform mass actions, and wrap text.
Example: If I am on an Account record, and I see a related list of Leases, I may want to only up to 10 fields from the Lease record, be able to resize columns as needed.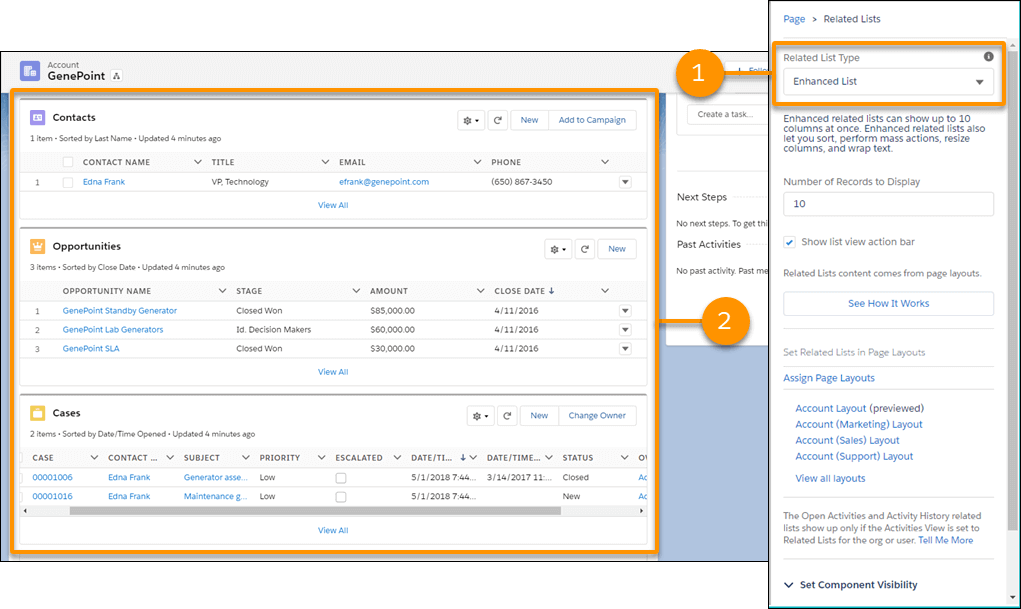 Salesforce Enhanced Related Lists
2. Use Quick Filters in your Related Lists
Use quick filters in your related lists to find the data that you're looking for. Related list quick filters are different from regular list view filters in that they aren't saved, persist only throughout your current session, and can't be shared.
Example: If I am on an Account record, and I see a related list of Deals, I may want to only filter it to show Open Deals
How: Open a related list, and select 
 to add quick filters.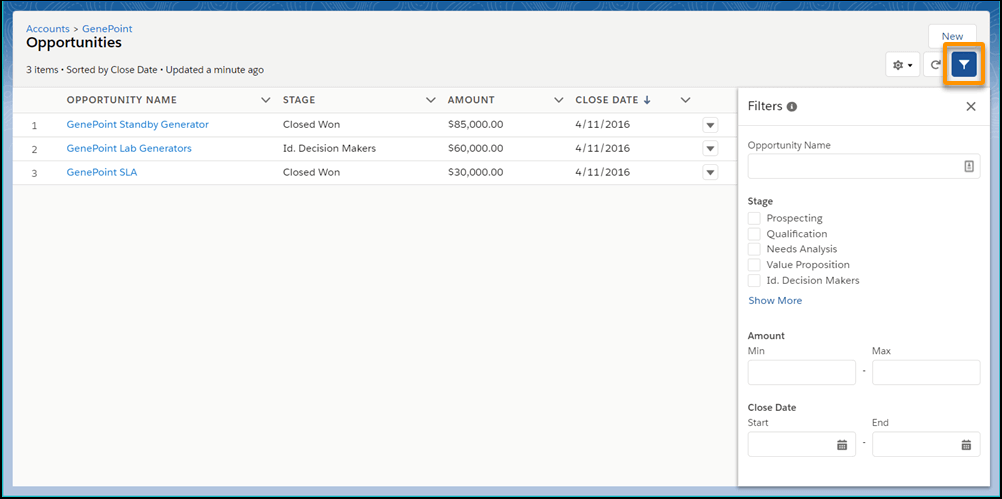 How to Add Quick Filters in Salesforce
If you want to be able to create related lists that you can save and share with others, you can use Ascendix Search app.
2. Look & Feel
Choose how to view a record (Salesforce Classic Throwback)
For those who enjoyed how Classic displayed a record and related records, you can opt to make a change in how you see your data.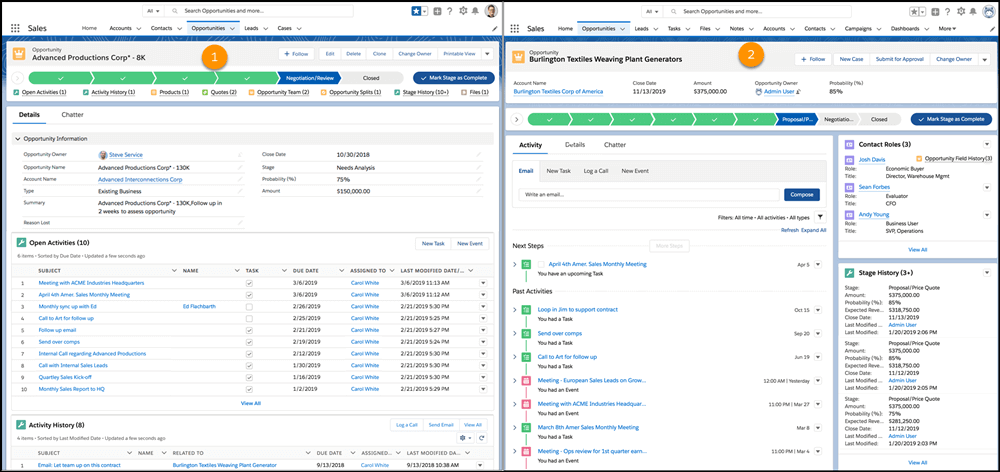 Full view (1)  vs Grouped view (2)
How: 
Fo Lightning users:  Navigate to Setup > Record Page Settings
If you migrate to Lightning Experience after Summer '19, you will configure these settings in the Lightning Experience Transition Assistant before you enable Lightning Experience, or in Setup after enabling Lightning Experience.
Choose if you want to see activities as a timeline or as a related list (another Classic Throwback)
Now it is possible to decide how you will see Activities:
A) As an expandable timeline
Activities in an Expandable Timeline
B) As a Related List
Activities As a Related List in Salesforce
How: Navigate to Setup  > Record Page Settings.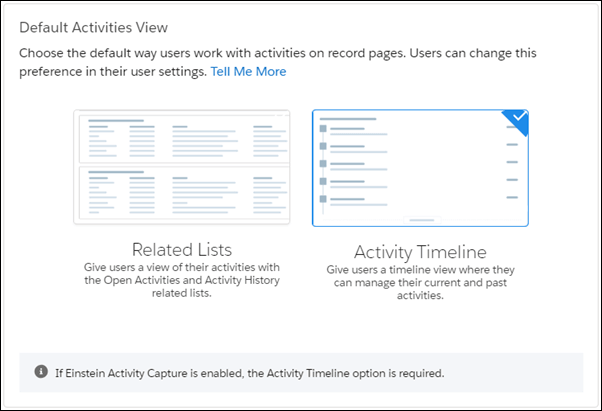 How to Set a Default Activities View in Salesforce
3. Email Templates & Marketing/Branding
Now you can add images to Lightning Email Templates. You can insert images from the web, your computer, or Salesforce files. Simply click on the Images icon to insert an image's URL in an email. Learn more about sending mass emails via Salesforce.

How to Add Images to Salesforce Lightning Email Templates
Enhanced Letterheads
Add your own email headers and footers and unsubscribe language in Lightning Email Templates.
How: open the App Launcher, and select Enhanced Letterheads.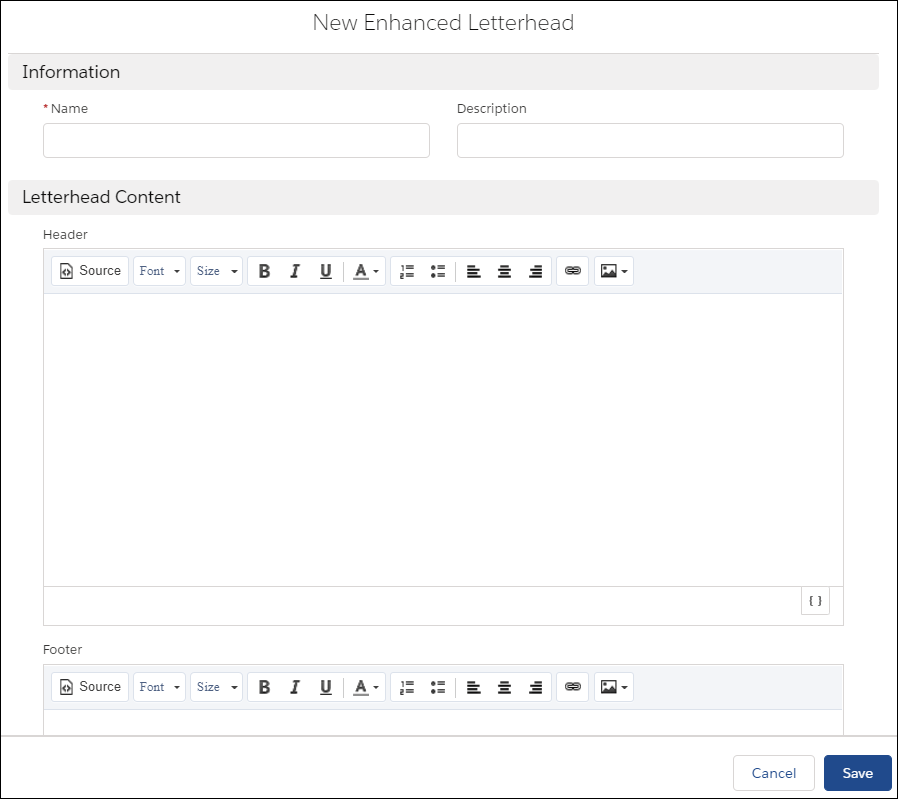 New Enhanced Letterheads in Salesforce
Use your brand colors for hyperlinks
Now you can set your custom color for hyperlinks.
How: Navigate to Setup > Themes and Branding

How to Use Your Brand Colors for Hyperlinks in Salesforce
4. Email Integration
Salesforce optimized email logging options. Now you can turn on Log Emails Faster option so you no longer have to open the email or event each time you wish to save it to Salesforce. Available for Gmail and Outlook users.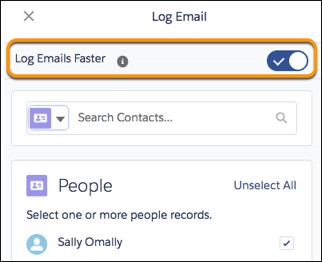 How to Log Emails Faster in Salesforce
5. Reports
When you subscribe to reports, add conditions so you're notified of significant changes. You can choose to get a summary of the conditions that were met or the whole report in addition to a summary.
Example: If sum of Gross Deal Value on Deals is >5M, send me the Deals report
How: Open a report and add conditions to it in the corresponding section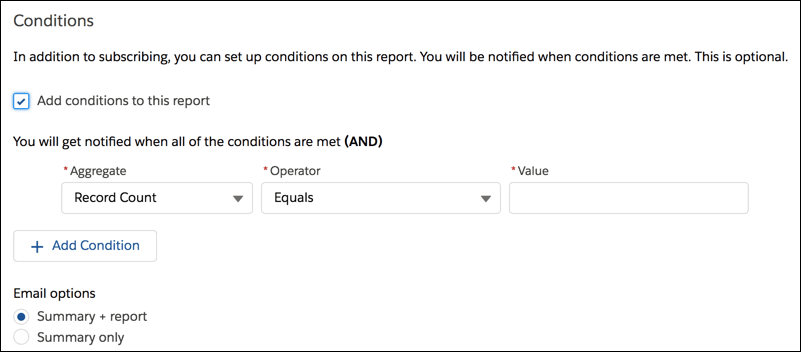 How to Add Conditions to Salesforce Report
6. BONUS!
Confetti when you close a Deal (or any place you have "Paths" enabled).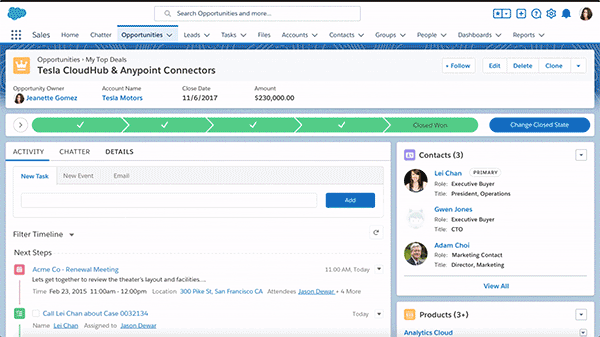 Confetti When You Close a Deal
If you would like to review an entire list of what is coming, here is a list of all the content.
Need Salesforce Consulting? We'll help!