When building a business in the highly-competitive commercial real estate industry, finding or creating valuable listings helps CRE professionals to be on the wave and get more successful deals.
Commercial real estate listing websites contain valuable information for CRE professionals and cover a number of their needs. When you google "search commercial real estate listings," you'll get millions of sources to choose from. However, only a tiny part of them can consider as reliable commercial property listings websites.
To help brokerages, investment firms, and other teams, we've analyzed the fundamentals of listing and selling commercial real estate and compiled a list of the best and most used sources of where to find commercial real estate listings. Let's dive into it!
Looking for a Robust Property Listing Portal?
MarketSpace has got all you need: It automatically publishes and updates listings right from your CRM software, attracts leads, offers extensive search options, and has a very intuitive design.
The Fundamentals of Listing and Selling Commercial Real Estate
Basically, when a person wants to sell commercial property, he/she needs to:
Find a broker that helps to sell the property using listings
Sign a listing agreement
Publish a listing using MLS
That's the very fundamentals of listing and selling commercial real estate. Most CRE specialists know them, however, a minor revision will make some things clear for all the readers of this article.
Let's start with property listing meaning. While some consider listing as the advert for a property ready for sale or rent, the listing refers to the listing agreement between a principal and an agent regarding property marketing.
Hence, what is a listing agreement?
The listing agreement is an employment contract that authorizes an agent to act on behalf of a principal. This agreement covers:
the duration of the listing period
the desired sales price (both parties agree on a minimum and maximum range)
commission percent both parties (listing broker and selling broker) will have
any possible exceptions to the commission, such as a reduced fee for preferred buyers.
Each listing agreement contains special terms and conditions. They vary according to the types of listing agreement:
Open listing – the seller reserved the right to employ any number of agents. Therefore, the listing agreement is non-exclusive, and the selling agent is the only one who receives a commission (however, if the seller manages to sell the property independently, no commission is paid)
Exclusive agency listing – the property seller contracts one broker to act as the sole representative to list/show/sell the property. However, the seller retains the right to sell the property independently (but not through another broker)
Exclusive right-to-sell listing – only one broker has the right to represent the property and has exclusive rights to the commission of the sale, meaning that the broker gets paid, no matter who sells the property, while the agreement is valid.
Once a broker signed a listing agreement with a seller and created a listing of properties, they need to add it to the multiple listing service (MLS).
MLS is a database of available properties for sale used by commercial real estate brokers. An MLS allows brokers to see commercial building listings for sale to connect home buyers to sellers; for property buyers, it provides access to numerous listings while sellers get connected to buyers through their broker or agent.
According to the annual DNA of #CRE survey by Buildout and theBrokersList, the average broker expects to win 1-2 listings per month using MLS commercial listings.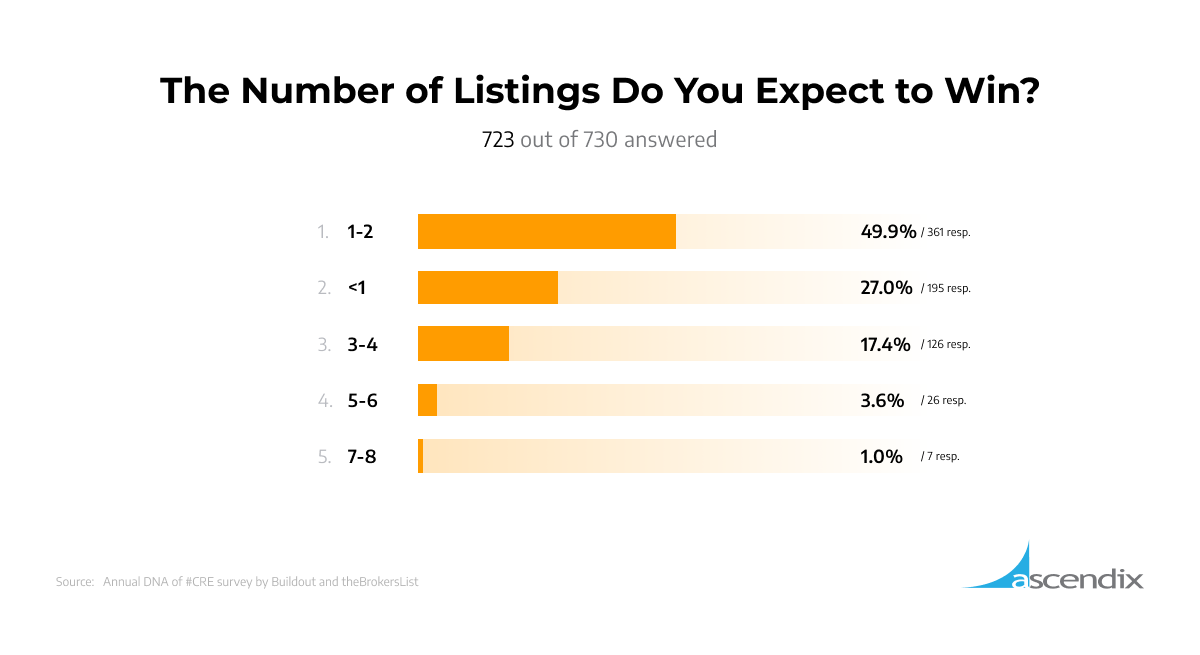 Also, brokers claimed that the average commercial realty listing price is between $1M–1.5M, and the property type they closed the most deals around in 2019 was either office or retail.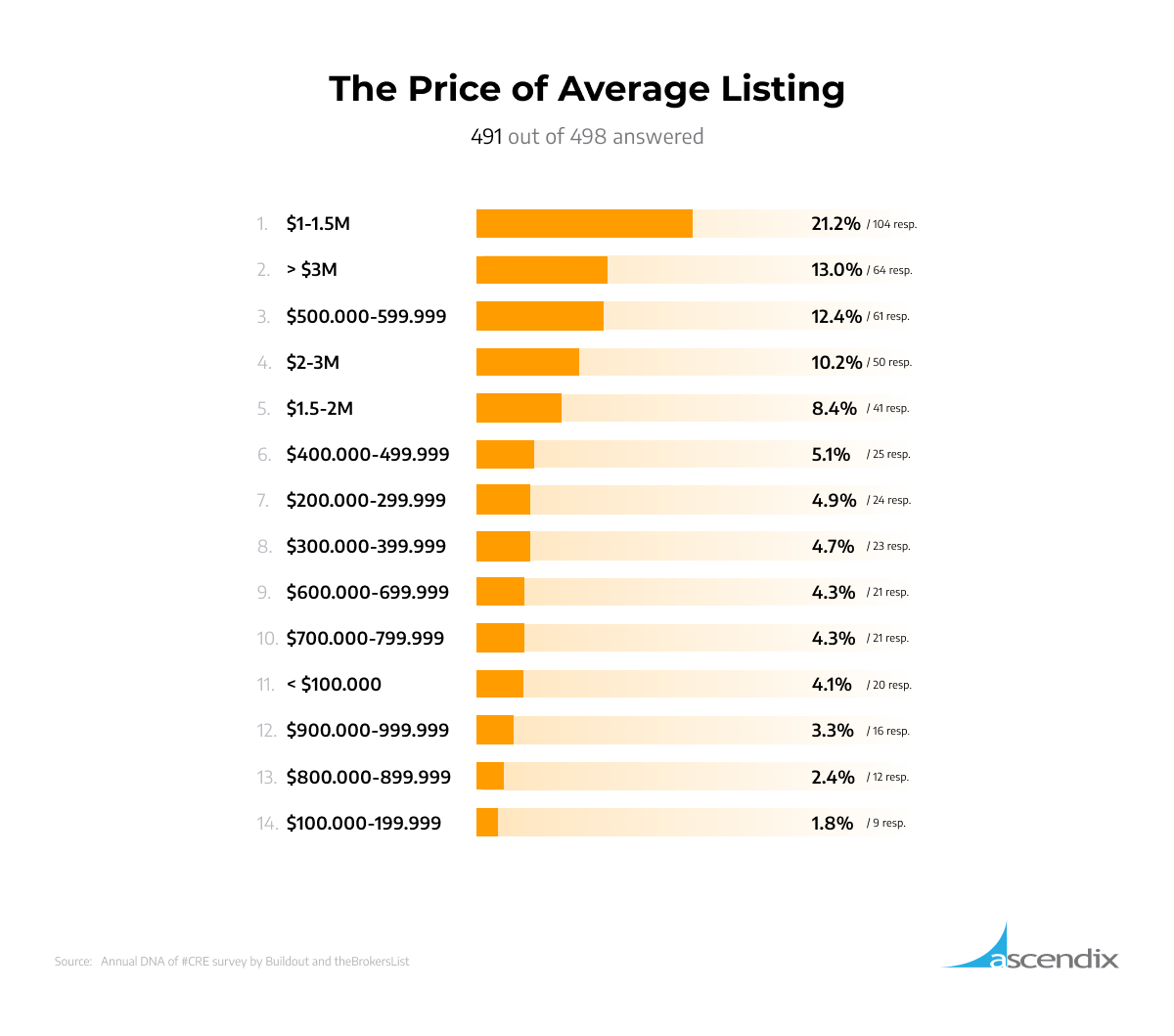 By the way, did you know that the data you store in AscendixRE CRM can be automatically published in MarketSpace? In any case, you can change the data stored in AscendixRE to update or delete it.
Additionally, you can edit commercial building listings in the CRM, see who viewed your listings, track the top offers, follow up with leads, control the performance, and more.
MarketSpace is a solution that offers all the listed features.
Professional Property Listing Right from your CRM
AscendixRE is CRM for CRE agents that in addition to CRM functionality has a property listing platform solution. Request a demo.
" Ascendix has something special with MarketSpace. The users' feedback has been all-around positive. Our research people, who used to respond to requests for data/reports have seen a significant drop in those and an increase in their capacity to do other work. "
Where to Find Commercial Real Estate Listings?
There are many commercial property listings sites to help you advertise or search specific commercial building listings.
In this passage, we'll describe two primary sources of where to find commercial real estate listings.
Firstly, you can get listings through a strong network. Commercial real estate agents are constantly creating and maintaining relationships. Many of them start by connecting with everyone they know (family, friends, acquaintances). They communicate with these people to make it known that they are in the business.
Even if CRE agents communicate with people that might not be in the market for selling or buying properties now, there are chances they will become prospective clients later or have other acquaintances that might be interested in the deal.
To expand the network, agents and brokers use the methods of warm calling and cold calling to attract leads to commercial building listings as well.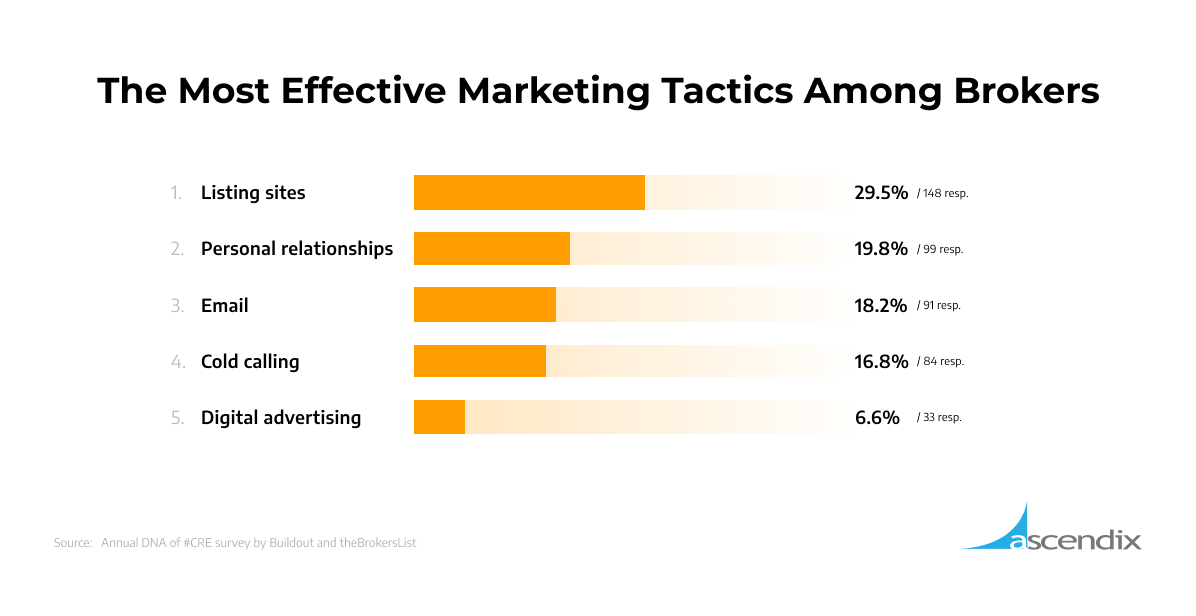 Secondly, use MLS or commercial property listing sites to advertise your commercial real estate for sale.
To help you choose the best platform for commercial realty listings, we've collected a list of some of commercial property listing sites with a further description based on the brokers' responses from the survey.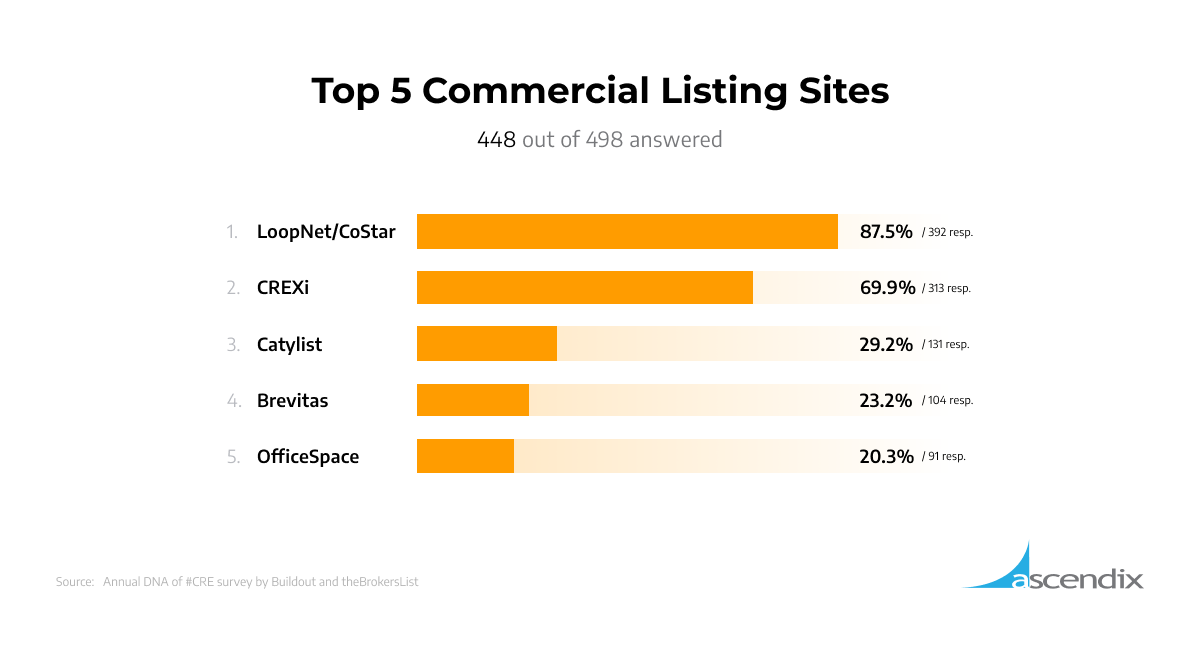 LoopNet is one of the most recognized commercial property listing sites that offer various types of CRE: office, multi-family, industrial, retail, land, agricultural, hotel & motel, residential income properties, and more. It has one of the largest databases with 1.1 million property listings and 5.1 billion square feet for lease around the globe.
In April 2012, LoopNet was acquired by CoStar Group Inc for $860 million in cash and stock. In October 2017, CoStar fully integrated its database with LoopNet, expanding the number of commercial realty listings, and creating a new platform for users.
Commercial Real Estate Exchange, Inc. (CREXi) is the commercial real estate marketplace and technology platform. Since launching in 2015, CREXi has helped 6 million users (buyers, tenants, and brokers) to transact business on over 500,000 commercial listings.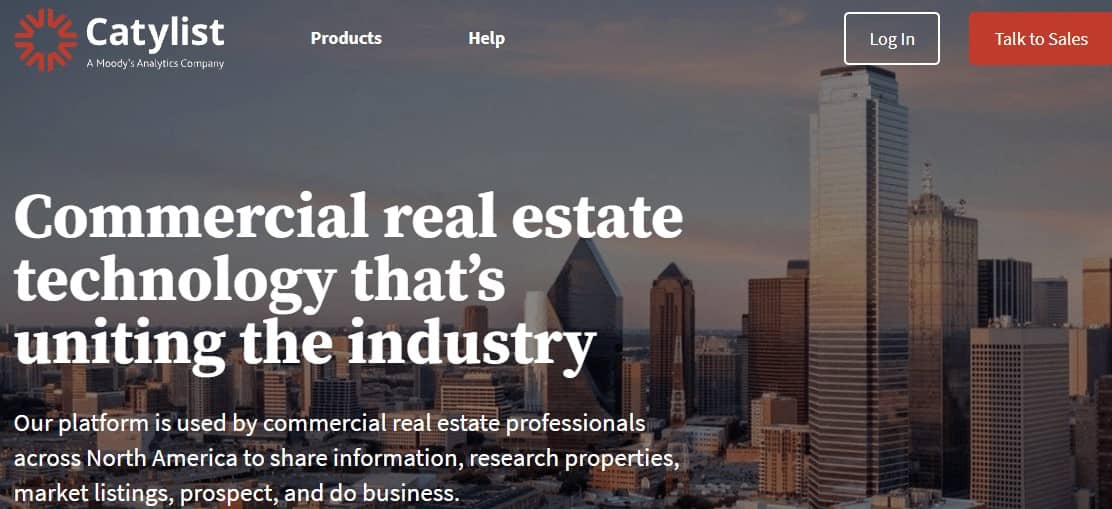 Catylist (acquired by Moody's) is a listing platform that provides services for individuals or companies looking for office, industrial, shopping, retail, land, multi-family, or hospitality properties. It contains thousands of listings across the United States in different categories.

Brevitas is a commercial listing platform partner of the National Association of REALTORS that offers a private, open, and off-market commercial real estate marketplace.
It allows users to track the offers on the market, search or post "a want," create alerts and listings. Additionally, users can request syndication if they want to add listings from their company or MLS.

OfficeSpace.com (acquired by Biproxi) specializes in all types of office spaces, including large-scale spaces, smaller offices for independent businesses, and coworking spaces. Users can browse the listings according to the following categories: commercial, office, retail, industrial.
The site currently has more than 570,000 active listings across the United States available for tenants, brokers, and partners. The predominant part of commercial realty listings covers 20 major U.S. cities and states.
Type of Commercial Real Estate Analytics
Name of listing platform
Number of listings
Plans
Cost
LoopNet
1.1 million
-Basic
-Silver
-Gold
-Platinum
-Diamond
Brokerage companies are required to pay per listing they have on LoopNet. The price varies according to membership plans.
CREXi
500,000 commercial listings
-Free
-Intelligence
-PRO
The price varies from $0.0 (free plan) to $99.0 (Intelligence plan). A free trial of CREXi is not available.
Catylist
15.000 listings
-Free Basic Membership
-Full Access Membership
The price for Full Access Membership starts at $99/month.
Brevitas
55.000 listings
-Free
-Professional
-Premium
-Elite
Professional $29/mo Premium $59/mo Elite $149/mo
OfficeSpace.com
570,000 active listings
-Basic
-Featured
Adding the listing is free. The price for features listings starts at $39.95 per month
The rest of the commercial listing sites preferred by brokers are presented on the chart below.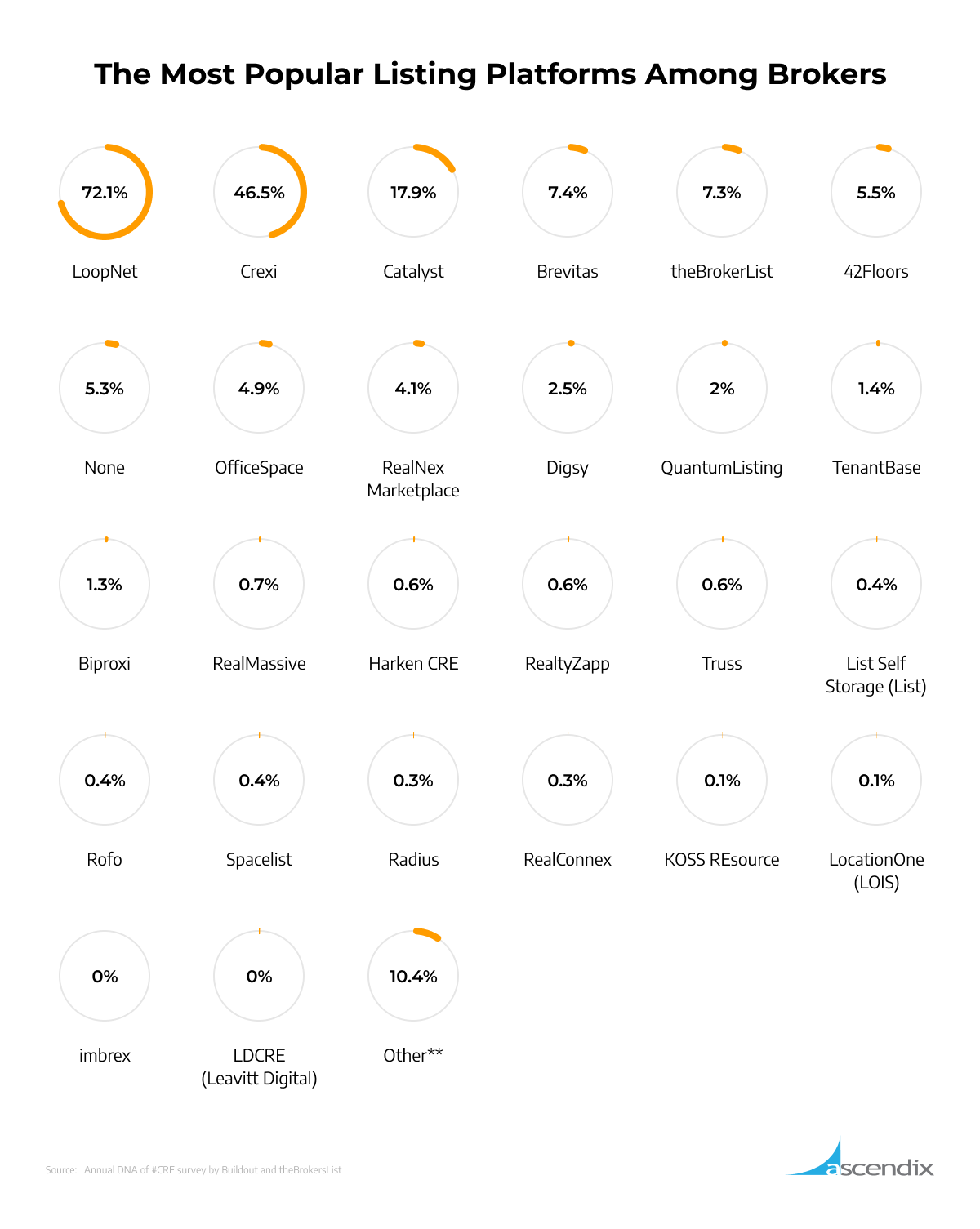 Featuring your commercial asset on these platforms can increase your chances of finding a qualified buyer. The listed-above commercial realty listings have become handy tools for investors, tenant rep brokers, commercial real estate brokers.
Final Words
As it is stated in U.S. EIA (2022) Annual Energy Outlook 2021, by 2050, commercial building floor space is expected to reach 124.3 billion square feet jumping to a 33% increase from 2020.
Hence, brokers will always be looking for sources of commercial building listings. Knowing where to find commercial realty listings for a good price helps to close deals successfully.
I hope this article provides you with the necessary information needed to choose the commercial property listing sites that best fit your needs and budget. If you are looking for an advanced alternative, I recommend you try MarketSpace — an all-in-one tool for marketing your Listings and Availabilities.
Contact our team to get a consultation about the benefits of MarketSpace.
Kateryna Zhukovina
,
Content Marketer
Kateryna creates engaging content about Salesforce consulting, Ascendix products, and CRM best practices for the commercial real estate industry and legal services. Her articles provide readers with relevant data, stats, business tricks and overviews of new industry trends and CRM updates.