If you search for "property management CRM" on Google, you get 64.8 million search results. Analyzing even the first 3 pages requires a great deal of time and effort, and what to do with the rest of the pages? What to look for to single out the best CRM for the commercial real estate market and property management?
We know that property managers deal with a great amount of data daily and don't really have much time to explore tons of information on what software to use.
That's why we've created a definite guide that covers all the aspects of the property management CRM selection process.
By the end of this blog post, you'll have a better understanding of:
This article will be useful for all commercial property managers and specialists related to this industry. Enjoy reading!
Current State of Property Management CRM
Let's start with short introductory information. Property management CRM is a tool used for creating and maintaining customer data and business workflows.
Until recently, CRM was mainly considered like an extra pair of hands to take the pressure off during busy periods. However, since the COVID-19 pandemic began, the perception of property management CRM software has noticeably changed.
CRM has become a solution that helps property managers to address their needs in growing a sustainable business.
During the pandemic and till now, CRM platforms have provided renters, rental owners, and property management teams with advanced communication and effective business operations.
According to GrandViewResearch, the global property management software market size was valued at USD 2.9 billion in 2020 and is expected to expand at a compound annual growth rate (CAGR) of 4.8% from 2021 to 2028.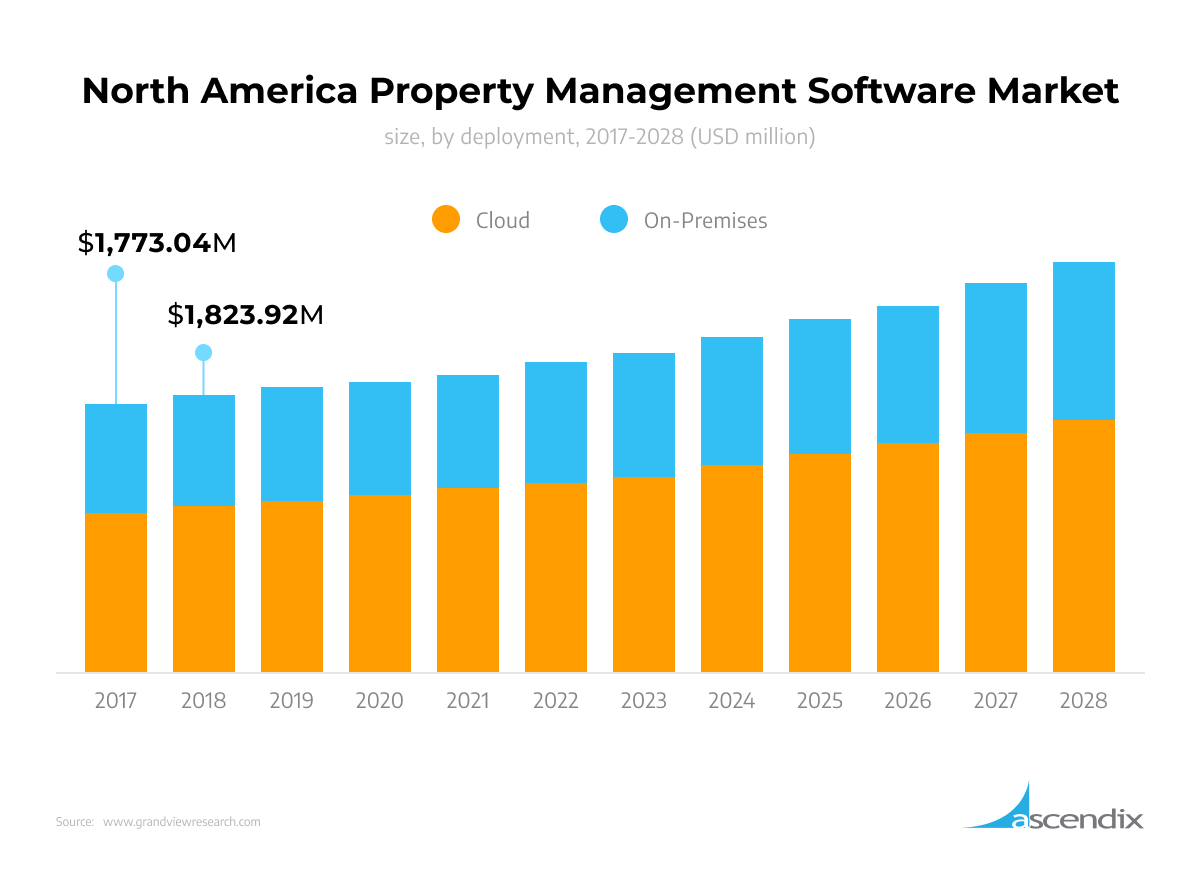 The increase in market share is due to these 2 factors:
Ongoing technology adoption by the real estate industry
Industry changes due to COVID-19.
The integration of CRM property management with the leasing process positively affects the industry. So, in a short time, property managers adopted the new technologies in order to bring the lead-to-lease process entirely online.
As it is stated in Property Management Industry Report by Buildium, since 2019, property managers have been extensively using online rental listings (77%), rental applications (63%), lease signing (52%), virtual showings, 3D video tours (25%), and self-service showings (15%).
Essential Property Management CRM Features to Consider
According to the 5th Annual State of Property Management Industry Report by NARPM and Buildium, more than two-thirds of property managers (who participated in the survey) have now adopted accounting technologies, property management software, electronic payments, online rental listings, tenant screening, a resident portal, document sharing, and more.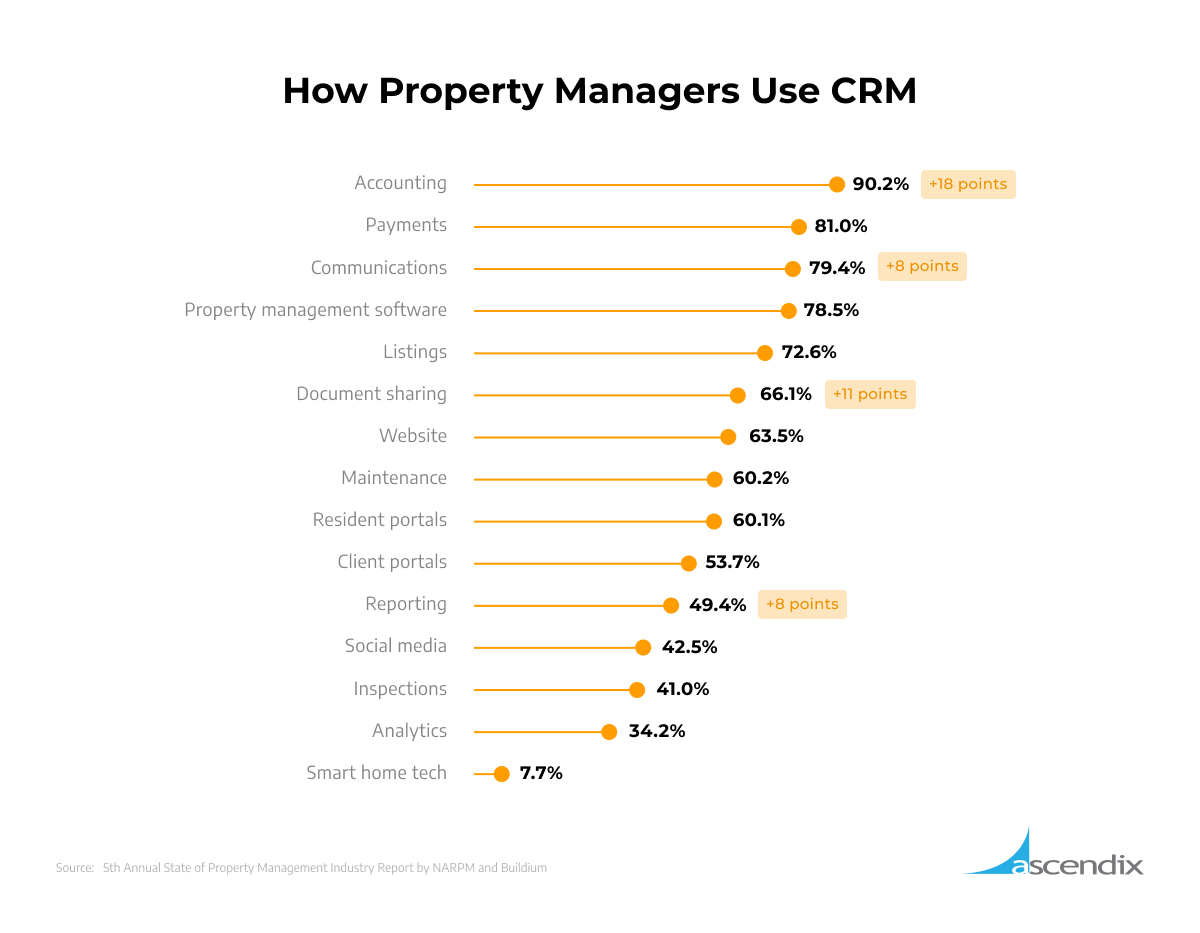 As the industry is constantly growing, the list of required features is regularly updated as well. So, having a complete list of property management CRM features at your fingertips helps you keep an eye on what matters most.
That's why we've singled out the most essential characteristics you should focus on when choosing CRM property management software for your business:
The level of CRM accessibility and ease of use
Advanced reporting system
Contact management
The level of customer support
The ability to tailor the platform to fit your needs
Lead management
Features for managing lease and sale inquires
Ability to import/export data
Intuitive design
The level of data security
Options for tenants
Instant document sharing
Bult-in communication tools
The reason why you are looking for a property management CRM most probably lies in your business's needs to coordinate daily flows of rental management tasks, manage tenant contact information, and enhance the effectiveness of communication.
Win more CRE deals with AscendixRE CRM
Track calls and emails with ease while automating property listing, marketing emails and client reporting. Get AscendixRE demo.
AscendixRE CRM has all the above-mentioned features. Rather than manage your workflow through a mess of ineffective spreadsheets, paperwork, and record-keeping, it helps automate your processes to ensure your business can maximize all rental owner leads from beginning to end.
The navigation in a CRM is intuitive and clear: you'll quickly switch from reporting spreadsheets to stacking plans, sync/import/export relevant data in a few clicks.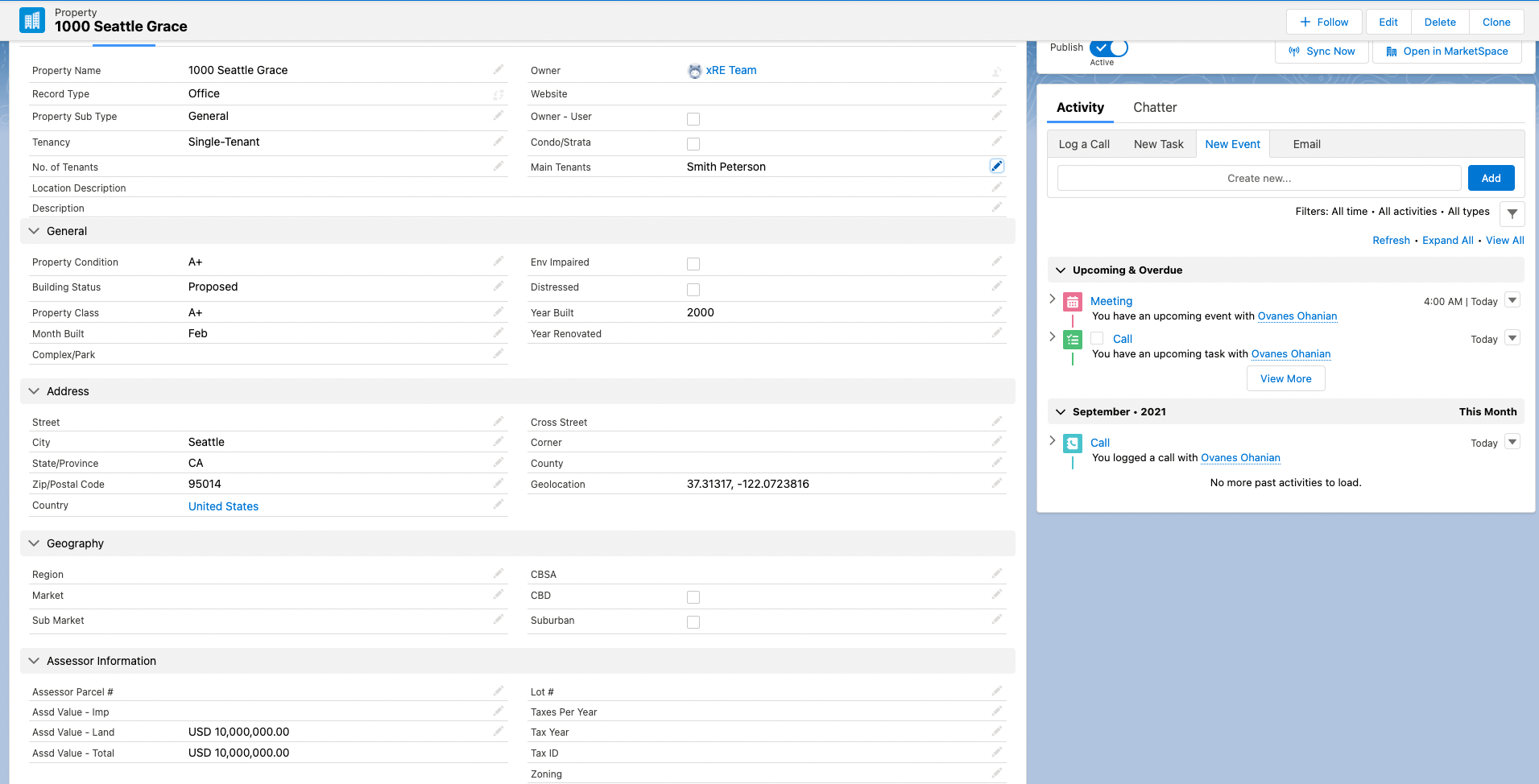 What Can You Automate with Property Management CRM
Property managers have gradually digitized cumbersome tasks. During the last several years, digital communications, electronic payments, online maintenance, electronic leasing, and a resident portal have become the most popular technologies among users.
In its latest Property Management Industry Report Buildium stated that:
38% of renters would like to have access to a resident portal for online payments, communications, maintenance requests
23% of renters would like to have access to an amenities portal to book time slots for shared amenities and pay for the services they use
16% of renters would like to have access to home automation technologies.
Property management CRM helps industry professionals to meet renters' expectations. The table below presents the most popular technologies used by property managers in CRM.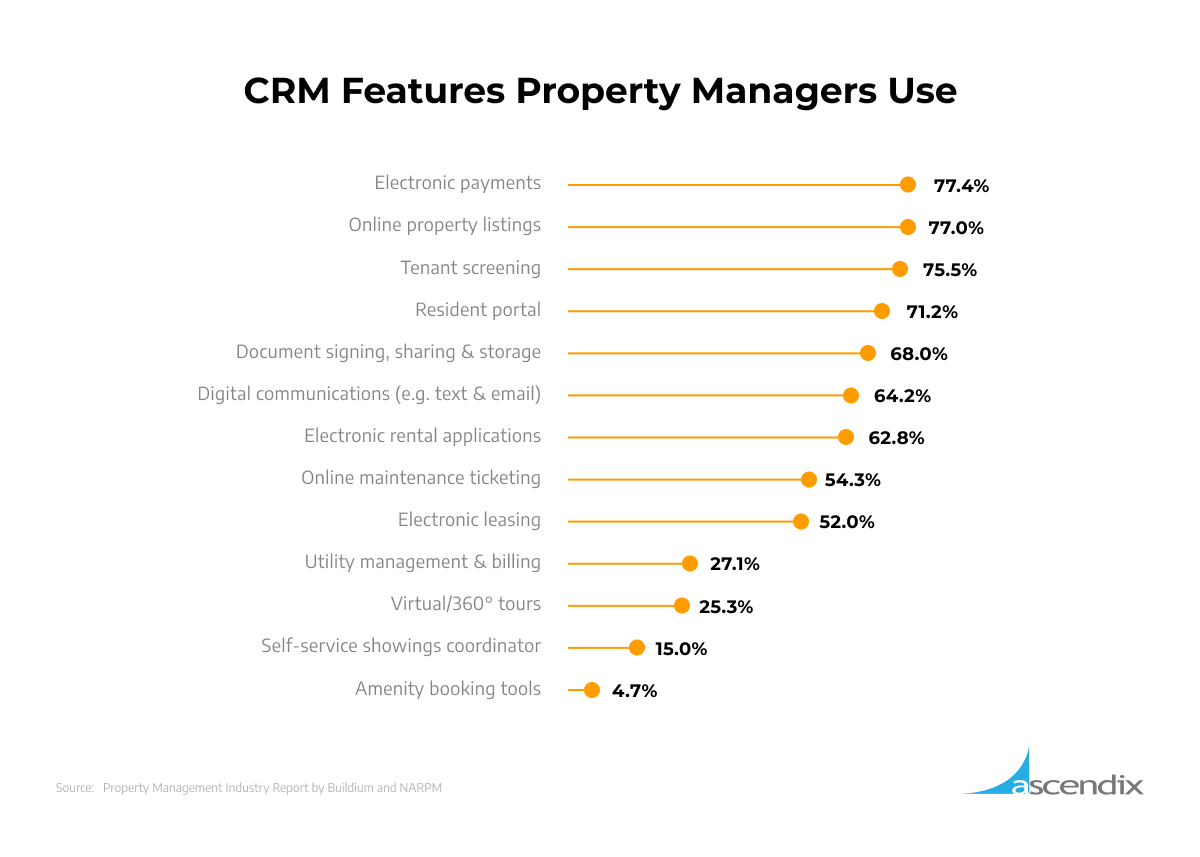 So, why don't we add more points to the list of things that can be automated by a good property management CRM?
1. The Rent Collection/Payment Process
Automation of rent collection processes is a must-have for all property managers and tenants. A CRM will allow them to submit rent payments online and set up notifications for upcoming payments.
2. Handling Renewals and Leases
The renewal and leasing processes can easily be automated as well. Some CRMs let you enter the lease terms and the tenant's information when someone new moves in.
Before a predetermined renewal or leasing date, a CRM automatically sends a prewritten document to the property owners to be signed. Moreover, you can also send reminders and control the process manually at any point.
3. Tracking Maintenance Requests/Tasks/Calls
Again, according to Property Management Industry Report by Buildium, 45% of renters would like to be able to file maintenance requests online.
Property management CRM software can also help to receive and prioritize maintenance requests/tasks/calls. Rather than rely on a calendar for scheduling calls with services, you can automate them with the help of property management CRM.
4. Tenant Notifications
When you input new tenant information and move tenants out, your contact lists can always get updated as well. You can send a notification using different forms of communication with one click.
5. Stacking Plans
With property management CRM, you can get a full picture of your property stacking plan. To illustrate this, here is how stacking plan looks in AscendixRE CRM.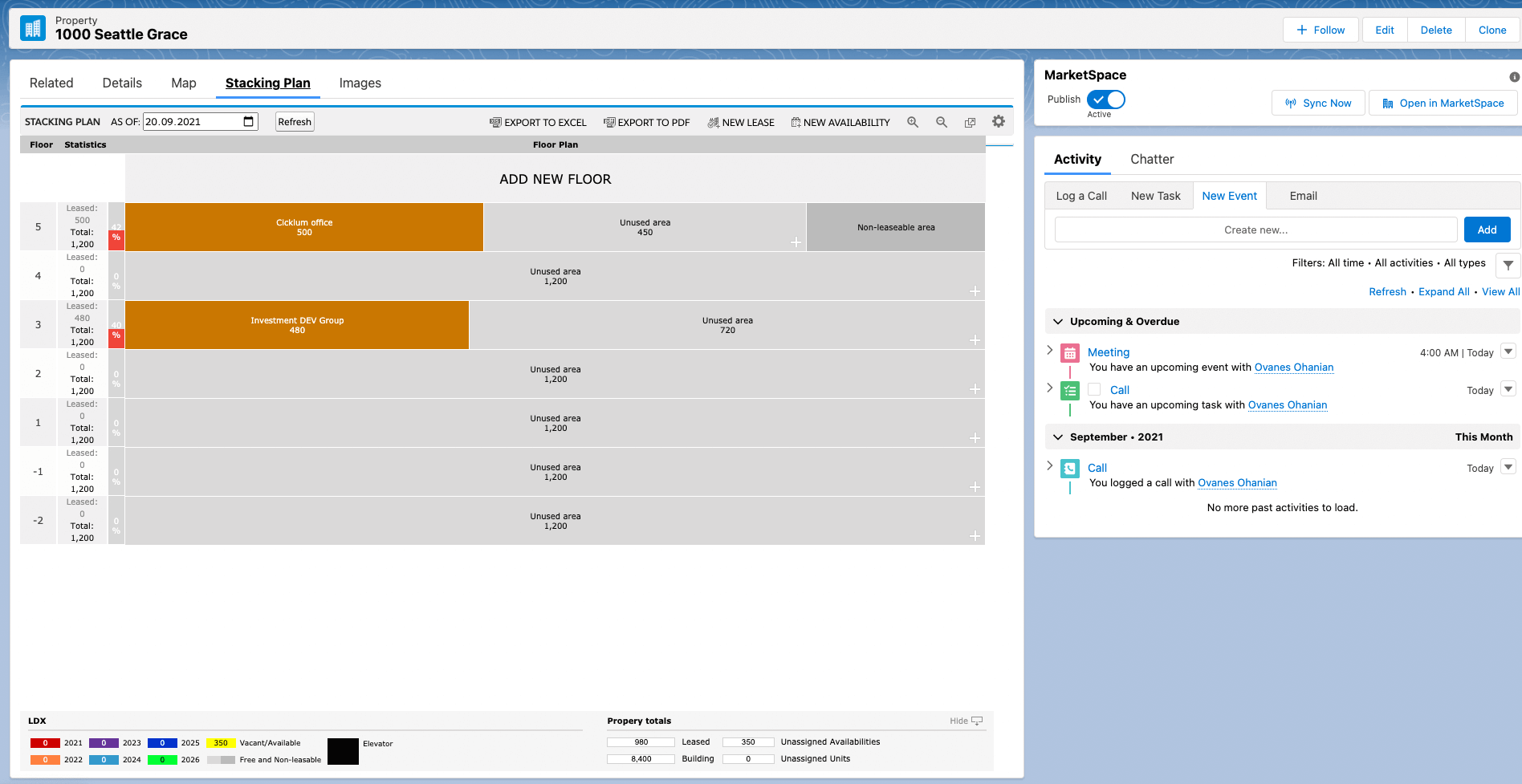 AscendixRE stacking plan software is a great way to visualize vacant space within a particular property, track lease expirations, and find tenants. Also, AscendixRE has over 230 fields to describe all properties in detail.
To see how it works, watch the AscendixRE Stacking Plan overview below.
What Ascendix Offers to Property Managers
Now, when you know what features a good CRM should have for property managers, it is time to see how Ascendix products can automate property management processes.
For property managers, Ascendix offers several solutions that help them to pull everything together, including videoconferencing, project management, remote property inspections, virtual tours, showings coordination, and more.
To begin with, the company created a MarketSpace – an all-in-one tool for advanced marketing of your listings.
With MarketSpace, property managers can create upscale property listings and modify them, filter and select the best-matched properties, and collaborate with clients and investors in secure deal rooms.
MarketSpace is a perfect fit for:
Property managers
Seller representations
Tenant representators.
One more great solution is AscendixRE – an easy-to-use Salesforce-based CRM. Using it on a regular basis, property managers can:
Track detailed information about managed properties and quickly get required information using robust filtering options and map search.

Create value-add updates to information about properties 24/7
Manage new property types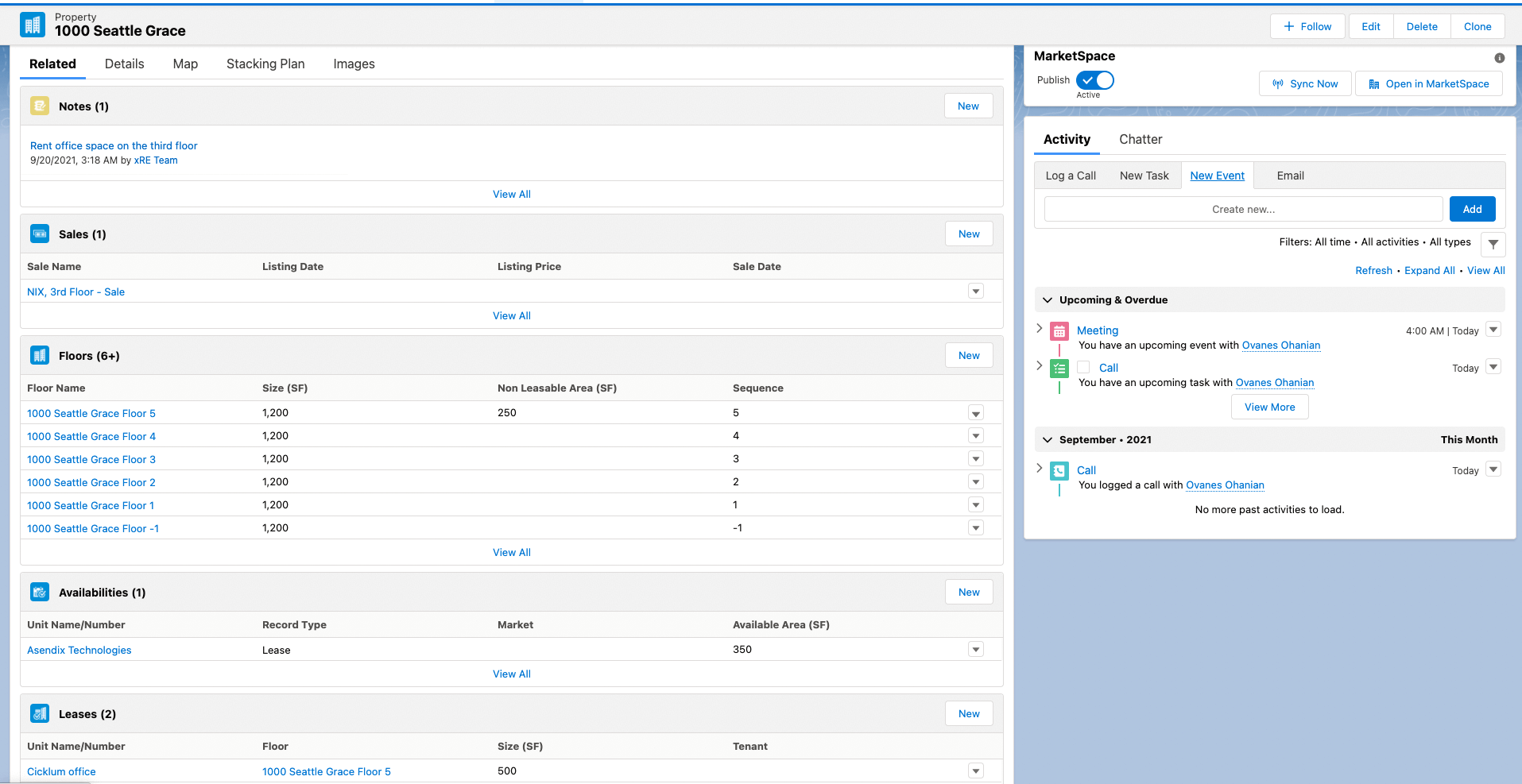 Form in-house maintenance teams and communicate with them
Establish business connections with attorneys, insurance agents, and real estate brokers
Monitor lease expirations and create up-to-date stacking plans
Provide residents with property updates and send them billings, brochures, or customized reports created in Composer
Store updated quality images of properties

The features listed above merely scratch the surfaces of AscendixRE CRM. Built on top of Salesforce, this powerful CRM solution (customized to your needs by Ascendix team) benefits property managers who want to expedite one of the best property management CRM.
With easy cloud migration, reliable integration, and professional concierge support, AscendixRE CRM is a powerful weapon in any property manager's arsenal.
Key Takeaways
The groundbreaking CRM property management technology will not only manage all your internal and external company relationships with clients but will also grow your business. It keeps leads warm and provides opportunities for promoting your properties, generating branded email campaigns, and more.
Besides, it allows you to make time-sensitive decisions based on real-time data. For an industry that never sleeps, what CRM solution could be more suitable? If you feel that it's time to implement property management CRM, contact the Ascendix team.
Our CRM experts will share the best practices of CRM property management implementation/customization/adaptation that we've nurtured for over 25 years in the CRM software market.
Contact us and book a free consultation to find out how our Ascendix team may help you in optimizing your business with property management CRM solutions.
Kateryna Zhukovina
,
Content Marketer
Kateryna creates engaging content about Salesforce consulting, Ascendix products, and CRM best practices for the commercial real estate industry and legal services. Her articles provide readers with relevant data, stats, business tricks and overviews of new industry trends and CRM updates.