Ascendix is happy to announce that we've just received a Rising Star award in the Real Estate CRM Software category according to the Summer 2021 Customer Success Report issued by FeaturedCustomers platform [The full report is available in the Ascendix profile]. Let's say a few words about this platform and why they included us in the list of the new leaders in real estate CRM software:
About AscendixRE commercial real estate CRM
What is the FaturedCustomers platform?
What is the Real Estate CRM Software Customer Success Report?
What is the Rising Star award?
Why Ascendix Won The Rising Star Award in the Real Estate CRM Software Category
About AscendixRE — Commercial Real Estate CRM
AscendixRE is a commercial real estate CRM available on top of Salesforce or Microsoft Dynamics 365 platforms. With the help of AscendixRE tools, you can easily manage your property listings, leases, deals, contacts, accounts, activities in one place and from anywhere.
Intuitive deal flow, interactive stacking plans, advanced search, commission calculations. They have no user minimum for their Salesforce version, and individual brokers love it.
Looking For the Secret Weapon of CRE Marketing Tools?
Learn how to grow your business with AscendixRE – an advanced CRM for commercial real estate brokers on top of Salesforce
What is FeaturedCustomers.com?
FeaturedCustomers is a customer success content marketing platform for B2B business software & services helping potential B2B buyers make informed purchasing decisions through vendor authenticated content such as customer reviews & testimonials, clients' success stories, case studies, and videos.
What is The Customer Success Report?
The Customer Success Report is based on the validated case studies, testimonials, and videos telling a complete story of the Real Estate CRM Software providers through true customer experiences. Rankings are formed by multiple factors like a total number of customer success content, social media and market presence, software vendor's web traffic and search trends, and supplementary data collected from online media sources.
What is the Rising Star Award?
The Rising Star label is assigned to vendors that do not have the presence of Market Leaders or Top Performers yet but realize where the market is heading, have a disruptive technology, and growing social presence.
Why Ascendix Won The Rising Star Award in the Real Estate CRM Software Category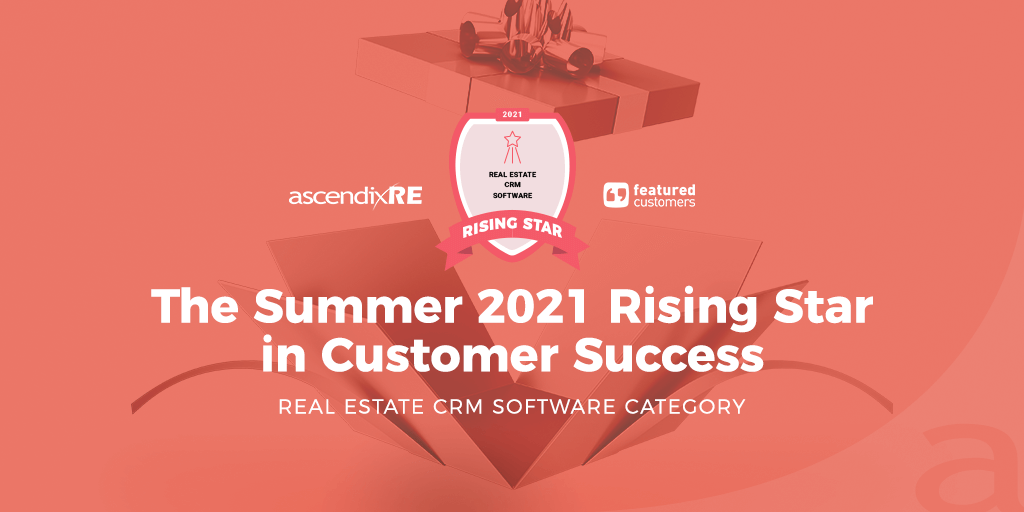 FeaturedCustomers evaluated all the Real Estate CRM providers on its platform to include in the report. And, just 21 companies met the criteria to enter the Summer 2021 Real Estate CRM Software Customer Success Report among which is Ascendix.
We earned a Rising Star designation in the real estate CRM category for the high customer rating, consistently published high-quality customer success content, and curating customer feedback from numerous third-party platforms.
" The Ascendix team is as invested in our success as we were. Ascendix's helped us successfully implement a shared database across multiple offices in multiple markets. Since going live with our data, Ascendix has continued to improve the experience by rolling out new features, addressing follow-up questions, and assisting/empowering our internal database management group with the knowledge to utilize the software to its fullest. I would unconditionally recommend AscendixRE, both for the software and the management and support team. "
Need more customer references or want to learn more about our product and service offerings for real estate brokers? Contact us and get a FREE test drive of all our available tools right now!
Anzhelika Serhiienko
,
Content Creator & Marketer at Ascendix
Anzhelika specializes in B2B content marketing and has in-depth expertise in promoting the company's products and services through high-quality content. On the Ascendix Technologies blog, Anzhelika shares her insights of Salesforce and Microsoft Dynamics 365 CRM tips & tricks as well as overviews of new CRM tools and technology trends on the market.
Need Expert Guidance on How to Introduce CRM Into your Day-to-day Activities?
We'll help you assess your current CRM instance and define the best approach for its optimization or select the best CRM platform for your vertical.