Two titan competitors Salesforce and Microsoft's Dynamics 365 have announced that they're partnering with OpenAI to integrate advanced AI technology into their CRM systems. Such steps promise to further enhance their capabilities and enable more efficient management and analysis of customer data.
If you are interested in how the world's two most significant CRM providers adopt AI in CRM strategies, join this short overview of Einstein GPT by Salesforce vs Microsoft Dynamics 365 AI.
When Did Microsoft and OpenAI Start Their Partnership?
Microsoft and OpenAI initiated a partnership long before the latter started making the headlines. In fact, Microsoft and OpenAI have been partnering since 2019, collectively building Azure AI – an Azure-powered supercomputing platform aimed at developers and data scientists, giving them access to a suite of artificial intelligence (AI) and machine learning (ML) services, tools, and APIs.
These tools and services will allow (as they are not widely available yet) developers to create their own AI solutions in the cloud with the security promise of Microsoft Azure.
More than that, all OpenAI's generative language models are trained on the Azure platform.
Recent Microsoft AI Announcement: Bing AI and Edge
In early 2023, Microsoft announced that it was expanding its partnership with OpenAI and investing $10 Billion in further AI developments, according to Bloomberg. This is going to be the third phase in the Microsoft and Open AI partnership, with the previous ones having taken place in 2019 and 2021.
Following the above Microsoft AI announcement, we have seen significant innovations in two of Microsoft's flagship products: Microsoft Bing AI Chat, available from the Edge browser.
Powered by the cutting-edge GPT-4 model, the new Microsoft AI Bing can:
Search in a way that feels natural to how we talk and think;
Answer follow-up questions;
Include sources and citations for a more trustworthy search experience than with OpenAI ChatGPT, which doesn't include any references;
Generate images upon descriptions, and more.
Microsoft Dynamics AI News
On 6 March, Microsoft AI announced the launch of its newest platform, called Microsoft Dynamics 365 Copilot. This platform is jam-packed with cutting-edge AI technology and is designed to assist businesses in a variety of ways.
Microsoft Dynamics AI Sales and Viva Sales now come equipped with Copilot, which can assist sales reps in crafting email responses to customers and generating a summary of a Teams meeting in Outlook. The meeting summary incorporates relevant information from the seller's CRM to provide a comprehensive overview.
To help contact center agents provide better customer service, Microsoft has introduced Copilot in Dynamics 365 AI Customer Service. This feature provides contextual answers to queries in both chat and email.
Additionally, it utilizes Azure OpenAI Service and Bing to provide answers from company websites and internal knowledge bases.
Copilot in Dynamics 365 Customer Insights and Dynamics 365 Marketing provides marketers with the following capabilities:

Assistance in exploring data, segmenting the audience, and creating content.
Curating personalized and targeted customer segments by analyzing previously collected customer data.
Generating email campaign content based on key topics entered by the marketer, the organization's existing marketing emails, and a range of internet sources.

Copilot in Dynamics 365 Business Central aims to improve e-commerce activities by enhancing product attributes like color, material, and size in product descriptions for online storefronts. This integration of commerce and content is intended to enhance the online shopping experience.
Microsoft acknowledges the importance of supply chain management and has created the Microsoft Supply Chain Center. This tool proactively identifies external issues such as weather, financials, and geography, and then surfaces any affected orders across materials, inventory, carriers, distribution networks, and more.
With Microsoft Teams ChatGPT integration, users can use the chatbot without leaving the messenger's interface. Not quite a technological breakthrough, but it will definitely save you time on unnecessary back-and-forths.
The ultimate goal of Microsoft Copilot CRM is to provide an exceptional customer experience by leveraging AI to offer support and guidance at every stage of the customer journey.
Salesforce AI Announcement: Einstein GPT
Salesforce has been actively investing in and integrating AI into its products and overall strategy for quite some time. As early as 2016, they began incorporating AI Einstein as part of their sales and marketing cloud offerings.
However, until recently, Salesforce has not been partnering with OpenAI specifically. Following the Open AI Microsoft announcement, Salesforce revealed its partnership with OpenAI on March 7th, introducing the new Einstein GPT.
What is Salesforce EinsteinGPT?
Salesforce EinsteinGPT is a new iteration of the Salesforce AI Einstein technology, first released in 2016. In the new version, OpenAI-powered Einstein GPT utilizes public, private and external AI models with CRM data so that users can ask natural-language questions directly within Salesforce CRM.
What do public and private AI models mean?
Private AI models are those developed by Salesforce internally. Many of these have been designed as part of previous Einstein AI versions.
Public AI models are generative AI capabilities provided by ChatGPT as part of Salesforce and OpenAI partnership.
External AI models that users can integrate with Salesforce AI Einstein and use both technologies alongside.
The biggest enhancement of the latest EinsteinGPT is that it utilizes data from Salesforce clouds and the Salesforce Data Cloud (Genie), saving loads of time on data inputs, copying, and pasting.
Salesforce Einstein GPT for Different Business Divisions
EinsteinGPT for Developers: to boost developer productivity by anticipating and adding code snippets.
EinsteinGPT for Service: generates knowledge articles from past case notes and public information, and automates personalized agent chat replies to customers, making service interactions faster and more efficient.
EinsteinGPT for Sales: automates sales tasks such as composing emails, scheduling meetings, and preparing for the next interaction.
EinsteinGPT for Marketing: generates personalized content to engage customers and prospects across email, mobile, web, and advertising.
EinsteinGPT for Slack: provides customer insights in Slack, such as smart summaries of sales opportunities and background research on accounts.
At present, EinsteinGPT Salesforce is undergoing internal testing by Salesforce, as well as external testing by a few selected customers and partners. However, the company has not yet provided any information regarding the expected release date for this feature.
What is ChatGPT Slack? The Upgraded Salesforce AI Chatbot
One facet of the EinsteinGPT Salesforce technology is the AI-empowered ChatGPT Slack, initially acquired by Salesforce in 2020 and upgraded in 2023 with AI capabilities.
Salesforce claims that the integration of EinsteinGPT into Slack can perform three main tasks:
Provide instant conversation summaries.
Quickly provide answers to questions.
Assist with message writing through AI-driven writing assistance to save users time crafting replies, meeting notes, and status updates.
ChatGPT Slack in Action
In the team meeting channel, you can ask ChatGPT Slack to identify top Opportunities, and Salesforce's EinsteinGPT will take not only CRM data into consideration but also recent news about the economy.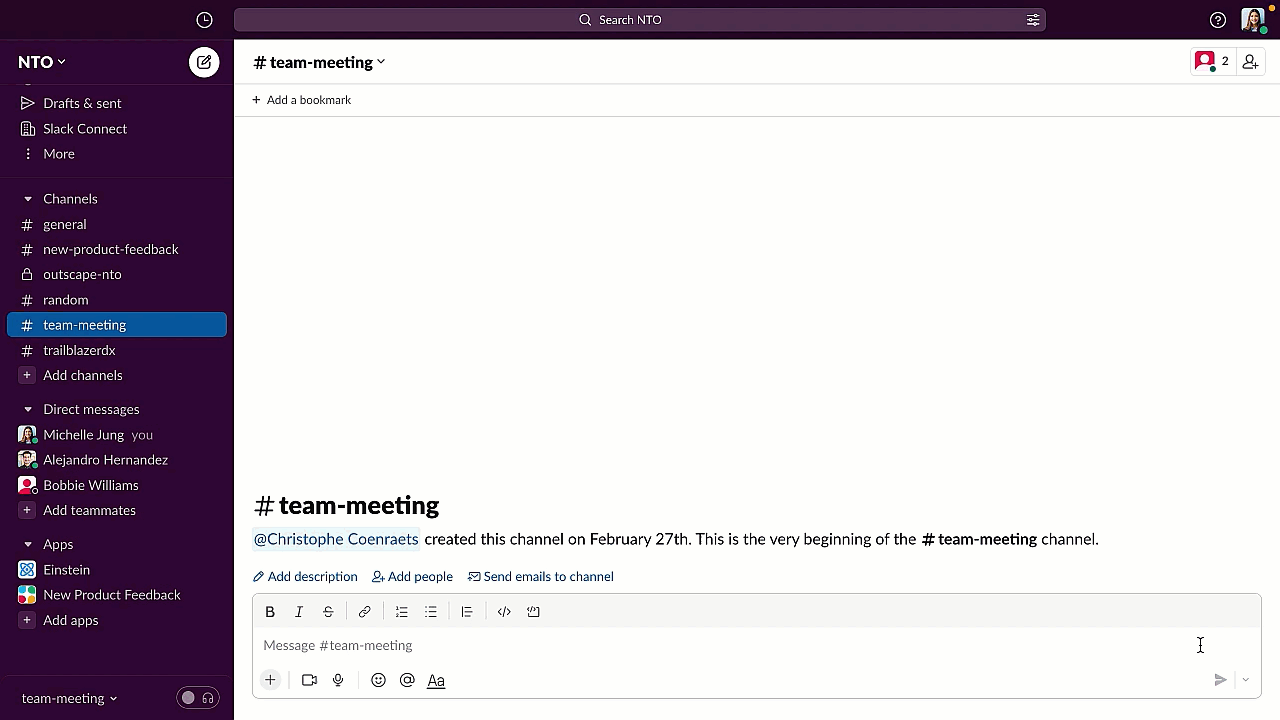 In private channels, you can use Slack's EinsteinGPT to give your customers and prospects faster, more detailed answers to their questions.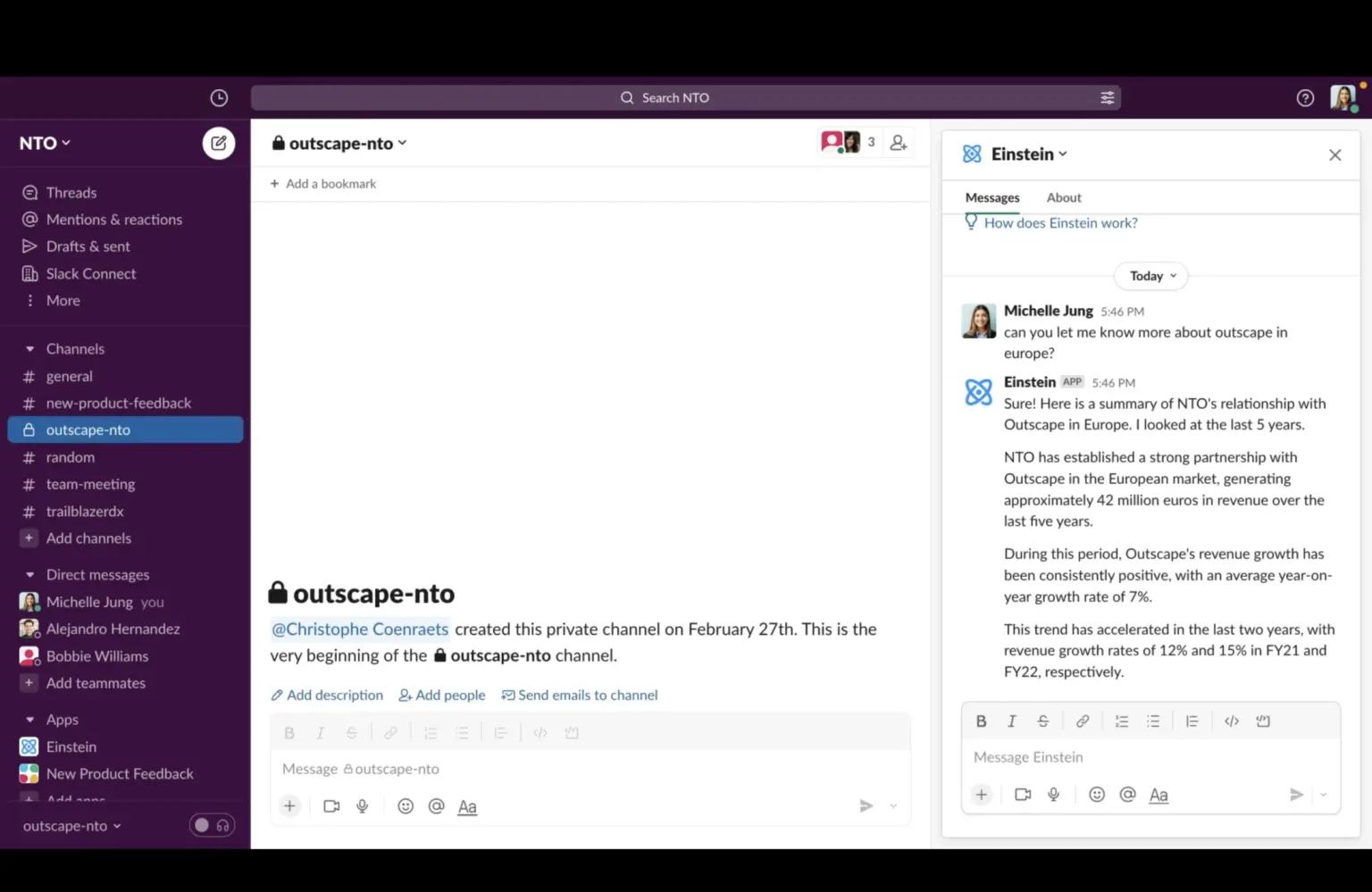 Salesforce asserts that ChatGPT's language model will not use any data that the app does not have permission to access. However, it is unclear whether companies will be able to opt out of data usage.
This latest Slack AI upgrade is an effort to remain competitive with Microsoft Teams OpenAI integration, which will benefit from the new AI-powered Bing. Slack currently has over 10 million daily active users, while Teams boasts over 270 million daily active users. (source 1, 2)
Thinking of Switching to Salesforce?
Get an Expert Consultation Today.
Potential Advantages for Businesses
Instead of wondering about the capabilities of ChatGPT, focus on finding the right generative AI solution for your company.
Ask your solution providers how they integrate LLMs and other generative AI resources to enhance customer experience, streamline operations, and increase efficiency.
Expect to hear about Salesforce and Microsoft, two major cloud computing companies that have developed their own branded versions of generative AI based on OpenAI's library.
How AI Can Improve Sales, Marketing, and Customer Service in Microsoft Dynamics 365
Microsoft Dynamics 365 is a software suite that comprises both ERP and CRM software, offering a variety of products to support customer insights, sales, and other functions.
Within Dynamics 365 Marketing and Dynamics 365 Customer Insights, marketers can benefit from AI "copilots" that allow them to use natural language queries to explore, analyze, and understand customer segment sizes and preferences.
A marketer can leverage the power of Copilot to identify customers residing in a specific city, with a high customer lifetime value, and who have made a purchase in the last 90 days. With just a few clicks, Copilot generates the results, including valuable information such as customers' average age, product preferences, or average purchase price. These insights can then be used to create a targeted segment to support a campaign. With Copilot CRM, marketers can obtain a more profound understanding of their customers in almost real-time.
Another feature offered is the ability to generate personalized content suggestions for customer emails, including information like pricing, promotions, and deadlines, tailored specifically to the recipient.
A set of new capabilities have been introduced, which include the general availability of email replies and integrations for customizable emails. An instance of this is the ability to generate an email suggesting a meeting time that is based on the seller's availability as indicated in their Outlook calendar. Additionally, there's a feedback mechanism that enables sellers to rate the content generated by AI using a thumbs up or thumbs down, which in turn improves and refines future replies.
The Copilot feature offers various new capabilities such as AI-generated meetings and call summaries, including key topics and concerns discussed during the meeting. Based on CRM and meeting data, it can draft a summary of the discussion with actionable items and follow-up dates.
The Copilot feature is integrated with Viva Sales and can also be purchased separately for other CRM systems, including Salesforce.
Additionally, Copilot can help diagnose more complex customer issues, discover resolutions, and summarize draft responses across all communication channels.
How AI Can Improve Sales, Marketing, and Customer Service in Salesforce
Einstein GPT can do pretty much the same things as Microsoft's Copilot. It's designed to help employees with different tasks like creating personalized emails for salespeople to send to customers and providing customer service professionals with specific answers to help them reply to customer questions faster.
Instead of relying on Microsoft Dynamics, Salesforce plans to use OpenAI's models to improve other products like Tableau, MuleSoft, and Slack. The idea is to learn from how people actually use these products so that the responses they get are better suited to their needs.
But still, it is worth looking at it in more detail the versatility of Einstein GPT and how the generative AI solution can be integrated into various Salesforce applications.
With Einstein GPT, an account executive can quickly request an overview of a new client's business, and even ask the AI to compose an introductory email to the client, incorporating recent news and asking for availability for a meeting. The entire process, from review to possible revision, takes only a few minutes.
In the same example, the account executive can use Einstein GPT to create a private Slack channel between the prospect and themselves.
When a customer asks a specific question about a product in a chat, Einstein GPT can quickly generate an answer that includes the source of the information. An agent can edit or even ask for a revised version of the answer. Einstein can also suggest the next best action for the agent to take based on their judgment.
Einstein ChatGPT can help a marketing manager create a landing page for an upcoming event in just a few minutes. The AI can suggest appropriate text length, add a relevant photo, and even create a signup form. This demo was particularly impressive.
What's next?
Microsoft and Salesforce are demonstrating the potential of Generative AI to enhance measurable business outcomes in the CRM, Contact Center, and Collaboration industries. However, they will not be the only ones offering easy-to-use toolsets to improve customer experience, employee productivity, and business efficiencies.
The implementation of services like summarization will occur rapidly, and the identification of areas where human intelligence is necessary to fine-tune prompts and improve output will also be swift.
Rather than pondering the integration of ChatGPT into their operations, companies ought to inquire of their solution providers about their ongoing efforts to integrate generative AI into their solutions.
How to Choose Which Platform Suits You Best?
While there is plenty of information on the web on the most recent developments within Microsoft and Salesforce ecosystems, hands-on experience or having a seasoned professional is invaluable in navigating the complexities of these platforms.
As a CRM expert with over 25 years of experience in the industry, Ascendix is uniquely positioned to provide the necessary guidance and support for companies choosing between Dynamics vs Salesforce solutions.
Our CRM consultants will:
Conduct a thorough business analysis of your niche's intricacies to spot the pain points that can be solved with new technologies.
Help centralize sales processes and customer data within Salesforce or Dynamics 365.
Harmonize data exchange between integrated solutions and Salesforce.
Assist with dataset deduplication and enrichment.
Set up CRM analytics and reporting to display accurate and up-to-date information visually appealing.
If you have already been using Salesforce or Dynamics for some time, our experts will conduct an in-depth feature gap analysis or optimize an excessive number of flows.
Want to learn more about how we can help you with workflow automation? Reach out to us.
Need Help with Salesforce Org Administration and Support? 
Leverage our stellar team of Salesforce Admins and Consultants.
Does Salesforce integrate with Microsoft Dynamics?
You can integrate Salesforce vs Microsoft Dynamics using third-party apps or custom CRM integration services. There are over 35 apps and 900 integration consultants available on AppExchange.
Is Dynamics cheaper than Salesforce?
If we compare initial Salesforce vs Microsoft Dynamics pricing, Salesforce is cheaper. Salesforce Sales Cloud license cost starts at $25 per user/month, while Microsoft Dynamics 365 license cost for sales professionals starts at $65 per user/month.  
Which is better, Salesforce or Microsoft Dynamics?
Both Salesforce vs Microsoft Dynamics 365 have their pros and cons. For example, Salesforce has a more expansive ecosystem for 3rd-party applications compared to MS Dynamics. While Dynamics 365 offers more favorable pricing models for long-term customers. 
Alina Snisarenko
,
Head of Content
Alina is a forward-thinking writer specializing in Salesforce Consulting, Ascendix Products, and best commercial real estate practices. She shares her insights in engaging yet informative posts to help businesses get the most value out of the latest industry news and trends.