We are proud to announce that Ascendix Technologies is a part of Pledge 1%, a global corporate philanthropic movement. Over 11,000 enthusiasts in 100+ countries, including Salesforce, DocuSign, Atlassian, Rally, Twilio, Box, Yelp, Optimizely, Techstars, and many other companies, investors, entrepreneurs, executives, and individuals have joined the Pledge 1% initiative.
As a Salesforce and AppExchange partner, we set our goals in creating the new normal where companies of all sizes integrate giving back into their culture and values. Being a dedicated member of the Salesforce partnership community, we support its Pledge 1% initiative in having a positive impact on the world.
Along with other thought leaders and industry pioneers, Ascendix is dedicated to changing the world through inspiring early-stage corporate philanthropy and aims to be associated with a corporate-nonprofit partnership.
See How Ascendix Search App Can Enhance Your Salesforce
Get an all-in-one tool to skyrocket your Salesforce search experience
By setting mutually valuable partnerships with Non-for-Profit (NFP) and Charity organizations we have instilled the "giving" concept into our company culture and strengthened corporate social responsibility as a core part of our mission.
As one of the leading Salesforce consulting companies in Dallas, we support nonprofit organizations not only in our communities but around the globe by providing discounts on our products: AscendixRE CRM and Ascendix Search available on the AppExchange platform. By taking this small step today we move towards a better future tomorrow.
Let's go over the following questions:
What is the Pledge 1% program?
What's Ascendix's contribution to Pledge 1% initiative?
How can Ascendix Search boost the productivity of Non-for-Profit organizations?
About Pledge 1%
As it has been mentioned earlier, Pledge 1% is a global movement that ignites half a billion dollars in new philanthropy by making the Pledge 1% community a key stakeholder. It is worth mentioning that the Pledge 1% movement is fully funded by its founding partners. Its core mission is to accelerate a shared vision of a better future by giving every business around the globe a possibility to integrate philanthropy into their corporate DNA.
Pledge 1% program encourages and enables businesses of all sizes and stages to donate 1% of their staff time, product, profit, and/or equity to ANY charity/community of their choosing. Moreover, is an easy model with a proven track record of our commitments today that can make a huge impact tomorrow.
You can take a 1% pledge in various combinations: product, equity, profit, or time and specify them to whatever charity of your choice. Every organization has a different growth journey and even if you are just intending to give but currently can't, you can do it later.
By joining Pledge 1% you'll get your individual path on how to implement the best volunteer program for your growing company, access case studies, resources, and partner connections necessary to establish a quality donation program.
For more information about Pledge 1%, visit www.pledge1percent.org to learn more about how to create a culture of giving.
Ascendix's Contribution to Pledge 1% Initiative
To join the global movement, Ascendix has chosen a product donation model and pledges 1% of the product to the Not For Profit and Charity sectors.
We provide all the benefits of our products at a reduced cost to Non-Profit organizations that are using Salesforce to facilitate its management and save more executives' time and energy for doing more meaningful things.
A Few Words About Our CRM Products on Top of Salesforce
As we have mentioned earlier, we offer our two CRM solutions: AscendixRE (an all-in-one tool for CRE brokers)
And Ascendix Search – an advanced Salesforce search and geomapping tool that can be particularly useful for Non-Profit organizations to optimize everyday activities at a reduced cost. And here's how its magic works:
Ascendix Search
With a Salesforce user in mind, we created an app to improve data management and, as a result, user adoption. Because, if you want users to add data to the database, this data should be accessible without complications.
While Salesforce in-build features like Global Search, List View Builder, Reports are quite powerful, they have their limitations. For example, Global Search doesn't allow for support multi-criteria searches and ListView Builder doesn't allow users to search across multiple objects.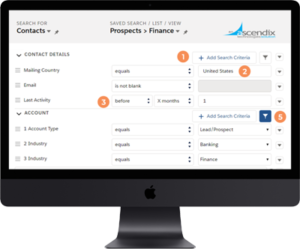 Ascendix Search is aimed to simplify and enhance Salesforce search with the expanded search operators, creation of related lists, export to Excel, mass records edits, and mass follow without external help. Besides that, Ascendix Search powers up Salesforce search for records via multiple search criteria, related objects, new search operators, NOT IN, AND, OR conditions, maps, and charts.
With the help of the Ascendix Search app, you can build lists of prospects, save, share, edit your searches, and customize columns for each list. You can export your searches to Excel with one click, update and edit records from the list view, update tasks in bulk, transfer contacts in one action, and send mass emails.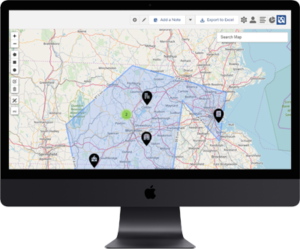 Intuitive geomapping functionality enables building geometric shapes or a polygon over a map, measuring distances between points, filtering to create a query that displays a list view and with pins on the map.
Top it with our legendary customer support that helps users from onboarding and to user training and app troubleshooting. We always go the extra mile to support you and our clients love it. Here is what one of our clients says about the Ascendix Search app:
" Speed is key. We have been using the Ascendix Search for over a year now. The largest benefit to us has been in the ability to quickly locate information via the map, without having to filter after the search. For example, we need to find lease/sale comps for a specific area that may cross over into multiple zip codes. Go to the map, draw the polygon and there are the comps we need. In addition, finding lease expirations for prospecting purposes via the same search process. The less time we have to spend looking for information and the more time we can spend on actionable items exponentially increases productivity! "
Anzhelika Serhiienko
,
Content Creator & Marketer at Ascendix
Anzhelika specializes in B2B content marketing and has in-depth expertise in promoting the company's products and services through high-quality content. On the Ascendix Technologies blog, Anzhelika shares her insights of Salesforce and Microsoft Dynamics 365 CRM tips & tricks as well as overviews of new CRM tools and technology trends on the market.
Request a Free Trial of AscendixRE
CRM AscendixRE is a great CRM for brokers of all sizes. Try AscendixRE CRM for free for 30 days. We'll help you to set up everything and upload your data for free. No obligations.