Even though you could limit your search to a particular search query like "Salesforce consulting Dallas", it's highly likely that there will be more than one option that you need to choose from. To make the process of selecting the best Salesforce consulting firm easier for you, we've created a comprehensive overview of the top 5 Salesforce consulting companies in Dallas for a more considered decision.
72% of executives prefer an easy-to-use CRM over one with more features and CRM consulting is exactly about making complicated things simple for users. Despite multiple Salesforce benefits, it's not the easiest platform to learn and use. That's why you may need extra assistance from Salesforce experts.
Before we start our overview, we'll tell a few words about the best platforms where you find out about all the available Salesforce consulting companies in your area and evaluate their fitness for your business needs. We'll also give you a few hints on how to set the criteria to carry on your research and succeed.
But, first, let's explain why we focus on Salesforce consulting in Dallas and why we think it's one of the best locations to look for consulting professionals in.
Why Salesforce Consulting in Dallas?
Salesforce Dallas, TX is one of the 130 offices worldwide is an epicenter of both online and offline events, conferences, and meetups where admins, developers, marketers, and users can get to know like-minded people, discuss the latest Salesforce news, ideas for improvement, or platform issues or share best practices in mastering platform functionality. Just have a look at the variety of groups that originated in Dallas:
You can join one of them or create your own, and there, for sure, won't be a shortage of members! The main advantage of Salesforce consulting companies in Dallas is that they also have access to this source of knowledge and can be constantly kept up-to-date with Salesforce trends.
Moreover, Salesforce Dallas has the lowest salary rates for consulting, development, and administration services which means that all these services will cost you less than in any other US state. Which makes Dallas a meeting point for Salesforce consultancies and businesses looking for high-end and at the same time budget-friendly consulting services.
How to Select the Best Salesforce Consulting Company?
Let's Talk about Review Platforms First
Nothing can tell you more about the service or product quality than feedback from former or current customers. But, what if you don't have anybody around you who could guide you through this journey? Here is where review platforms come to the rescue.  And there is no better choice to see what people think about Salesforce services than on its own platform called AppExchange.
Let's dwell a bit on AppExchange as a source of impartial opinion.
AppExchange
In point of fact, the main mission of AppExchange is to be a Salesforce marketplace for marketing apps, Lightning Components, Bolt and Flow solutions, as well as consulting & development services from third-party vendors.
It's designed with detailed filters for selecting the solution based on several criteria. For example, if you search for apps, you can sort the offerings by price, available Salesforce editions, or necessary features.
And if you need to find a Salesforce consulting agency, you can sort the vendor by industry and Salesforce expertise, location, rating, or the number of certified experts.
From an unbiased feedback perspective, what's essential is that both a consulting company and app profiles contain rating details and reviews. Moreover, Salesforce consultants' profiles on AppExchange contain another tab, Expertise where you can see the agency's number of certifications as well as a current number of completed projects.
Besides AppExchange, great sources of wisdom can be G2, The Manifest, and Clutch. co platforms. In greater detail, we talk about all of these review websites in our article: Which Top 10 Firms Deliver the Best Consulting Services?
Now, when you are familiar with the most popular opinion pools, let's take turns to the 5 Best Salesforce consulting companies in Dallas, TX
Top 5 Salesforce Consulting Firms in Dallas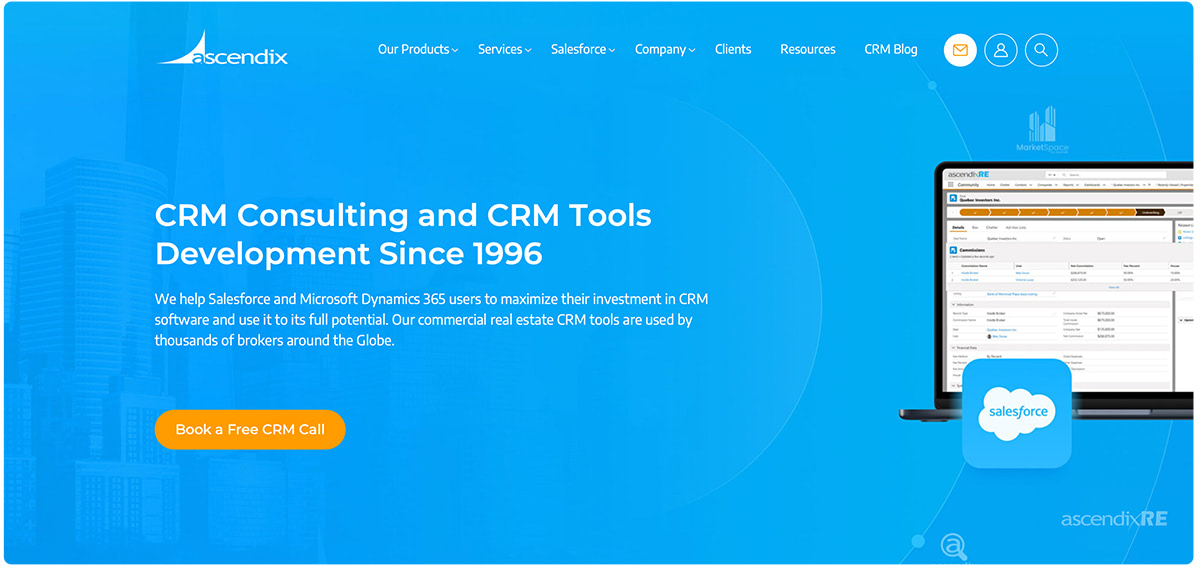 Founded: 1996
AppExchange Rating:  5/5 ⭐⭐⭐⭐⭐
Number of AppExchange Reviews: 68
Locations: USA, Europe
Customer Support Languages: English
Clients: JLL, Colliers International, CRESA, Savills Ireland, SLG, Source Minerals, Stiles, SAB Capital, Calson Properties, Hanna Commercial
Salesforce Clouds: Sales Cloud, Service Cloud, Marketing Cloud, Communities (Experience) Cloud, Financial Services Cloud, Health Cloud, Pardot, and Einstein Analytics.
Ascendix Technologies is a CRM consulting and custom software development company with 20+ years of experience in:
CRM customization and custom development
What made this agency appear on top of Salesforce consulting companies in Dallas ranking is its all-inclusive services starting from system audit and configuration to custom Force.com, Lightning Component, and AppExchange app development. Moreover, Ascendix specializes in:
CRM system health check and audit
Salesforce implementation, re-implementation, and optimization
Salesforce migration from other CRM solutions
Data cleansing, migration, and consolidation
Salesforce integration with other CRM systems, ERP, ITSM systems, and third-party tools
Salesforce support, CRM administration, and user training
Custom CRM development on top of Salesforce
Among verticals Ascendix operates in are:
Commercial Real Estate
Real Estate
Capital Markets
Commercial and Residential Mortgage Banking
Investment Sales
Legal services
Energy & Utilities
Land & Agriculture
Financial Services
Insurance
Retail
SaaS
Transport & Logistics
Professional Services that serve B2B
Also, besides offering Salesforce consulting services in Dallas, Ascendix has built its own real-estate specific software on top of the Salesforce platform and offers consulting services, configuration, and customization for the following products:
What Customers Like about Ascendix Technologies' Services:
Depth of the team and years of experience
Proactive and flexible team
On-time delivery of the projects
Excellent post-launch support
Communication, results, and timely responses to issues
Onboarding and ongoing customer service
Save Time and Money with Salesforce Administration Services
By hiring Ascendix, you'll get access to the best practices, improve the performance of your Salesforce, and free up time for your core competencies.
Founded: 1998
AppExchange Rating:  5/5 ⭐⭐⭐⭐⭐
Number of AppExchange Reviews: 47
Locations: USA, China, India
Customer Support Languages: English
Clients: n/a
Salesforce Clouds: Marketing Cloud, Social Studio, Salesforce Revenue Cloud, Sales Cloud, Service Cloud, Field Service Lightning, CPQ Cloud, and Pardot.
For Real Estate, Engineering, Construction, Manufacturing, Financial Services, and Media & Entertainment companies Prudent Consulting offers the following Salesforce services:
CRM consulting
Salesforce implementation,
Data migration
Salesforce integration
Custom Salesforce app development
Salesforce administration
What Customers Like About Prudent Consulting
Excellent delivery of Field Service Lightning solution
Project completion within budget and a set timeline
Salesforce simplification process
Multi-dimensional quoting expertise
Founded: 2013
AppExchange Rating:  5/5 ⭐⭐⭐⭐⭐
Number of AppExchange Reviews: 39
Locations: USA, Canada
Customer Support Languages: English
Clients: iOffice, Illumination Fireworks, iClass Pro, Foundation Source, Filtration Group, Dosespot, E3 Entegral Solutions, Inc, Crosspoint Communications, Bookkeeper 360
Salesforce Clouds: Customer 360 Cloud, Managed Service, Revenue Cloud, Sales Cloud, Experience Cloud, Service Cloud, Salesforce CPQ, and Pardot.
One more Salesforce consulting agency in Dallas, TX, Rosetree Solutions, provides the following services to their clients:
Salesforce implementation
Salesforce consulting
Salesforce development
Salesforce training and enablement
Salesforce managed services
Their target domains are Engineering, Construction & Real Estate, Hi-Tech, Manufacturing, Energy, and Financial Services.
What Customers Like about  Rosetree Solutions' Services:
Flawless CRM adoption/migration
On-time and on-budget planning
Post-migration support
Good project management skills
Founded: 2007
AppExchange Rating:  5/5 ⭐⭐⭐⭐⭐
Number of AppExchange Reviews: 27
Locations: USA, Germany, India, United Arab Emirates
Customer Support Languages: English
Clients: HairDirect, Vendorin, TEAM Software, Energy Partners LP, DMSI, Zara Terez,  Imagine Communications, Qualtrics, Gym Source, Direct Capital, Bluenovo, Algonquin
Salesforce Clouds: Service Cloud, Sales Cloud, Marketing Cloud, Pardot, Community Cloud, CPQ, Field Service Lightning, and Einstein Analytics
This Salesforce consulting company in Dallas offers:
Salesforce consulting services,
Salesforce implementation & integration services
Salesforce development
Staffing services
Industries, AppShark specializes in, include:
Construction
Retail & Consumer Goods
Financial Services
Insurance
Hospitality
Chemicals
Energy
Media
Healthcare
High-tech
Professional Services
Payment Processing
Telecom & Manufacturing
Besides Salesforce consulting services, AppShark offers the following solutions on AppExchange:
What Customers Like about AppShark's Services:
Promptness to respond to any communications
Delivery of multiple sprints in a timely fashion
Good software QA testing
Knowledgeable, resourceful & patient consultants
Founded: 2015
AppExchange Rating:  5/5 ⭐⭐⭐⭐⭐
Number of AppExchange Reviews: 8
Locations: USA
Customer Support Languages: English
Clients: MADD, Devere Insulation, Gateway Church, OGP, Glorieta Camps, Air Force Association, HEXA Containment
Salesforce Clouds: Non-Profit Cloud
Venn Technology specializes in:
CRM consulting services
Salesforce implementation & optimization
Salesforce integration with Docusign, Stripe, Shopify, Sage Intacct, Workato, Quickbooks etc.
What Customers Like about Venn Technology's Services:
The swiftness of work, proactivity, and attention-to-detail
Understanding of clients' desired results
Post-implementation support
Listening and providing working solutions
Want to Adapt Salesforce to the Growing Needs of your Business?
We have 20+ years of experience in Salesforce customization, configuration, and best custom development practices.
Now, we'll tell a few tips on how to choose the best Salesforce consulting services provider out of the variety of options.
7 Tips on How to Choose the Best Salesforce Consulting Company in Dallas
1. Track Down Industry Expertise
AppExchange has over 1,600 certified Salesforce consulting partners of several Salesforce expertise levels. But, platform knowledge is not the only imperative for the successful delivery of the project. Certainly, technology skills play an essential role but no less important for the service provider is to understand all the intricacies in a certain domain and how to overcome them with technology solutions.
Especially, when we speak about verticals like Commercial Real Estate or Mortgage Banking that have lots of nuances in terms of data protection and sharing of information among stakeholders, partners, clients, and brokers.
We, at Ascendix, delivered well-balanced services to Commercial Real Estate and Capital Markets businesses for almost two decades and have successfully adjusted the Salesforce platform for various clients: from small family-owned brokerages to huge international companies.
2. Ask for Portfolio of Projects Delivery to Previous Clients
Let's face it, not many clients have enough time to describe all the project details in their reviews and express themselves in more general phrases when they praise the company's services. Another story is a complete case study where you can see all the project complexities, technologies, and service stacks used to overcome them and all the phases this project has gone through.
Moreover, nothing will tell better about the versatility and innovativeness of the considered company than an illustrative example of a certain case. Due to it, you can learn about company approaches in accommodation to various clients' needs and flexibility of these approaches considering the size of the company and complexity of the project.
Our detailed customers' stories can show in true nature all the project hardships and solutions we proposed to our clients.
3. Assess Communication and Project Management Approach
The communication and management style is another significant ingredient that contributes to the overall project success. Without clear communication processes and transparent management, it's highly unlikely that your requirements will be heard and issues will be resolved on time. And it usually can be seen in the early stages of collaboration.
Committing to customer service excellence and an honest attitude are distinctive features of Ascendix's corporate values that are often mentioned as one of the key factors for choosing us as their Salesforce consulting partner.
4. Evaluate Salesforce Expertise 
Salesforce certificates, number of completed projects, and experience with implementing different Salesforce Clouds and products verify that the consulting agency has the necessary platform knowledge, skills, and resources to manage your project no matter how big or complex it is.
The constantly increasing number of certificates ensures that the consultancy steadily expands its knowledge base and skills and keeps an eye on technology trends. What does it mean for you as a client? That the consulting firm lives and breathes Salesforce and monitors the most recent Salesforce release updates and tendencies.
To date, our Salesforce certifications include Salesforce Administrator, Salesforce Sales Cloud Consultant, App Builder, Platform Developer I, Platform Developer II, The Data Architecture and Management Designer, and we are not going to stop on it.
5. Verify Regional and Culture Fit
Firm location and culture fit play a meaningful role in the selection of the consulting company because significant time zone and business value discrepancies can impact project completion and leave a bad aftertaste of overall cooperation.
And even if you are focusing only on a particular location, for example, Salesforce consulting in Dallas, culture fit still be important because not all companies headquartering in the USA actually operate from the USA. And, to understand if this engagement model fits your need, it's better to negotiate it with your team.
We are originally a Dallas-based consultancy with a long 25-year journey in the market. Over a decade ago we expanded its offices to Europe to cater to clients' needs for more favorable pricing & engagement options. Since then, we have been successfully operating from the US and Europe with the same core business model and the best practices that we developed as a US-based company to guarantee complete project vision alignment with our US clients.
6. Look for Agile Cost Structures
Salesforce implementation is a significant investment but it doesn't mean that you have to look for the most economic option or save money by skipping some of the important implementation stages. What you need to do is to determine the budget limits of your project from the very start and search for partners that fall within your pricing range.
Weigh Salesforce consultancies' offerings to engage with the ones that provide the most comprehensive and time-efficient solutions for the most reasonable price. Our office locations and favorable engagement models allow us to offer flexible and budget-friendly options to our clients.
7. Check Availability of User Training and After-Launch Support
The implementation process doesn't stop when the Salesforce deployment is over because it's exactly where the most interesting part begins. Your team should be comfortable with using your new system but it can't happen in one day. And to make this process shorter and more productive, your users need proper permanent training and support.
But if you don't have time or resources you are going to sacrifice for Salesforce adoption, external support and training can come to your rescue. Your consulting partner may help your organization with the creation of how-to videos, personal and corporate training, sandbox versions, and post-training assistance to guarantee that all the questions and issues have been addressed.
Our aspiration is to ensure that all users can easily use their CRM system and that's why our Salesforce consultants constantly share their expertise in educational videos and Salesforce-related guides on the hottest topics. Also, our consultants will assist with creating personal training plans, programs, and educational resources exactly for your organization.
The Bottom Line: Why It's Worth Investing in Salesforce Consulting Services?
Salesforce is an extremely agile solution with almost limitless potential in terms of scalability that makes it the leader in the cloud software market. But Salesforce remains to be just a tool that requires proper implementation, adjustment, and maintenance to make it work for your benefit rather than against it.
And it's better to delegate this CRM riddle to the professionals instead of wasting your time or time of your team to figure out where to start or how to optimize the platform to make it more personalized.
What's more, in case you lack CRM implementation experience, Salesforce consultants will design your unique platform roll-out plan from the very early stage to ensure that every action takes place at the right time.
Moreover, if you engage with experts at the beginning of your Salesforce initiative, they could advise on the best products, editions, tools to integrate and optimize standard functionality to launch your project. And if you have already started your Salesforce journey and faced certain challenges with its launch, configuration, or system integration, CRM consultants will recommend the best solutions to solve them or suggest how to fill the gaps in your system deployment.
The perfect combination of deep technical knowledge, field experience, and irresistible love for Salesforce challenges makes Ascendix the top Salesforce consultancy of the choice in Dallas. Just reach out to our Salesforce support team and we'll explain complex ideas in a relatable way with reference to your specific needs and find the best technology solutions for you!
Anzhelika Serhiienko
,
Content Creator & Marketer at Ascendix
Anzhelika specializes in B2B content marketing and has in-depth expertise in promoting the company's products and services through high-quality content. On the Ascendix Technologies blog, Anzhelika shares her insights of Salesforce and Microsoft Dynamics 365 CRM tips & tricks as well as overviews of new CRM tools and technology trends on the market.
Why Companies Choose Ascendix Their Salesforce Consulting Partner?
Ascendix Technologies is a CRM consulting veteran with 25 years of experience in the market, vast scope of Salesforce services, and in-depth experience in AppExchange app development