How to Stop Outlook From Synchronizing With Your Android Phone
As for any business professional, Outlook is an essential application on my phone.
It allows me to send & receive emails, schedule appointments, and reminders.
These are all powerful tools used to streamline my workday with one exception: Outlook has a habit of downloading all my work contacts to my Android phone.
This would be okay if Outlook gave me the option to opt into this feature rather than automatically doing it.
For many, it's frustrating to have hundreds of unnecessary contacts synced to their phone. In this post, I will show you how to take back your phone and remove those unnecessary contacts!
Are you a classic Salesforce user? Then make sure to check out our step-by-step guide on how to configure Salesforce for Outlook.
Directions for Un-Synchronizing Contacts Between Outlook and an Android Device
Step 1:
Go into settings and open Outlook on the Application Manager.
Step 2:
Click Permissions.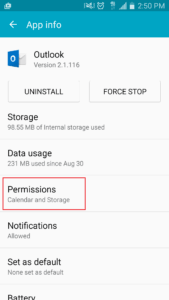 Step 3:
Turn off Contacts, Location, & Phone.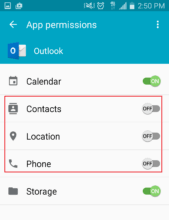 Step 4:
Now open the Outlook App and go into settings and click on your account. Make sure the Sync Contact slide bar is grayed out before you delete your account. It can take up to 5 minutes depending on how many contacts are synced into your phone.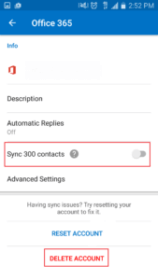 Step 5:
Re-add your email back into Outlook and you're done!
Need Help with Your CRM (Customer Relationship Management)?
It is difficult to imagine today's business without a CRM system where you can keep track of all your data, history of interactions with prospects, clients, partners, analyze your team efficiency and make strategic decisions regarding your business.
Since our founding back in 1996, we offer CRM consulting services and develop custom apps. Contact us to share your CRM challenges today and let's improve your business together!
Phillip Teng
,
CRM Implementation Engineer at Ascendix
Phil Teng is our resident expert on all things technical. He's a troubleshooting guru and is often the lead when it comes to supporting our clients with any technical challenges or limitations. He's the voice behind several video recordings of connecting Outlook or Gmail to Ascendix. To reach Phil and his team to report issues, errors, or tech questions, email support@ascendix.com We promise it's not a black box! When Phil is not slaying technical dragons during the day, he can be found house hunting, exploring new foods, and photographing his wife's Instagram posts.
Detailed Guides on Calibrating Your Salesforce Platform from Our CRM Consultants
Learn how to boost your Salesforce Org features with our CRM Academy! Subscribe to our newsletter and get fresh Salesforce e-books, checklists, and tips & tricks right to your inbox!