In such a dynamic industry as commercial real estate, it's important to be proactive to stay at the top of your game.
To do that, you need to improve your professional skills by learning about the commercial real estate industry repeatedly and staying on top of modern trends. Luckily, there are numerous commercial real estate podcasts, courses, and certifications that help you to study commercial real estate and improve your skills in selling, leasing, or investing in commercial real estate
After completing several such programs, you'll add a dozen of core skills to your arsenal to work professionally with sellers, buyers, leasing clients, and commercial brokers.
So, are you interested in taking your career to the next level?
Check out the list of commercial real estate courses, training programs, and coachers currently helping brokers and other CRE professionals grow their business at faster rates.
Why Salesforce for Commercial Real Estate [Webinar Recording]
Learn how commercial real estate companies can benefit from Salesforce and what tools are available for brokers.
Best Online Commercial Real Estate Courses
Learning commercial real estate online is beneficial for many industry specialists because you can learn at your own pace and according to your own schedule.
Therefore, in this passage, we've rounded up the resources and programs that cater to your needs and work around your busy schedule.

When: anytime you're ready to start
Form of attendance: online
Cost: you need to contact the company to find out the cost
Duration: varies according to the training
The Lipsey Company has been a training and consulting firm specializing in the CRE industry since 1980. The company's founder, Michael J. Lipsey, is an internationally recognized leader and author of 191 commercial real estate courses.
The Lipsey Company targets three broad areas of Commercial Real Estate:
Service providers (Commercial Brokers, Mortgage Bankers, Property Managers)
Owners of Commercial Real Estate, such as REITS and Institutions
Specialists from Corporate Real Estate
The Lipsey Company provides various training modules and commercial real estate coaching programs, such as:
Team Brokerage
Presentations that Win
Performance Leasing
Quantum Sales and Leasing
Systems for Success and Systems for Success 5.0, 4.0, and 3.0
Tenants or Guests
Leadership in Sales & Leasing
The Psychology of Real Estate Negotiating
Each training course is tailored to a broker's individual needs.

When: anytime you're ready to start
Form of attendance: online
Cost: from $315 to $350 (depending on membership)
Duration: varies according to the training.
SIOR provides commercial real estate education, including e-learning courses, conference education, webinars, and resources focused on the industrial and office areas.
SIOR's and non-SIOR's members alike are offered a year-round education. Whether you're a newcomer in the CRE industry or a mature player, learning commercial real estate with SIOR increases your knowledge and enhances your business skills.

When: anytime you're ready to start
Form of attendance: online
Cost: from $100 to $250 (Bundle with 12 courses + digital manual costs $1200)
Duration: each course lasts from 3 to 9 hours and is held in Utah.
NAREA (National Association of Real Estate Advisors) offers to get into learning commercial real estate with the Certified Commercial Advisor route. There are bundles (3CCA courses) and individual lessons covering different topics – from introduction to CRE brokerage to the complete guide on becoming a Certified Commercial Advisor (CCA).
Moreover, each commercial real estate training provides you with access to exclusive forms and investment analysis tools. Each student is offered to become part of the CCA network of commercial real estate advisors.

When: anytime you're ready to start
Form of attendance: online
Cost: depends on the course type and membership (ranges from $871 to $1,596)
Duration: you have 64 hours to complete the coursework and 24 months from the start of the first course to finish it.
NAIOP is an association that provides commercial real estate training for brokers. All the programs are open to member and non-member applicants.
NAIOP offers a Certificate of Advanced Study in Commercial Real Estate Development and a Certificate of Advanced Study in Real Estate Finance.
Developers, investors, lenders, CRE brokers, architects, attorneys, engineers, construction managers, and CRE industry consultants may find training programs by NAIOP valuable and helpful.

When: The course is typically offered in fall, winter, spring
Form of attendance: a hybrid (remote) form of attendance
Cost: Starting at $765.00
Duration: 11 weeks.
UCLA Extensions offers commercial real estate training for individuals interested in entering this industry. It covers the fundamentals of commercial real estate, including property types, financials, valuation, common lender terminology that applies to commercial real estate, the types of loans available, and the concept of leverage.

When: anytime you're ready to start
Form of attendance: online
Cost: for NAR members, it varies according to the course from $395 +S&H/Tax to $495 +S&H/Tax (the price is lower for Buffini & Company members)
Duration: 2-3 months.
The company offers commercial real estate coaching and training solutions. Its course "100 Day to Greatness" is considered to be one of the best commercial real estate courses. Besides, the company has a program, developed by its founder Brian Buffini, called "The Pathway to Mastery."
"The Pathway to Mastery" is a comprehensive, in-depth training program created for CRE industry professionals. It has two levels – The Essentials and The Advanced.
The Essentials covers the fundamentals of referral, lead generation, working with buyers and sellers, negotiation, and building a world-class business plan.
The Advanced course helps CRE pros improve their objection handling skills, pricing presentations, and the entire buying and selling process from start to finish.
Additionally, there are Peak Producers and Ultimate Recruiting Solutions courses available.
Buffini & Company also offers one-on-one and small group coaching.
Leading CRE Coaches
In this passage, we're going to introduce you to the leaders in commercial real estate coaching programs. Each of them brings a unique background and skillset to their coaching. CRE brokers, agents, appraisers, lenders, and others can learn from these outstanding coaches and consultants.

Jim Gillespie is a commercial real estate business coach. He's the author of "Commercial Real Estate Power Brokers," a book featuring interviews with the industry's best representatives.
Jim offers one-on-one commercial real estate coaching and consulting to agents, brokers, managers, investors, and developers. He's a regular host at live teleconferences, where he interviews top brokers that provide insights into how to grow and succeed in the CRE business.
Jim works with such industry giants as CBRE, Cushman & Wakefield, Marcus & Millichap, Newmark Knight Frank, Colliers, NAI, Sperry Van Ness.

John Highman offers professional commercial real estate training and coaching. He is an internationally-recognized speaker, author, and broadcaster.
In his coaching programs, John Highman highlights topics about professional skills, team performance, and strategies in Commercial Real Estate.
Moreover, John Highman created different courses for all levels of CRE agents. His courses are divided into 4 sections:
Brokerage (from $90 to $190/course)
Leasing (from $89 to $175/course)
Sales (from $89 to $175/course)
Property Management ($175/ course)

Bob McComb is a professional coach and a founder of Top Dogs — a platform for commercial real estate training. Bob leads most of the light-hearted, fun, but still highly effective CRE coaching programs.
His courses teach CRE agents how to develop the proper managerial and networking skills needed to succeed in the industry. Top Dogs' training programs work with both first-time and long-time brokers looking to gain a competitive edge.
CRE Brokers say AscendixRE has been a massive timesaver for them.
AscendixRE automates property listing, marketing emails and client reporting. Request your personal demo session.
Commercial Real Estate Training Programs to Attend
Services offered through the next commercial real estate courses include personal development, new broker training, how to leverage new CRE tech for success, and more along those lines. Let's discuss some of the top programs to attend offline.

When: whenever you're ready to start
Form of attendance: offline/online
Cost: real estate licensing cost ranges according to packages (basic-$495, pro-ready $625, kick start + $1095)
Duration: 75 Hour pre-licensing course. To know the duration of CRE courses, contact managers through the website.
Charter Real Estate School offers both in-class and online commercial real estate courses in New York. Additionally, this school offers real estate licensing.
By entering the programs, you develop the skills necessary to make it in our current market. After completing training programs, you become a knowledgeable and resourceful commercial real estate agent or broker.

When: in summer
Form of attendance: offline/online
Cost: as CREST is a paid internship, students get a salary of $15-$24 an hour
Duration: the internship lasts over 10 weeks. A full-time work varies by company, anywhere from 35-40 hours a week.
The Commercial Real Estate Success Training (CREST) is a paid internship program considered to be a full-time job. It lasts 10 weeks and takes place from June until August.
Commercial real estate success training CREST was created to introduce people of color and women to the commercial real estate industry.
Through CREST, firms in the commercial real estate industry in Boston had the opportunity to expand their base of potential long-term employees from a diverse pool of highly qualified college students studying in the Boston area.
Due to a comprehensive recruitment process, CREST creates connections between academic institutions, employers, and qualified college juniors, seniors, and graduate students. The goal is to diversify the commercial real estate industry.

When: anytime you're ready to start
Form of attendance: classroom-based
Cost: $629 for all 4 courses as a complete package
Duration: 7 days to complete 4 separate seminars.
These classroom-based seminars are for anyone interested in commercial real estate from either the business or investment aspect. Gold Coast School offers 4 separate workshops for Commercial Real Estate Training.
The seminars are led by Joseph Petrole, a licensed real estate instructor, a state board-certified general real estate appraiser, an MAI Member of the Appraisal Institute, and a CCIM member of the CCIM Institute.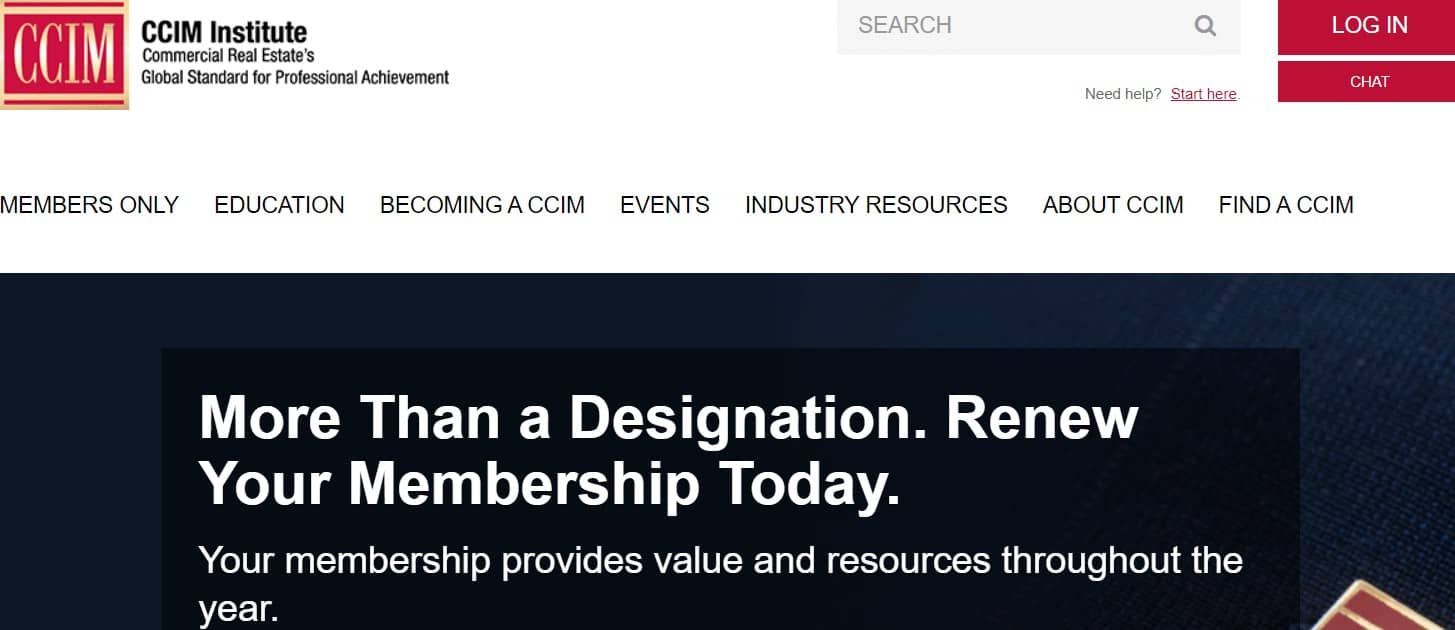 When: anytime you're ready to start
Form of attendance: Classroom / Online instructor+LED / Online self-paced
Cost: For courses, the price varies from $475 to $1735 (for non-members); for individual courses the price ranges from $150 to $255 (for non-members)
Duration: varies according to the course.
The CCIM Institute offers a wide range of commercial investment management courses for those pursuing the CCIM designation. Additionally, CCIM Institute's Ward Center for Real Estate Studies offers online education and live workshops on current financial analysis strategies, communication skills, advanced negotiation techniques, high-tech marketing strategies, and sponsoring group investments.
Wrapping Up
Learning commercial real estate is a never-ending but exciting process. As the industry is dynamic, being on the wave is a must-have for all CRE brokers.
Even if you feel a lack of time for attending courses or taking some commercial real estate training courses online, listen to investment and other market-focused shows, podcasts, read the publications and useful material offered by many of the companies mentioned above.
Also, check our new articles on the CRM blog and read our case studies. With the right combination of resources, you'll succeed in commercial real estate education and work. Good luck!
Kateryna Zhukovina
,
Content Marketer
Kateryna creates engaging content about Salesforce consulting, Ascendix products, and CRM best practices for the commercial real estate industry and legal services. Her articles provide readers with relevant data, stats, business tricks and overviews of new industry trends and CRM updates.
Download Ascendix Professional Services Overview Now