Salesforce admins are claimed to be the bridge between business and Salesforce technology. But when it comes to defining their core responsibilities and roles, some unclarity occurs.
In this article, we'd like to shed some light on the importance of the roles and responsibilities of Salesforce admins and define what they actually do.
What is a Salesforce Administrator
Salesforce Administrator (shortly, Salesforce Admin) is an individual who solves business problems by customizing the Salesforce Platform for stakeholders.
It is an operational role that involves:
User management: Profiles, Roles and Account creation and management
System Configuration: Fields and Layouts
Data Management: Import/Export and maintaining data integrity using validation rules
Security: Sharing rules and OWD (Organization-Wide Defaults)
Automation: Designing processes to reduce manual tasks
Integration: Installing and configuring 3rd party integrations
Troubleshooting, training and support.
The power of Salesforce admin is that this specialist best understands how to make the platform work for your company's goals.
Salesforce admins can be categorized according to:
their position in the career path: "Accidental Admin", "Also Admin", the "Adept Admin", "All-Star Admin", the "Accelerated Admin";
engagement model: in-house, external, and virtual.
Let's delve into the variations in Salesforce administration based on the engagement type.
In-house vs External (Outsourced) vs Virtual Salesforce Admins
In-house Salesforce admin is an expert that you hire on a part-time or a full-time basis. It is your team member whose task is to take care of your Salesforce platform regularly.
External or outsourced Salesforce admin is an expert from another company or a freelancer that you hire to get various Salesforce services, like ongoing Salesforce support, to reduce costs, speed up time to go-live stage, and take advantage of external expertise. External admins basically replicate what the in-house specialists would do but on an outsourced basis.
Virtual Salesforce admin offers technical support with a flexible workflow and timeline. You can hire a virtual Salesforce admin for a specific amount of time to cover the needs of your business.
While sharing pretty much the same responsibilities, each of the Salesforce administration models brings different advantages based on the company's expectations, size, the complexity of the project in question, type of Salesforce org, and the number of existing implementations.
For example, businesses with large-scale implementation tailored to the firm's intricate business processes and supported by long-term strategic goals may want to hire a full-time Salesforce administrator or set up an entire administration department to ensure dedicated support, deep business knowledge and immediate availability.
This, however, comes with higher costs and potential limitations in scalability as increasing the team involved training, onboarding, benefits to say the least.
More than that, no internal Salesforce administration team will ever know how to deal with ALL business cases. Say, you were operating on Sales Cloud only and then got Pardot which your team is not familiar with. Without external expertise, such implementation could become a time-consuming endeavor. In this case, hiring external (outsourced) or virtual admins brings more value.
Ascendix, as a team of Salesforce administrators, has worked with different business cases and can analyze your problem from different perspectives and offer the best solution.
Salesforce Administrator Roles and Responsibilities
The best way to explore the full range of Salesforce admin responsibilities is to analyze their day-to-day, monthly, quarterly, and yearly activities. Those will be pretty much the same regardless of whether the Salesforce administrator is an in-house, outsourced, or virtual professional.
Salesforce Admin Day-to-Day Activities
The day-to-day activities of a Salesforce Administrator can vary depending on the organization's needs and the complexity of the Salesforce implementation. However, here are some common tasks that Salesforce Administrators typically perform daily:
System assessment and configuration
This involves creating and modifying fields, page layouts, record types, and validation rules. They may also add new white-listed IP addresses, configure workflow rules, process builder, and Salesforce approval processes.
The primary goal here is to keep the list of Accounts in Org clean and updated. To gain that, Salesforce admins lock/unlock user accounts, fix data records, manage ownerships, etc.
Administrators assist users in troubleshooting issues related to Salesforce functionality, data, or system performance. They investigate and resolve user-reported issues, collaborate with Salesforce support if necessary, deal with SSO, two-factor authentication, and certificate problems.
Management of integrations and 3rd party apps
Salesforce system administrators manage integrations between Salesforce and third-party apps used by the organization. They configure and maintain integration settings, monitor data flow, and install managed packages to extend the platform's capabilities.
Hire Salesforce Administrators from Ascendix
Our consultants will teach you how to use CRM software to the fullest without overpaying for unnecessary functionality.
Salesforce Admin Monthly Activities
Along with daily activities, there are some specific tasks that can only be done once a month or once a quarter. Usually, Salesforce Administrators spend one or two days to complete such monthly tasks as:
This includes identifying and resolving data quality issues, addressing data duplicates or inconsistencies, updating outdated information, making additions and changes to pick-list values and other fields.
System backup and recovery
Administrators run a full system backup (data, metadata and error logs) on any system or application that is integrated with Salesforce to prevent data loss. The backup process can be automated or done manually. Additionally, they test data recovery procedures to ensure data can be restored if needed.
System performance monitoring
They analyze system usage, identify monthly performance bottlenecks, and take necessary actions to optimize performance. This may involve fine-tuning configurations, optimizing workflows, or addressing data storage limitations.
License cost optimization
Salesforce admins may also conduct a monthly analysis of Salesforce license costs to define whether the current license covers the business needs or it should be replaced with other license type.
User access permission management 
Administrators review user access permissions on a regular basis to ensure appropriate access levels and security. They may conduct audits to identify any unauthorized access or potential security risks and take corrective actions to maintain data privacy.
Administrators track the adoption of new Salesforce features and functionalities within the organization. They assess how effectively users are utilizing these features throughout the month and provide targeted training or guidance.
Reports and dashboard maintenance
This includes modifying existing reports, creating new ones, or adjusting dashboard components for improved data visualization.
Salesforce Admin Quarterly Activities
Salesforce Administrators' quarterly activities focus primarily on analyzing system performance during the quarter, system optimization, process improvement, and strategic planning.
Administrators conduct a comprehensive system health check to assess the overall performance, security, and scalability. They review system logs, monitor resource utilization, and identify areas for improvement.
System cleanup and archiving
Administrators clean up unused or outdated data, including records, attachments, and files. They may archive or delete data that is no longer needed, as well as clean up the list of users to optimize system performance and reduce storage usage.
Process evaluation and improvement
Administrators evaluate existing business processes and workflows to identify opportunities for streamlining and automation. They work closely with stakeholders to understand pain points and inefficiencies that happened during the last quarter and then create an action plan for improvement.
System security and compliance
Administrators conduct a security review to ensure that Salesforce configurations and user permissions align with the organization's security policies and compliance requirements. They perform access reviews, update security settings, and implement additional security measures if necessary.
Integrations management & support
Administrators review the state of existing integrations with other systems and third-party apps and how they performed during the last 3 months. They assess the need for any new integrations or modifications to existing ones.
Metrics and performance analysis
Administrators analyze key metrics and performance indicators to assess the effectiveness of Salesforce in supporting business objectives. They review reports, dashboards, and analytics to identify trends, patterns, and areas for improvement.
Strategic planning for the next quarters
In collaboration with stakeholders, Salesforce admins contribute to strategic planning initiatives by providing insights and performance reports on leveraging Salesforce. Based on quarterly metrics, they offer stakeholders a strategy for optimizing the Salesforce platform for the next quarters.
Exploration of and testing new features  
Administrators explore new features introduced in recent Salesforce release updates that happen 3 times per year (winter, spring, and summer). They assess the potential benefits and impact of these features on the organization's processes and user experience.
Salesforce Admin Yearly Activities
Salesforce Administrators' yearly activities involve strategic planning, data archiving, system optimization, and long-term initiatives. Here are some common yearly activities for Salesforce Administrators:
Strategic planning and roadmapping
Administrators collaborate with key stakeholders to align Salesforce strategies with the organization's long-term goals. They participate in strategic planning sessions, identify areas for improvement or expansion, and develop a roadmap for implementing new features, functionalities, or integrations.
Budgeting and resource planning
Administrators collaborate with finance and management teams to develop budgetary plans for Salesforce-related initiatives. They analyze resource requirements, licensing needs, and infrastructure considerations to ensure adequate resources are allocated for ongoing support and future projects.
To reduce the storage charges in the Salesforce system, admins archive all the system's field history tables, Chatter histories, documents, emails history, and tasks annually.
Organize internal workshops and training sessions
Administrators create and update training materials, user guides, and documentation to support users in effectively utilizing Salesforce. They conduct training sessions or workshops to educate users on new features, best practices, and system changes.
Reasons to Hire Ascendix for Salesforce Administration?
Ascendix is a certified Salesforce partner and a recognized provider of Salesforce administration services.
By considering Ascendix for your Salesforce administration needs, you can leverage our 25+ years of experience on CRM market, in-depth expertise in Salesforce customization, and proactive concierge support.
300+ companies have chosen Ascendix because we can handle Salesforce administration for organizations of varying sizes and complexities. Whether you are a small business or a large enterprise, our team can scale our services to meet your needs.
We also offer flexibility in engagement models, allowing you to choose the level of support that suits your organization best. Ascendix is worth hiring as Salesforce administration team, because we have: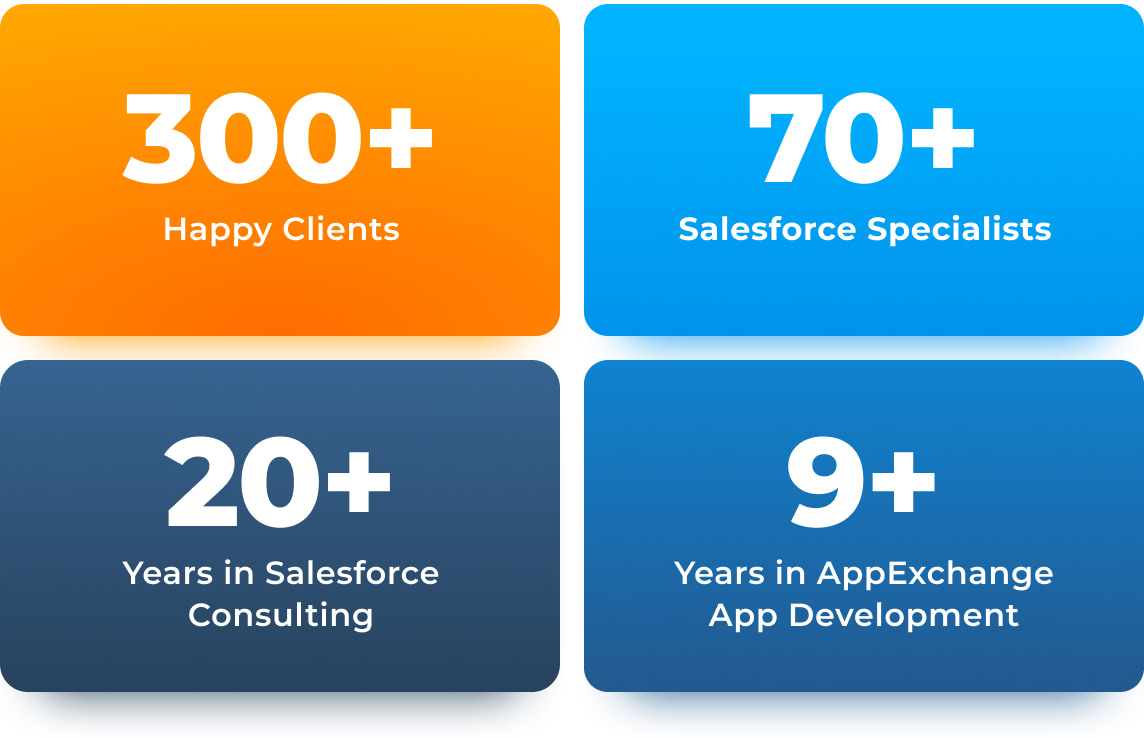 We will work closely with your team, understand your unique requirements and challenges, and provide ongoing consultation and support. Our collaborative approach ensures that you receive upscale Salesforce administration services and a high level of client satisfaction.
Book a free Salesforce consulting call to start fruitful cooperation.   
Kateryna Zhukovina
,
Content Marketer
Kateryna creates engaging content about Salesforce consulting, Ascendix products, and CRM best practices for the commercial real estate industry and legal services. Her articles provide readers with relevant data, stats, business tricks and overviews of new industry trends and CRM updates.
Think Of Tuning Your Salesforce Org to Your Business Needs?
You found the right place! We provide a detailed Salesforce CRM assessment for your business purposes and advise on the selected approaches to configuration & customization of your Salesforce solution!