Salesforce has numerous proven benefits like the ability to boost conversion rates and to improve access to customer data. However, 63% of CRM projects are still prone to failure, especially, if they are launched without proper expert guidance. In this shortlist of the US-based Salesforce consulting firms we compare agencies' product and service offerings, industries they service, etc.
Salesforce is #1 choice for more than 150, 000 companies worldwide and it's growing more popular with each year. But despite its undoubted advantages and versatility, this platform is not easy to master, and 43% of CRM customers tend to use fewer than half of the in-built features and would trade more ease of use for less functionality.
But, is it possible to keep Salesforce org multifunctional and at the same time make it easy to use?
Yes, but it's not available as an off-the-shelf solution and requires deep knowledge of the platform, your business domain, company requirements, and goals to enhance Salesforce functionality.
How to make all these conditions meet in one place?
Search for the professional consulting firm that is ready to offer comprehensive Salesforce services combined with seasoned industry experts.
Our Salesforce consulting firms overview is an unbiased summary of companies' information provided on AppExchange (Salesforce apps and solutions marketplace) profiles like available products and services, Salesforce clouds they work with, industries they specialize in, languages they support, and customer feedback.
This ranking was based on the rating and popularity of the consultancy, namely, the number of reviews and review rating.
Now, a few words about the AppExchange platform.
Simplify And Optimize Your Salesforce Solution with Ascendix
We will assess your CRM to review gaps in technical implementation, business usage, and suggest the best options for Salesforce calibration
AppExchange
AppExchange is a Salesforce marketplace where you can find solutions by any type: Salesforce-friendly apps, Lightning Data & Components, Bolt & Flow solutions, consulting and development services from third-party vendors.
Each consulting company profile contains rating details, number of completed projects and certified experts, and a year of foundation.
The profile is divided into three tabs: Overview (company's products and services overview with a slide or video demo, customer success stories, whitepapers, etc.), Expertise (number of certified experts, Salesforce and industry expertise), and Reviews (number of reviews, their rating and source (whether they are a survey response or a community review), and information about reviewers and Salesforce project).
AppExchange app page is a bit different and consists only of two tabs: Overview and Reviews.
Top 10 Salesforce Consulting Companies in the USA
Here is our agencies' ranking according to the AppExchange listing:
Headquarters: Dallas, TX
Year of Founding: 1996
AppExchange Rating:  5/5 ⭐⭐⭐⭐⭐
Number of AppExchange Reviews: 57
Customer Support Languages: English, Russian
Ascendix Technologies is a CRM consulting and custom software development company from Dallas with 20+ years of experience in:
CRM customization and custom development
What made Ascendix appear on top of Salesforce consulting firms shortlist is its 360-degree services from platform assessment to custom Force.com and AppExchange app development, among which are:
Salesforce health check and audit
Salesforce implementation, re-implementation, and optimization
Salesforce migration from other CRM solutions
Data migration and consolidation
Salesforce configuration & customization
AppExchange app development
Salesforce support, administration, and user training
Lightning Components development
Custom CRM development on top of Salesforce
More details in Salesforce services overview.
Salesforce products Ascendix specializes in are Sales Cloud, Service Cloud, Marketing Cloud, Communities Cloud, Financial Services Cloud, Pardot, and Einstein Analytics.
Domains our Salesforce consulting firm operates in:
Commercial Real Estate
Real Estate
Financial Services
Insurance
Capital Markets
Commercial and Residential Mortgage Banking
Investment Sales
Energy & Utilities
Retail
SaaS
Transport & Logistics
Professional Services that serve B2B
Also, Ascendix has built its own real-estate specific software:
What Ascendix Technologies' Customers Like about Provided Salesforce Services:
Depth of the team and years of experience
Excellent post-launch support
Communication, results, and timely responses to issues
Onboarding and ongoing customer service
Headquarters: Walnut Creek, CA
Year of Founding: 2009
AppExchange Rating:  5/5 ⭐⭐⭐⭐⭐
Number of AppExchange Reviews: 54
Customer Support Languages: English
This California-based Salesforce consulting company provides:
Outsource system administration
Managed services
Salesforce implementation assistance with Sales, Communities (Experience), and CPQ Clouds
Billing processes integration
Among the industries StarrData operates in are:
Life Sciences
Financial Services
Technology
Non-Profit
What StarrData's Customers Like about Provided Salesforce Services:
Ability to accommodate the range of expertise during the development process
Helpfulness and efficiency throughout the Salesforce designing and implementation process
Ability to make the process of Salesforce implementation very enjoyable
Headquarters:  Media, PA
Year of Founding: 2010
Number of AppExchange Reviews: 29
AppExchange Rating: 5/5 ⭐⭐⭐⭐⭐
Languages: English
SaaS Solutions LLC focuses on:
Salesforce consulting services
Salesforce implementation & optimization
Custom development
System integration
Salesforce administration and user training.
The Pennsylvania-based company helps with the implementation and configuration of Salesforce products like Pardot, Heroku, Tableau, and Mulesoft.
This consulting agency works with clients across the following industries:
Professional Services
Manufacturing
High Tech
Life Sciences
Financial Services
What SaaS Solutions' Customers Like about Provided Salesforce Services:
The efficiency with detailed knowledge
Easiness to work with and out-the-box thinking
Constant feedback/updates throughout the support process
Headquarters: New York, NY
Year of Founding: 2013
Number of AppExchange Reviews: 26
AppExchange Rating: 5/5 ⭐⭐⭐⭐⭐
Customer Support Languages: English, French, Spanish
Seven Results is Salesforce consulting firm in the USA that offers:
Salesforce implementation
Ongoing platform configuration
Salesforce support and user training.
This consulting agency from New York assists with Sales, Service, and Marketing Clouds as well as with Field Service Lightning, Salesforce IOT, and Pardot.
Their domain expertise lies in Technology, Legal Services, Publishing, and other sectors.
What Seven Results' Customers Like about Provided Salesforce Services:
Ability to meet needs throughout the engagement
Bringing proactive solutions to Salesforce-related challenges
Dedication to the understanding of clients' business requirement
Headquarters: Rochester, NY
Year of Founding: 2010
Number of AppExchange Reviews: 21
AppExchange Rating: 5/5 ⭐⭐⭐⭐⭐
Customer Support Languages: English
Able Cloud Advisors helps with Sales, Service, Custom Cloud implementation and re-implementation, custom development, system integration in business vectors like Professional Service, Financial Services, Advertising/Marketing, and Non-Profit.
This New York-based Salesforce consulting firm also has an app on AppExchange, Able Video App, the on-demand video player for user training and communications.
What Able Cloud Advisors's Customers Like about Provided Salesforce Services:
Quick and smooth Salesforce implementation
Industry experience across numerous verticals
Headquarters: Norwalk, CT
Year of Founding: 2002
Number of AppExchange Reviews: 18
AppExchange Rating: 5/5 ⭐⭐⭐⭐⭐
Customer Support Languages: English, Spanish
The BlackIron Group expertise includes:
System integration and refinement
Salesforce customization and custom development using VisualForce, Lightning Components, APEX triggers in fields like Health Care and Professional Services.
What The BlackIron Group's Customers Like about Provided Salesforce Services:
High level of professionalism and expertise
Effectiveness and efficiency in getting up and running on Salesforce
Understanding of business priorities in features/applications
Headquarters: New York, NY
Year of Founding: 2010
Number of AppExchange Reviews: 17
AppExchange Rating: 5/5 ⭐⭐⭐⭐⭐
Customer Support Languages: English
Agile Cloud Consulting is among Salesforce consulting firms specializing in the implementation of:
Sales Cloud
Service Cloud
Marketing Cloud
Analytics Cloud
Community (Experience) Cloud
CPQ Cloud
Pardot
Also, this agency provides:
Salesforce org health check
Custom development
Data migration
System integration
Salesforce solution architecture
Salesforce support & consulting services
This consultancy from New York specializes in Non-Profit, Education, and Healthcare industries.
What Agile Cloud Consulting's Customers Like about Provided Salesforce Services:
Exceeding expectations in answering every question
Amazing customer service
Quick and accurate adjustments
Headquarters: San Francisco, CA
Year of Founding: 2015
Number of AppExchange Reviews: 15
AppExchange Rating: 5/5 ⭐⭐⭐⭐⭐
Customer Support Languages: English, French, Spanish
This Salesforce consulting firm from California provides:
Salesforce audit and assessment
On-going Salesforce support
Data augmentation and cleaning
Sales & marketing processes automation
App integration
Custom Apex development
This Salesforce consulting company in California offers its services for Recruitment, E-commerce companies that serve B2B.
What SaaScend's Customers Like about Provided Salesforce Services:
Excellent coordinating the system development and integration to post-development activities
Quick and easy Salesforce products implementation
Provided support and confidence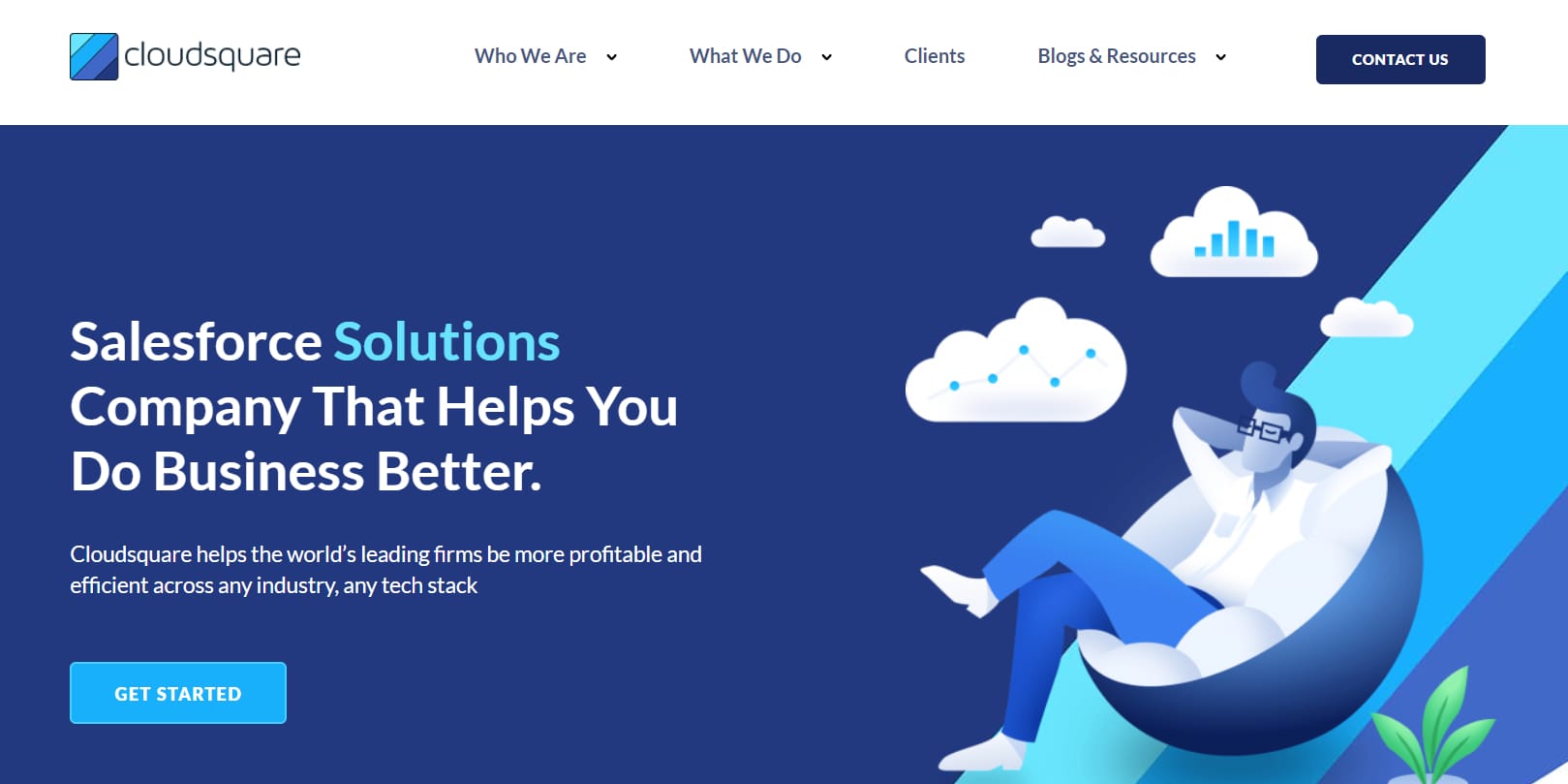 Headquarters: Los Angeles, CA
Year of Founding: 2017
Number of AppExchange Reviews: 12
AppExchange Rating: 5/5 ⭐⭐⭐⭐⭐
Customer Support Languages: English, Russian, Spanish
Cloudsquare's Salesforce services include:
Salesforce consulting and strategizing
Salesforce implementation
System integration
Custom app configuration & development.
They work with the following Salesforce products like:
Sales Cloud
Service Cloud
Community (Experience) Cloud
Health Cloud
Marketing Cloud
Financial Services Cloud
Analytics Cloud
Pardot
Tableau
Industries this Salesforce consulting company in California focuses on are:
Non-Profit
Recruitment
SaaS
Financial Services
Healthcare
Cloudsquare also offers Salesforce-based products like:
What Cloudsquare's Customers Like about Provided Salesforce Services:
Thoroughness in gathering business requirements
A collaborative effort to come up with a solution that makes sense for business
Excellent time estimates
Headquarters: Scottsdale, AZ
Year of Founding: 2011
Number of AppExchange Reviews: 10
AppExchange Rating: 5/5 ⭐⭐⭐⭐⭐
Customer Support Languages: English
ApostleTech specializes in:
Salesforce implementation services
Salesforce functionality extending
System connecting
Salesforce support
This Arizona-based consultancy specializes in the following products:
Sales Cloud
Service Cloud
Financial Services Cloud
Marketing Cloud
Community Cloud
CPQ Cloud
MuleSoft
Industries the agency focuses on are:
Financial Services
Homebuilding
Manufacturing
Non-Profit
Energy
Logistics
ApostleTech also offers a solution on AppExchange for home builders — HCP.
What ApostleTech's Customers Like about Provided Salesforce Services:
Experience and expertise in Salesforce
Team's creative insights
Bottom Line: How to Choose The Right Salesforce Consulting Firm for Your Project?
Jean-Paul Sartre once said, "We are our choices." Your Salesforce project is your choice of consultants, developers, strategy, and tools.
And what can be a remedy for some companies can be, literally, poison for your organization because of the difference in approaches for each individual project.
We'll go over a checklist of the most important criteria you should keep in mind while selecting the best of the best consulting agency.
1. Industry expertise 
Salesforce consulting services on AppExchange cover the major domains like Communications, Education, Financial Services, Healthcare, Manufacturing, etc.
However, less popular and narrower niches like Commercial Real Estate or Capital Markets remain "behind the scenes".
But, what is often disregarded is that successful Salesforce implementation requires not only vast technical knowledge but also an in-depth understanding of such business vectors.
And it should be among top criteria of choosing a technology partner among Salesforce consulting firms.
2. Portfolio of clients' projects
Customers' success stories demonstrate better than anything else company's approaches in accommodating to various clients' needs, ways of overcoming project challenges, versatility, and innovativeness of the vendor in action.
3. Salesforce expertise
Without a doubt, Salesforce certificates show if the considered Salesforce consulting firms the necessary technical knowledge, skills, and resources.
It ensures that your project will be properly handled and that your technology partner will keep up with Salesforce release updates.
4. Agile cost structures
Salesforce implementation is definitely not a cheap investment. Nevertheless, it doesn't mean that you may not be offered the most economic option.
That's why it's vitally important to determine your budget limits from the very beginning and to look for partners that are within your budget range.
Also, a comparison of consultancies' engagement models offerings can help you select the most comprehensive yet the most budget-friendly option.
5. Communication and management style
Technology skills are not the only ingredient of the project's success.
What's equally important is how communication between you and the agency's staff will be held how fast all the issues and questions will be heard and addressed.
According to reviewers on AppExchange and Clutch.co, the project management and communication skills of the consulting partner play a decisive role in selecting the agency.
Honest and open project management style, dedication to clients' needs, and commitment to customer service excellence are Ascendix's top priorities that are quite often highlighted by our clients.
6. User training, support, and system administration
Salesforce project doesn't end up with the deployment of the solution.
To ensure that your Salesforce users are comfortable with using it, you need to train and support them during and after the implementation process.
If you do not have enough time or resources within your company, you may need assistance from your consulting partner in the creation of sandbox versions, how-to videos and guides, corporate training, and post-training support to ensure that all the issues are settled on.
Moreover, after each Salesforce release, your system may require additional configuration. That's why you may require the help of dedicated Salesforce admins that will keep an eye on coming new features and system upgrades.
Ascendix Technologies is a Dallas-based Salesforce consulting firm. With our services, you can accelerate your workforce productivity and eliminate the complexities of your Salesforce solution.
Our Salesforce consultants can maximize your Salesforce org by tailoring it to your core business values and delivering well-balanced services of high-end Salesforce technology and our industry expertise. Contact us to discuss your project today!
Anzhelika Serhiienko
,
Content Creator & Marketer at Ascendix
Anzhelika specializes in B2B content marketing and has in-depth expertise in promoting the company's products and services through high-quality content. On the Ascendix Technologies blog, Anzhelika shares her insights of Salesforce and Microsoft Dynamics 365 CRM tips & tricks as well as overviews of new CRM tools and technology trends on the market.
Think Of Tuning Your Salesforce Org to Your Business Needs?
You found the right place! We provide a detailed Salesforce CRM assessment for your business purposes and advise on the selected approaches to configuration & customization of your Salesforce solution!