Updated on March 23, 2021 What should you expect from your CRM software today? How do Salesforce reports work and how do we overcome some of Salesforce reporting limitations? Keep reading this post to learn the answers and about an app that might help you to get the most out of your Salesforce data.
If I were to be completely honest, most CRMs are the same when it comes to the fundamental premise of storing your data.
If you've ever adopted a CRM, you already know that data entry is a huge part of it.
You may want to check our post where we are explaining CRM adoption best practices if you still need to make your team use your CRM.
A great deal of this data involves managing your contacts, tracking correspondence, monitoring your pipeline, and so on.
On this very basic level, all CRMs do the same thing.
However, the aesthetics of each CRM will vary, the integrations it offers will be diverse and the added bells & whistles companies use, will make them stand apart from competitors.
Still much of the decision while CRM-shopping boils down to two questions:
A) is it easy to use? and B) what can it do for me?
(It becomes affordable and easy to adopt once those two other questions can be answered).
What is the point of having a data storage 'bank,' if you can't get it to work for you and pay you back interest?
If you're spending a lot of time with input, and getting zero output, you're wasting a lot of effort, not to mention time.
You need your CRM to intelligently give you back that data in a way that's insightful, that allows you to initiate action based on that information.
What are some ways that CRM can 'give back'?
#1 Workflows
This is a fancy way of saying let automated notifications work on your behalf. For example, if you had a time trigger, such as a critical date, and a series of things need to occur before that date, a workflow could be created to remind you of this checklist. It could do other things like automatically send out emails to your clients. Armed and dangerous, this feature!
#2 Mobility
Long gone are the days of being tied to a computer. As most of your day may be spent in a mobile fashion, having the information at your fingertips becomes a critical aspect of your business. If the CRM tool you're looking to adopt doesn't have an immediate mobile deployment, just forget about it.
#3 Reports
Despite the fact we are a digital society, there are still necessary and traditional attachments to paper. Reports, essentially, gather your data, group it in ways that are meaningful, and output in Excel. Reports can be used for client-facing interaction or for internal sales meetings, etc…For the purposes of this article, I'll delve a little bit into how reporting within Salesforce works.
Salesforce Reports: Common Denominators
Do you remember the Venn diagram in algebra class?
Two circles intersect, and the middle area is the common ground.
Salesforce, out of the box, reporting is very much like this. Check our comprehensive guide on how to create reports in Salesforce.
Creating a Report in Salesforce on Two Different Record Types
You can report on two different record types, as long as they are linked because that link is what creates that 'intersection' or commonality. Have I lost you?
Example: If some Contacts are linked to a Property, you can generate a report about Properties, and all of the Contacts connected to that Property. That means the report can give you information about the Property itself (i.e. its address, year built, square footage), AND information about the Contact (email address, phone number, etc..)
Salesforce Reporting Limitations
What happens if you want a report about the Contacts, that are linked to the Property AND the Deals connected to that Property?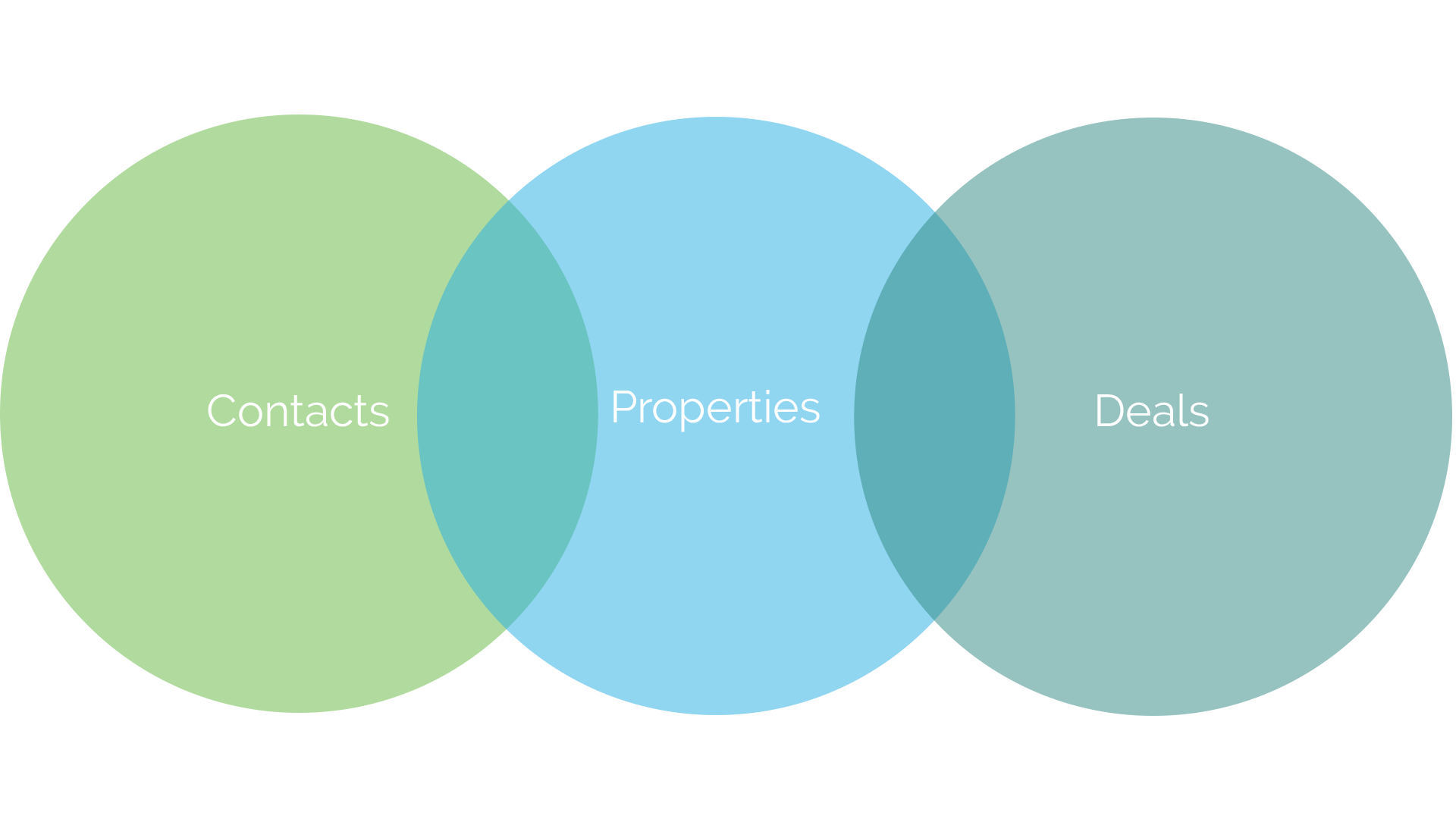 Sorry. No can do. The Salesforce report feature can only report on 2 intersecting 'circles' and not 3. Furthermore, the report's only output option is Excel.
This becomes a limitation for say…Listing Brokers, who typically want to show one single report to a landlord or owner, about the Activities, Inquiries and Deals, all connected to that one Listing.
To do so, would require 3 separate reports. Listings & Deals, Listings & Activities, Listings & Inquires. Good grief!
Overcoming Salesforce Reporting Limitations with Composer
So Ascendix saw this shortcoming and took to developing a Salesforce reporting app called Composer.
Composer…well…composes reports, in addition to flyers or brochures.
In its early stages, Composer provides a simple, easy-to-use "one click and done" approach to reporting.
Find your Listing, produce the report, and any and all data connected to that Listing will display, in a PDF or PowerPoint format.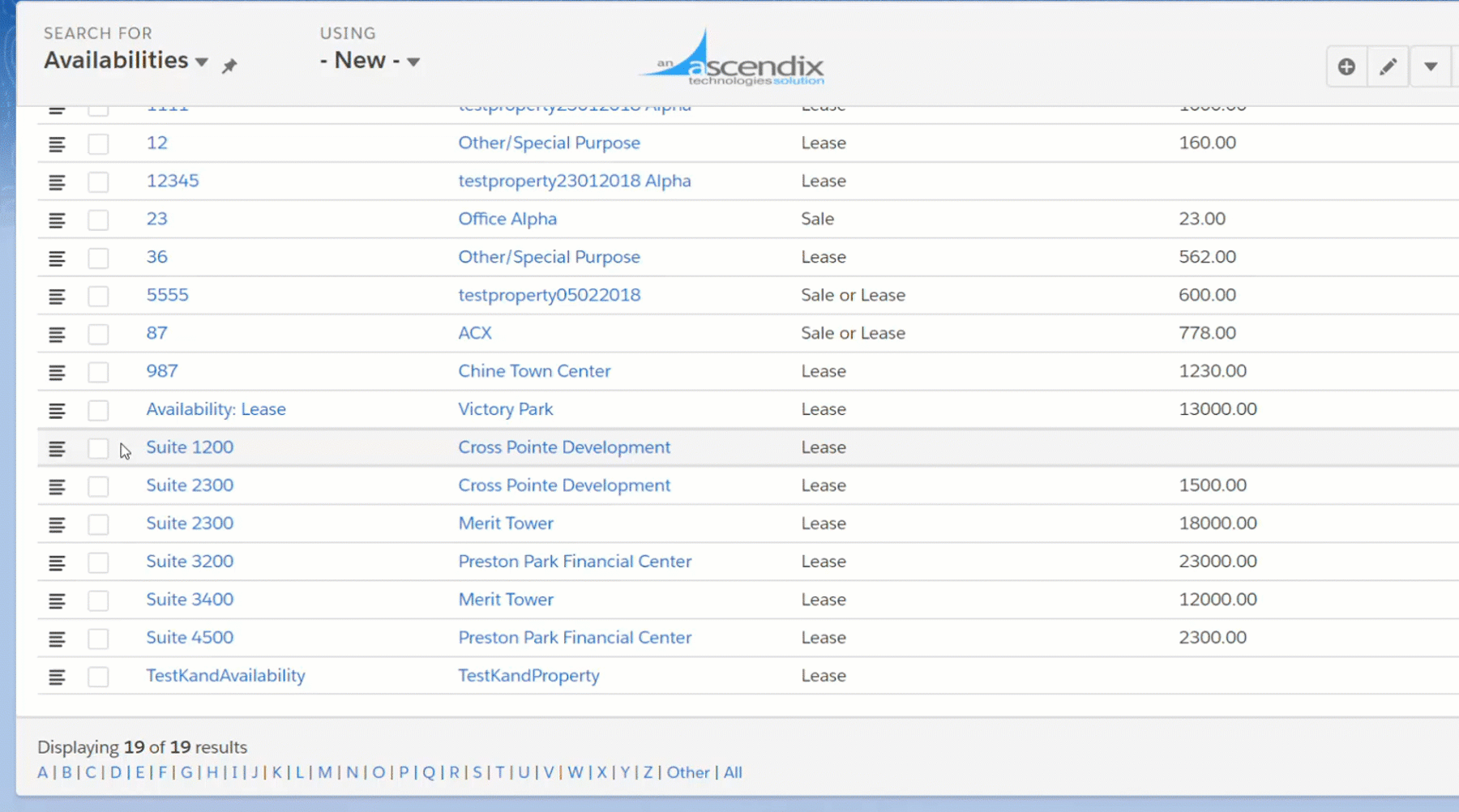 Not too shabby. To take a step further, the report can be emailed directly from Ascendix, further eliminating the need to save it to your desktop and send it from your email. This is a huge time saver and efficient in its design.
Ascendix will continue to enhance and refine Composer, to potentially get it to a place where companies can add their own branding, and have it be their very own proprietary sales and marketing collateral.
Now THAT is a CRM that gives back.
Contact Ascendix for a Composer demo, trial or pricing.